Price using time with Suns as part of Price transition to future as a coach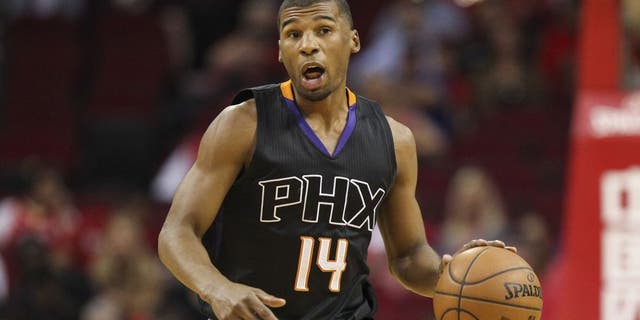 PHOENIX -- For the third time in his 11-year NBA career, guard Ronnie Price is wearing a Phoenix Suns uniform -- at least for now.
He may soon be trading the jersey and shorts of a player for the coat and tie of a coach.
Price, 33, was surprisingly released by the Oklahoma City in October not long after he signed a two-year contract with the Thunder. However, he has not given up on extending his days as a player. He signed a 10-day contract with the Suns on Jan. 27 and on Monday was signed for another 10 days.
"When I get that sign, then I'll gladly walk away from the game and look for a different avenue," Price said last week. "But right now, I'm physically in better condition than I was when I was younger."
Price, who played in 62 games with the Suns last season before signing a two-year contract with the Thunder, also was with Phoenix during the 2011-12 season.
It probably seems as if he never left.
When Suns guard Eric Bledsoe organized a trip to San Diego during the offseason for his teammates, he invited Price along. Since then, Bledsoe and players such as Devin Booker, Tyler Ulis and Marquese Chriss have become like "little brothers," according to Price.
Bledsoe believes coaching is in Price's immediate future.
"Of course, I talk to him about it all the time," Bledsoe said. "I don't think he's going to be one right now, but he's definitely one of the best vets in the game right now."
Players respect Price for his leadership and ability to push them in practice. He might be seen as a future coach, but for now he prefers to be viewed as a player who can still contribute on the court.
Price is only five years younger than his coach and former teammate in Portland, Earl Watson.
So Watson was in Price's sneakers not long ago. He believes Price can still play the game at a high level but also is helping him begin the transition to a future in coaching.
"When he's ready, he'll be a great coach," Watson said. "I started bringing him into coaches meetings, something that Portland did for me my last year. We do it even more. We let him sit in our meetings, give him an opportunity to speak about strategy, about players.
"Eventually we'll start letting him see scouting reports and building up his scouting report ability. At the same time he still wants to play, so we're starting him early."
Price believes Watson, who is in his first full season coaching the Suns, has the potential to be an elite coach in the NBA.
"There's not very many guys that are as bright as he is at his age, and that are capable of motivating a team the way he does," Price said. "So, in my eyes, he will be one of the top coaches when it's all said and done."
During this 10-day tenure, Price has taken on the role of being the veteran guy on the court while giving Watson input as an unofficial assistant during meetings of the coaching staff.
Price is embracing the opportunity.
"My faith is strong," he said. "I'm a firm believer that God's plan is always the right plan, and now I'm back home."
Price is humbled to be thought of as a future coach, and he believes it stems from a passion for the game and his dedication to others.
"I love to help," Price said. "I had a lot of people that helped me in my career, helped me to be the person and player that I am. I would be selfish not to give back to the game and give back to people, especially young guys. So the fact that I like to give back, maybe that transfers over to being a coach."
Price sees potential in the Suns and their young roster. He likens them to other Western Conference teams that have built around young stars, such as the Golden State Warriors and the Thunder.
Whether as a teammate or a coach with the Suns, Price knows Watson will find a role for him.
"When I feel like I'm not capable of doing my job, then it's time to let it go," Price said. "I'll talk to my brother Earl, and we'll have a lot to discuss then."