Preview: Twins vs. Marlins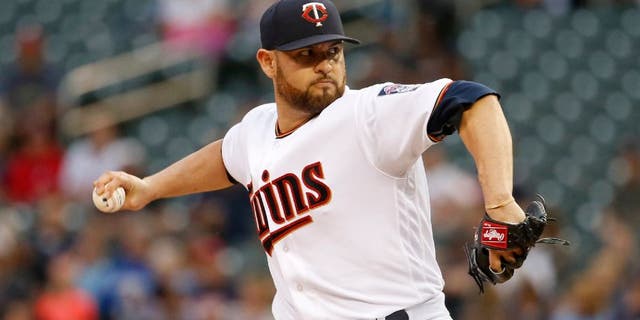 NEWYou can now listen to Fox News articles!
MINNEAPOLIS -- In the most strictly technical sense, Ricky Nolasco didn't ever play for the Miami Marlins, so facing them for the first time should be no big deal.
Indeed, Nolasco -- now a Minnesota Twins right-handed starter -- spent the first six of his big-league seasons playing pro baseball in South Florida, but the Marlins played their games in a football stadium then, had "Florida" as their geographic identifier, and were awash in teal, as opposed to the rainbow of bright colors the team wears now, so it's all different.
In any case, Nolasco will face Miami for the first time on Wednesday in Game 2 of the Twins-Marlins interleague series, and will be making his team-leading 12th start of the season with the team that traded for him a decade ago, and gave him his first big-league opportunity.
He will also see a familiar face on the opposing bench, as Marlins manager Don Mattingly was his boss for 15 starts in 2013, when Nolasco went 8-3 with a 3.52 ERA for Mattingly's Los Angeles Dodgers after coming to Chavez Ravine in a midseason trade.
"He pitched good for us," Mattingly said on Tuesday, recalling their time together in Southern California. "I don't know how many he won -- the first six or seven with us, but he was good out of the gate I know that. Ricky is a good kid, I liked having him."
Nolasco made one postseason start for the Dodgers that year, getting the nod in Game 4 of the National League Championship Series, and taking the loss as the Cardinals won 4-2.
The Twins staff may again get a boost from the team's newfound ability to clear the fences. Four of their runs in Tuesday's 6-4 come-from-behind win versus the Marlins came via the long ball, and the Twins have hit seven homers in their last two games.
"We have been showing signs of (power) and along the way we go into little streaks where we hit them in bunches," said Twins manager Paul Molitor, who got his 100th career win on Tuesday. "Different guys doing it, and trying to get as many guys as we can involved on the offensive side just to keep the balance, but it's nice when it goes over, that's for sure."
Miami, which inaugurated a nine-game, three-city road swing on Tuesday, will counter with lefty Wei-Yin Chen (3-2, 4.25 ERA) looking to break out of a slump. The Marlins have won one of their last four, and slugger Giancarlo Stanton is struggling mightily, having gone 1-for-19 at the plate in June.
"That's the kind of games we've been playing, we're in one-run games," Mattingly said after Tuesday's come-from-ahead loss. "We really haven't left ourselves a lot of room for error. We put a lot of pressure on our pen to absolutely hold teams there."