Preview: Rays with opportunity to take series in Cleveland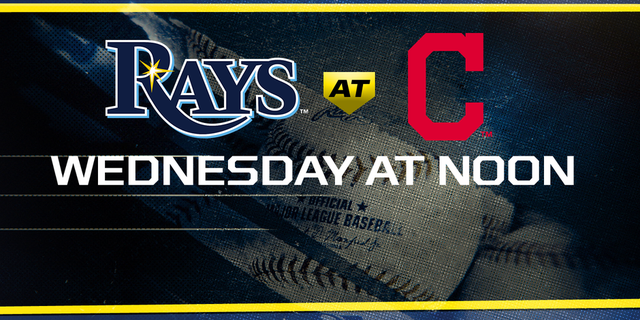 TV: MLB
TIME: 12 p.m. ET
CLEVELAND -- After making a flurry of roster moves in the last few days as the result of injuries, the Cleveland Indians reconfigured their outfield on Tuesday by calling up former first-round draft pick Bradley Zimmer from Triple-A Columbus.
"It's a feeling that is hard to put into words. Something I'll never forget," Zimmer said of the moment when he found out he was being called up to the big leagues.
His first game was less memorable. Zimmer went 0-for-3 with three strikeouts as the Indians lost to the Tampa Bay Rays 6-4 on Tuesday.
The two teams have split the first two games of their series, which will conclude with an afternoon game Wednesday.
Zimmer was the 21st player taken overall in the 2014 draft out of the University of San Francisco. The 24-year-old played center field and batted ninth in the lineup Tuesday.
Before Zimmer's arrival, the Indians had no true center fielder on the roster. Lonnie Chisenhall, a right fielder by trade, was getting most of the playing time in center in recent games.
The lanky, 6-foot-5 Zimmer comes to Cleveland with the reputation as a quality defensive center fielder.
"The skills are there. He can run down balls," Cleveland manager Terry Francona said. "As he gets to know the league, you'll see an above-average defender."
On offense, Zimmer was having a solid season at Columbus, hitting .294 with a .532 slugging percentage and a .902 OPS. He had 11 doubles, two triples, five home runs and 14 RBIs, and he was second in the International League in extra-base hits.
Zimmer takes the roster spot of outfielder Abraham Almonte, who was placed on the 10-day disabled list with a right biceps strain. The Indians also recalled reliever Shawn Armstrong from Columbus and optioned infielder/outfielder Yandy Diaz to Triple-A.
Although the Rays hit five home runs and beat the Indians on Tuesday night, Tampa Bay manager Kevin Cash says no pitcher enjoys having to face Cleveland's offense.
"They've got a good lineup, with balance and versatility," Cash said. "It seems like they're all switch hitters. It's a lineup that is a challenge for any pitcher because they've got something in every spot."
Rays right-hander Alex Cobb (3-3, 3.65) will face that challenge on Wednesday. Cobb has pitched well of late, going 2-1 with a 2.21 ERA in his past three starts.
In four career starts against Cleveland, Cobb is 2-2 with a 3.57 ERA. In two career starts in Progressive Field, he is 1-1 with a 5.25 ERA, although that doesn't count his win in the 2013 American League wild-card game, when he pitched 6 2/3 scoreless innings in the Rays' 4-0 victory.
Right-hander Josh Tomlin (2-4, 5.87) will start Wednesday for the Indians. Tomlin got off to a horrible start this season but has been much better lately.
After his first two starts, he was 0-2 with an 18.47 ERA. However, in his past five starts, he is 2-2 with a 3.38 ERA, and in his last two starts, he has a 1.20 ERA while holding opposing teams to a .176 batting average.
In six career starts vs. Tampa Bay, Tomlin is 2-2 with a 4.06 ERA.