Preview: Jake Odorizzi toes the rubber, Rays take aim at Twins again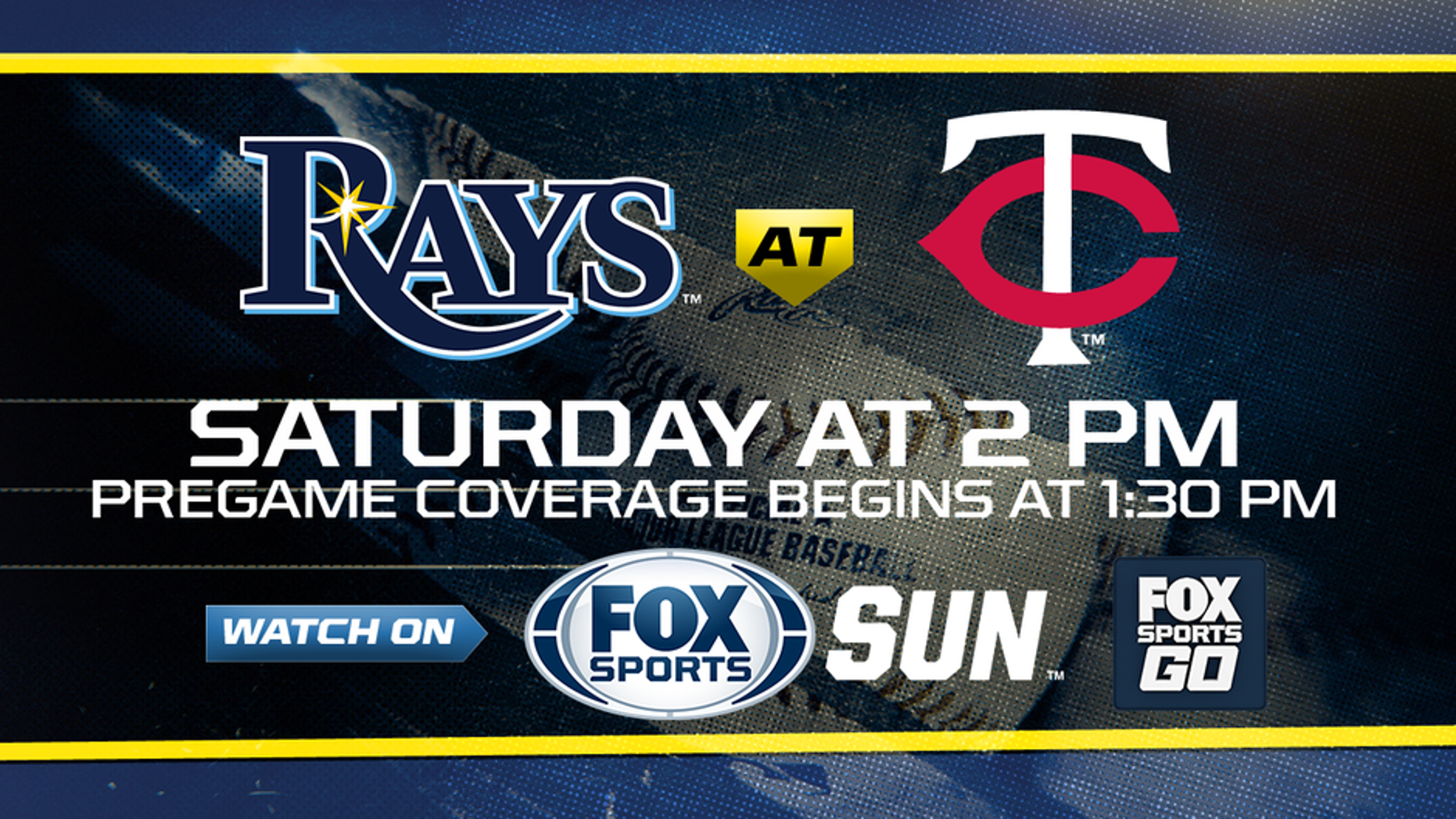 TV: FOX Sports Sun
TIME: Pregame coverage begins at 1:30 p.m.
MINNEAPOLIS -- Ace Chris Archer got the Tampa Bay Rays' nine-game road trip off to a great start. Jake Odorizzi will try and follow suit on Saturday.
Odorizzi (3-2, 3.14 ERA) will start the Saturday matinee contest against the Minnesota Twins, who will counter with rookie Adalberto Mejia (1-1, 4.96).
"We've got a long trip," Rays manager Kevin Cash said before Friday's game. "Obviously you want to do whatever you can to win as many games as quickly as possible. It's always nice to put yourself in a position to where you start with a W for sure, and that's why we're excited with Arch."
Archer did his part, allowing just one baserunner through the first six innings. He struck out 11 batters and Alex Colome earned a four-out save in Friday's 5-2 win.
"That was an awesome night for all of us, especially Arch the way he went after that team, and that's a good team over there," said Steven Souza, who hit one of three Rays homers in the game. Logan Morrison and Kevin Kiemaier each added two-run homers in the win.
Morrison increased his team-leading totals to 13 home runs and 34 RBIs. The lefty-swinging first baseman is one off his homer total from all of last season and has been a big part in the middle of the Tampa Bay lineup.
"The damage that Lo Mo is doing and the big hits that he gets, he just gives a solid at-bat," Cash said. "You rarely see him early on here expanding out of the zone. He's patient waiting for his pitch. He's really been nice to be able to plug right in the middle of the lineup."
Morrison has enjoyed hitting in Minnesota's Target Field. He has homers in four straight games against the Twins and has hit .409 with five homers in seven career games at Target Field.
Morrison downplayed his impact, though, noting the team's struggles at times this year. Tampa Bay went to 26-25 with Friday's win and are 10-12 on the road.
"I absolutely take a lot of pride in that," Morrison said of leading the offense. "I'm hitting fourth. This team depends on me to drive in runs, get on base and score runs. Our record isn't good enough, so I haven't been good enough. That's the way I look at it. As a team we have to be better, but I have to be better too."
Morrison homered against left-hander starter Hector Santiago on Friday and will see another lefty in Mejia. Mejia was recalled from Triple-A Rochester to make Saturday's start as the Twins designated left-hander Adam Wilk for assignment.
Mejia returns after giving up three runs in 7 1/3 innings in his last major league outing on Sunday against the Kansas City Royals. He earned his first major league win but had to be optioned back to Triple-A after the game since he was the 26th player for the doubleheader that day.
Mejia returned to Rochester and got his routine work in, with the Twins likely recalling the rookie as soon as they needed another starter. Minnesota has juggled the fifth spot in its rotation as they search for reliability at the back end.
Twins manager Paul Molitor said minor league coaches "really tried to emphasize to just make your pitches" with Mejia.
"Don't worry about who's in the box, this and that," Molitor added. "We'll give you a plan and just try to execute. Control what you can control and see how it plays out. I thought he was better at that last week."
Mejia has never faced the Rays. Odorizzi hasn't enjoyed his starts against the Twins.
Odorizzi is 0-1 with a 5.28 ERA in three career starts against Minnesota.
The right-hander has settled in this season, though, and has allowed two runs or fewer in four of his five May starts. Odorizzi gave up two runs in six innings in his last outing, a no-decision at home against the Los Angeles Angels when he had a season-high eight strikeouts.
Friday's loss snapped the Twins' four-game winning streak and continued their own lopsided ways. The American League Central leaders are 11-14 at home.
"I try not to overthink that," Molitor said. "It's a great trait for a young team to have, to kind of take your show on the road, and go out there and show that you're more than capable of competing and hopefully winning more than your share. I would love to see it translate home a little bit better. I can't explain why it hasn't gone quite as well here. It's just kind of timing more than anything, for me."