Pope Francis Gets Shout Out from the 'Hand of God' Diego Maradona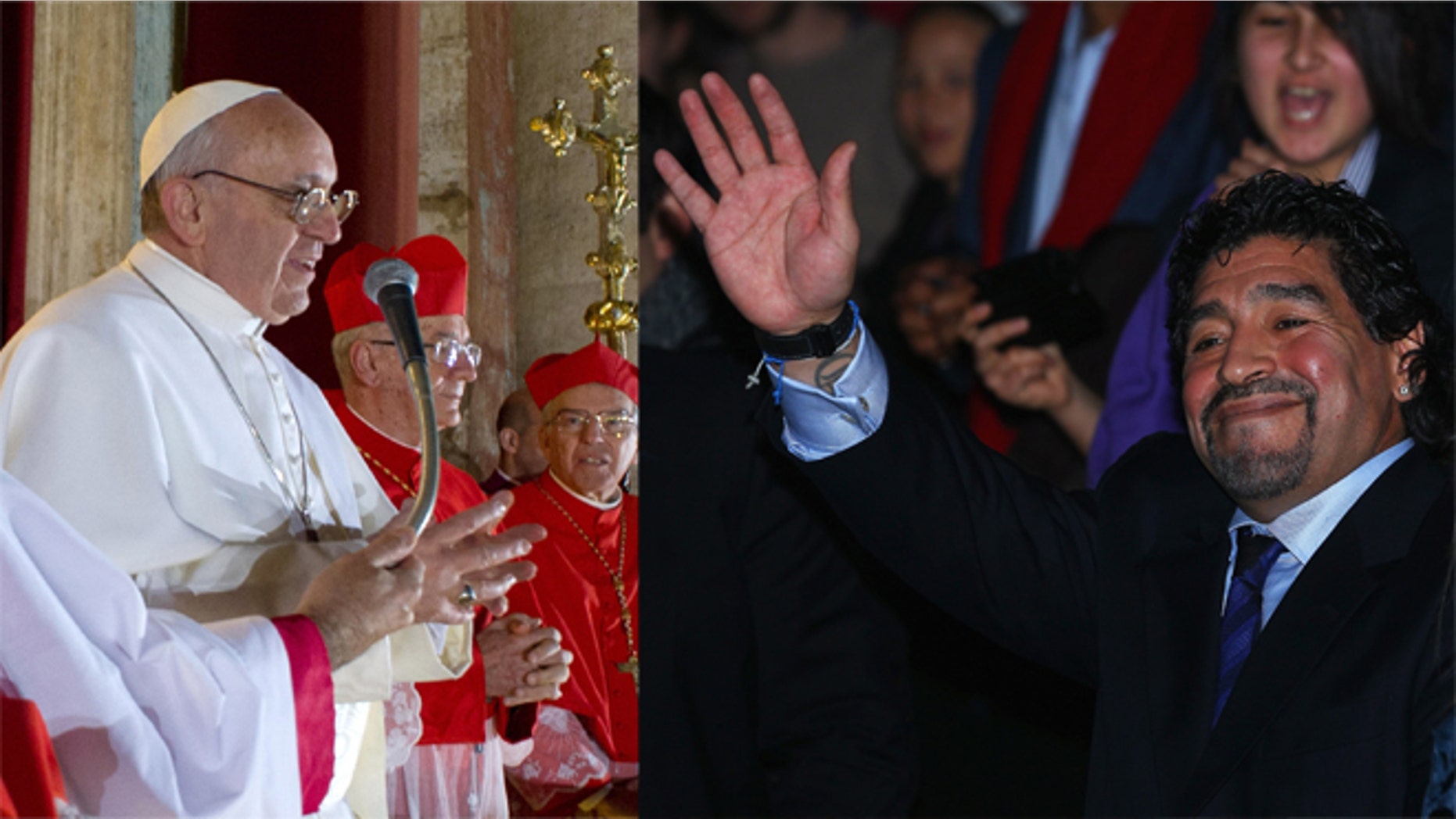 "The Hand of God approves of the new Pope."
This was the message that Argentinean soccer star Diego Maradona sent out to the world on Twitter after his countryman Cardinal Jorge Bergoglio became Pope Francis on Wednesday evening.
Maradona was known for his explosive style of play that helped earn his country's soccer squad a World Cup victory in 1986.
In the semi-finals against England he scored a polemical goal off a handball –"the hand of God," as the press called it– and his second goal in the game was a 66-yard dribble past five England players that was voted "The Goal of the Century" by FIFA.com voters in 2002.
Though no saint himself –with a litany of controversies throughout his life, including maternity disputes, drug and alcohol problems and spats with other players– Maradona describes himself as a devote Roman Catholic and was quick to praise new Pope Francis.
"This is the true hand of God," Maradona wrote on his Twitter account. "I am very happy with the appointment of Francis."
The soccer legend's tweet created a number of online memes playing off the "hand of God" comment, including one that featured a photo of Maradona, current Argentine soccer player Lionel Messi and the new pope, calling them the father, son and the holy spirit.
Maradona's cult status in Argentina has led an entire church to be formed around the former player.
Founded by three men, Hernán Amez, Alejandro Verón and Héctor Campomar, in 2001 in the city of Rosario,186 miles from Buenos Aires, the Maradonian Church now claims 200,000 followers from countries around the world like the U.S., Mexico, Spain, Afghanistan, Philippines and Australia.
This unusual personality cult "was created to express and preach throughout the world our love to 'El Diego,' who has given us so much and has worked miracles," Amez, one of the church's three founding spiritual leaders, told EFE news agency last year.
Maradona, also popularly known as "Dieguito" and "El Pelusa" (The Fuzz, due to his frizzy hair) to millions of sports fans, is reverently referred to within the church as D10S, a mix of his jersey number (10) and the Spanish word for God (Dios).
In church ceremonies, the Bible has been replaced by Maradona's autobiography, and special rites like Maradonian baptisms, weddings and masses are celebrated on special dates of special Maradonian significance.
"October 30 is the date of birth of the greatest soccer player ever," Amez said." And for 10 years now, we have been celebrating the Maradonian Nativity". (Maradona's next birthday will mark the start of the year 51 AD — Anno  Diego).
Follow us on twitter.com/foxnewslatino
Like us at facebook.com/foxnewslatino