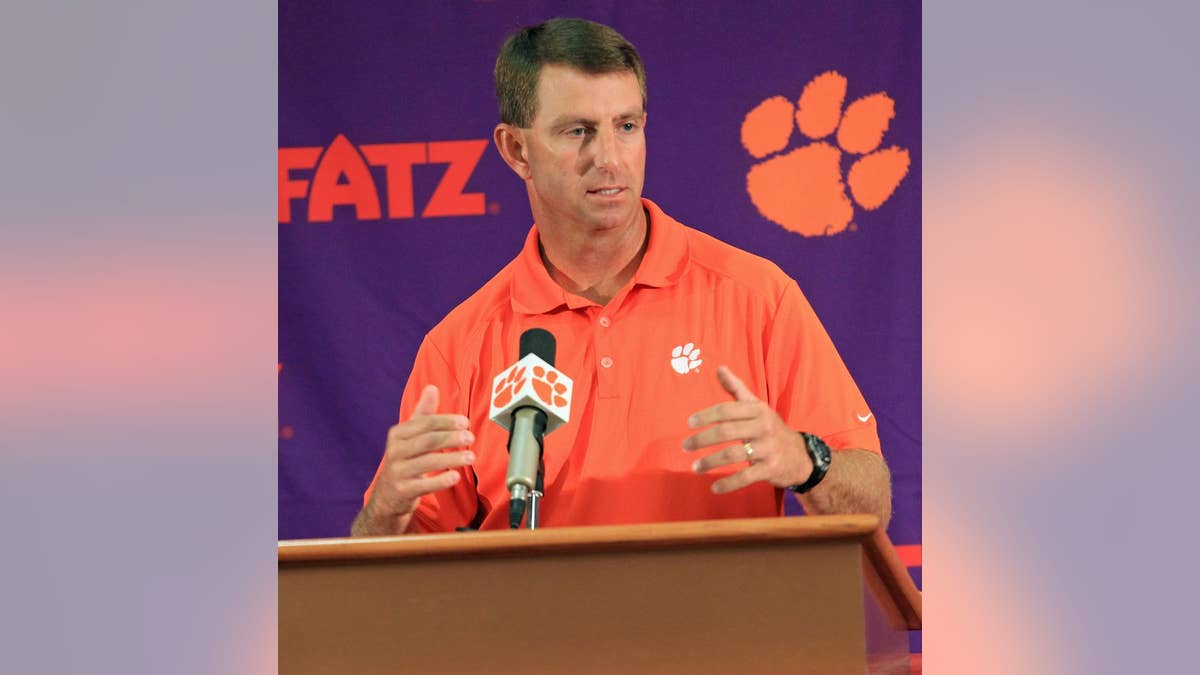 ATHENS, Ga. – College football's inaugural playoff is more than four months away.
Still, it's never too early to start impressing the selection committee.
For No. 12 Georgia and No. 16 Clemson, that opportunity comes the very first week of the season.
In a game that looks a bit like the Iowa caucuses during a presidential election year, two powerhouse teams about 80 miles apart will try to establish themselves as championship contenders before the calendar flips to September.
"You always want to (win) the beauty contest," Georgia cornerback Damian Swann said Tuesday. "That will be a help later on down the line."
While the possible playoff ramifications won't be known for months, everyone seems thrilled that a four-team postseason is finally a reality. There will be semifinals at the Rose Bowl and Sugar Bowl on New Year's Day, followed by the national championship game in suburban Dallas on Jan. 12.
"I'm very excited," Bulldogs receiver Michael Bennett said. "It's just a matter of getting into that top four. It sounds so easy," he added, chuckling. "I guess it is easier than getting into the top two. It's real cool. I like it."
Clemson coach Dabo Swinney doesn't even want to talk about the playoff. He certainly doesn't want to put too much emphasis on the very first game of the season.
"God forbid we go down there and lose the game," he said. "But if we do, Georgia's not in the playoffs and we're not out of it. It's a long season, it's a long way to go. And vice versa, if we win the game, let's not punch our ticket to Dallas just yet. We've got a long way to go in a long season. Every game is critical."
There's no denying this game is especially important for Georgia, which follows up its home opener with a road trip two weeks later to No. 9 South Carolina.
An 0-2 start would not ruin all of the Bulldogs' goals — just three years ago, they reached the Southeastern Conference title game after losing their first two — but it might be impossible to get back in the mix for the playoff.
"I can't imagine the AP poll and the coaches poll won't have some effect on the panel," Georgia coach Mark Richt said. "I'm sure that will have some kind of weight, even though it's not part of the formula. Humans look at those things."
To have any chance of playing for the national title, Georgia must do better against the tougher teams on its schedule. Over the last five years, the Bulldogs are 7-15 against ranked teams.
"That's why you come to a program like this," Swann said. "If guys wanted to play small-time schools and get stat games, that's kind of where you need to go. When you come to an elite program like Georgia, what we have here, you always want to compete against the best."
In recent seasons, Georgia has top-loaded its schedule with some of its most difficult games. In addition to the traditional SEC opener against South Carolina, the Bulldogs have played non-conference contests against Oklahoma State, Boise State and Clemson. Only once in the last five years have they opened the season with two straight wins.
"I think it kind of shows the character of your team right off the bat," Bennett said. "We haven't done a really good job lately in the big games at the beginning of the season. It's time we kind of change that streak. We definitely need to get the season started off on the right foot."
Both teams have changed significantly since they opened last season in Death Valley, where Clemson knocked off the Bulldogs 38-35 in a thrilling matchup of Top 10-ranked teams.
The Tiger are replacing offensive stars Sammy Watkins and Tajh Boyd. Georgia lost record-breaking quarterback Aaron Murray and has a new defensive coordinator, Jeremy Pruitt, who comes from national champion Florida State.
"His resume speaks for itself," Swann said. "He's a winner. He knows what winning feels like."
A year ago, the Seminoles went 14-0 on the way to finishing No. 1.
An unbeaten record is the best way to ensure a spot in the playoff.
"Every game is real important," Bennett said.
___
AP Sports Writer Pete Iacobelli in Clemson, South Carolina contributed to this report.
___
Follow Paul Newberry on Twitter at www.twitter.com/pnewberry1963