Players sniping as divide between older, younger players goes public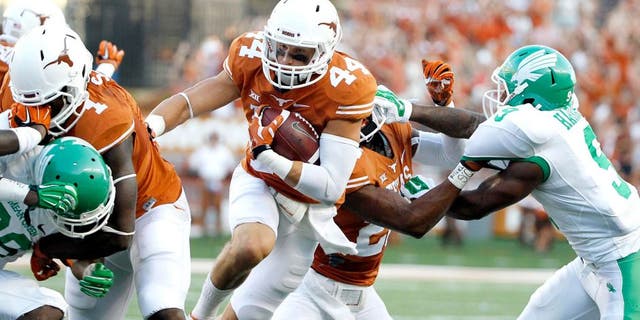 NEWYou can now listen to Fox News articles!
For the second consecutive week a Texas player has publicly called out a teammate. This time junior defensive back Dylan Haines says the Longhorns' freshmen just want to show up on Saturday without putting in the work during the week.
Haines, followed by other Longhorns players who also spoke out against some of the team's younger players, faced with the media Monday during the Longhorns' weekly press availability for the first time since Texas' 50-7 loss at TCU on Saturday. The Longhorns dropped to 1-4 on the season and 0-2 in the Big 12.
"People need to grow up and take things more seriously," Haines told reporters. "A lot of people aren't preparing." He added: "Some of the freshmen guys just want to go out there and just play. This is not HS where you don't watch film and still win."
Reporters at the press conference were live-tweeting Haines' comments, and freshman defensive end Charles Omenihu decided to respond by retweeting a reporter's tweet and adding, "LOL."
On the heels of freshman defensive back Kris Boyd retweeting a Texas A&M fan's tweet suggesting he transfer to Texas A&M, the Longhorns' younger players don't seem to be helping their cause as being loyal to the man responsible for bringing them to Texas, second-year coach Charlie Strong.
Omenihu then sent out his own tweet reminding people to think before they speak. Naturally, Omenihu then thought twice about sending the tweets in the first place and deleted them. Of course, once posted on Twitter, somebody out there will screen shot the tweets to preserve them. Freshman Armanti Foreman sent out his own tweets, apparently directed at the older Longhorns speaking out, and freshman DeAndre McNeal sent a plea for togetherness.
None of this bodes will for Strong, who must find answers for an offense that ranks last in the Big 12 as well as a defense that ranks eighth headined to Dallas on Saturday to face surging Oklahoma.
And now it certainly appears a widening chasm behind the team's vets and the newcomers will have to be addressed very quickly.