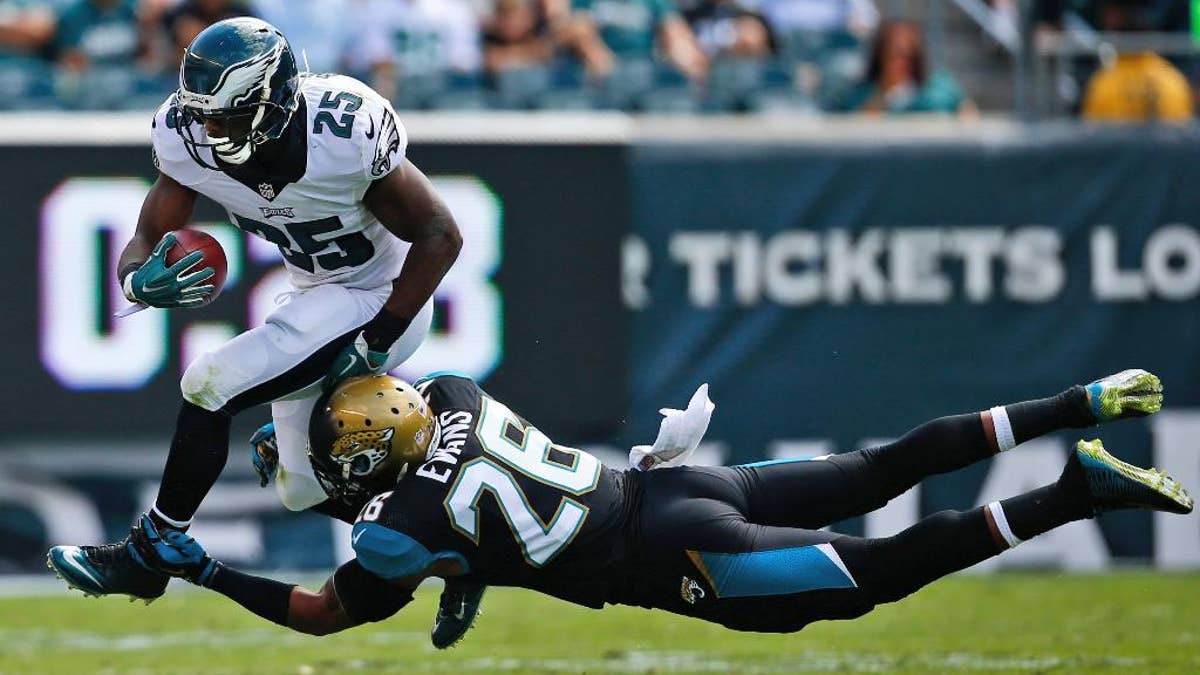 INDIANAPOLIS – Chip Kelly has a simple message for the Eagles this week.
Yes, the defending NFC East champs are the only team in the division with a win.
Yes, the defense held Jacksonville scoreless on its final 11 possessions last week.
And yes, Philadelphia has one of the league's most potent offenses.
But when you're playing Andrew Luck, the resume doesn't mean a thing.
"We won twice, but they were both shootouts," Kelly said of his first three rounds against Luck in the Pac-12. "They scored 30-plus points, and the two games we won we scored 50 and they scored 30. We didn't shut Andrew down. ... We just outscored them."
The Eagles (1-0) may have to take a similar tack in Indianapolis.
A week ago, the Colts' defense couldn't get off the field in the first two quarters and allowed Denver to take a 24-0 lead before halftime, then held the Broncos to just one second-half touchdown. But as the Broncos found out, leads aren't safe with Luck around.
The Colts' quarterback already has 11 game-winning drives in 33 career starts and helped the 2013 AFC South champs produce the second-largest comeback in playoff history in January.
Last week, Luck nearly did it again, getting Indianapolis within a touchdown of forcing overtime and into position for a potential tying score in the closing minutes before the drive stalled and Peyton Manning closed it out.
Kelly isn't surprised.
"I think I saw the stat, he has the most fourth-quarter comebacks in the first two years in the league of any quarterback," Kelly said. "I think there's a confidence in that team. I think Chuck's (Pagano) done such a good job of providing and creating an environment for those guys that they feel like they're in every game."
While the Stanford grad may be the new master of the comeback and appreciates the compliments coming from Kelly's camp, Luck knows that if he's going to get even with his old college nemesis, it will take more than good fortune.
The Colts (0-1) need to execute from start to finish.
"Our job is to put points on the board regardless of what the other team is averaging," Luck said when asked whether there's more pressure on an offense in a potential shootout. "Otherwise, I think you could go down a slippery slope in terms of what we're trying to do."
Here are a few more things to watch Monday night.
LINE DANCE I: Without Robert Mathis, Indy struggled to put pressure on Peyton Manning. And while Manning does get rid of the ball quickly, Philadelphia's will stress Indy's defense even more. The Colts have been creatively working on getting lined up on time all week. Finding a way to rattle Nick Foles would help, too.
LINE DANCE II: Philadelphia's challenge this week is plugging holes along the offensive line. Two of last week's starters, left guard Evan Mathis (knee) and right tackle (ankle), have already been ruled out. So the Eagles spent the early part of this week looking for replacements. The injuries caused problems early last week, forcing Foles into three turnovers, but the Eagles settled down and rallied for a 34-17 win. They're hoping a week's worth of adjustments will eliminate the problems.
PERFECT 10: The Colts' best trait is their resilience. They don't worry when they get behind, don't flinch at the sight of turnovers and don't look back when injuries hit. It's the primary reason Indy is 10-0 in regular-season games following a loss since Pagano arrived in 2012. A win Monday would also assure Pagano of breaking the franchise record for most games coached without consecutive losses. He stands at 33. Ted Marchibroda did it in 34 straight.
TWO-BACK TANDEM: A week ago, LeSean McCoy and Darren Sproles combined for 145 yards rushing. This week, they face an Indy defense that has traditionally struggled in stopping the run. If the two backs duplicate that feat, it could be a long night for Colts fans.
CROWD NOISE: Indianapolis fans may not be the loudest in the league, but if the roof is closed Monday night, the decibel level could help slow down the Eagles' fast-paced offense. Philadelphia will probably attempt to negate any potential home-field advantage by using hand signals to keep the offense moving. The Eagles have won five straight road openers and eight of their past 11, but Kelly's Eagles had mixed results indoors last season — losing 48-30 at Minnesota and beating the Cowboys 24-22 in the season finale.
___
AP NFL website: www.pro32.ap.org and www.twitter.com/AP_NFL