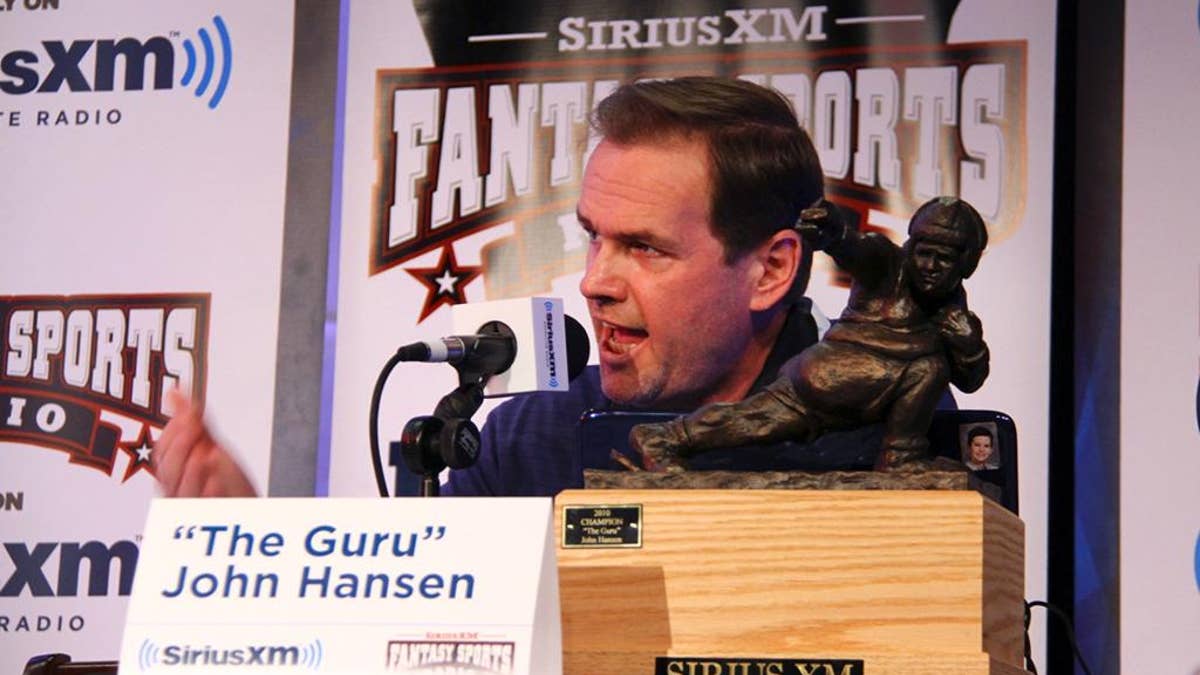 John Hansen started playing fantasy football in 1987, when he heard about it through a friend an hour before the draft.
The league was run by the owner of a local bar in southern New Jersey, and participants had to drop off their rosters on Friday nights, which often turned into an excuse to hang around for a few beers. The bar owner tallied up results on Mondays off the box scores in the newspaper.
DirecTV didn't exist yet. Nor did satellite radio. The Internet still sounded like science fiction to most sports fans.
Today, fantasy football is Hansen's job. He interviews the players he once only wrote about. Over the airwaves and online, the audience multiplies, fantasy owners eager for advice on who to start and sit.
"I totally knew this was coming," Hansen said, "and I'm still blown away."
Hansen now hosts a Sunday NFL show on DirecTV and a daily window on a SiriusXM channel devoted solely to fantasy sports. His FantasyGuru.com has evolved from a weekly fax and snail-mail newsletter to apps and custom software.
Hansen was always the sort who liked to be the first one to notice a promising rookie before he blossomed into a star. His teams in those early leagues scored lots of points, though he didn't win at first thanks to some bad luck that seasoned fantasy players can relate to.
When his first child was born on a Monday in September 1992, his wife wasn't pleased that Hansen was poring over a USA Today, trying to figure out whether his team posted a victory.
A former rock disc jockey, he got his start as the "Fantasy Guru" on a local cable show in New Jersey in the early 1990s. Hansen was working in Atlantic City for a trade magazine called Casino Player and writing about Internet gambling, which had him thinking about the business of fantasy sports early on.
So in 1995, he launched the newsletter, seeking a little extra income to support his young family. He'd write up his predictions on Sunday nights, then drop the pages off at a friend's print shop the next morning on the way into work. On Monday night, the newsletters were dropped at the post office to be mailed Tuesday. His wife handled the faxing.
There were never more than 750 subscribers, paying $29.95 each. But the surge in home Internet connections would rapidly change the ease with which people played fantasy sports and the opportunities for Hansen to analyze them.
He started writing for ESPN's website in 1996, and by 2000 he was able to quit his day job and cover fantasy sports fulltime.
In 2004, he began hosting a show for satellite radio. Steve Cohen, SiriusXM's senior vice president of sports programming, recalled how "the phone calls poured in" — far more than any other program on the NFL channel and often thousands per hour. So in 2010, SiriusXM launched its fantasy-only channel.
This season, Hansen added the DirecTV gig when it created the 7-hour "Fantasy Zone."
He got a good chuckle when he recently dug up an old hard-copy newsletter in which his entire analysis of Atlanta Falcons running back Jamal Anderson was: "He'll be fine." (Indeed, Anderson was that week, rushing for more than 100 yards and a touchdown.)
"Now you have to back up arguments," Hansen said. "That wasn't exactly the case back then."
These days, he's writing about how many times a receiver was targeted the previous week, or the number of snaps a tight end played. He frequently travels, visiting the combine and the draft to build contacts who might later provide inside information to improve his predictions.
As teams use more running backs by committee and spread the ball to more skill players, the prognostications have become exponentially more complicated. And while Hansen once wrote everything on Sunday night, nearly a week before the games kicked off, in 2014 he's still tinkering with his picks at 12:57 p.m. for the 1 p.m. matchups.
It all sounds so serious, but Cohen believes the former disc jockey's success owes to his ability to keep it a game.
"You have to be able to entertain," Cohen said. "You've got to have fun with it."
___
AP NFL website: www.pro32.ap.org and www.twitter.com/AP_NFL