Penn State's 'White Out' games: A brief history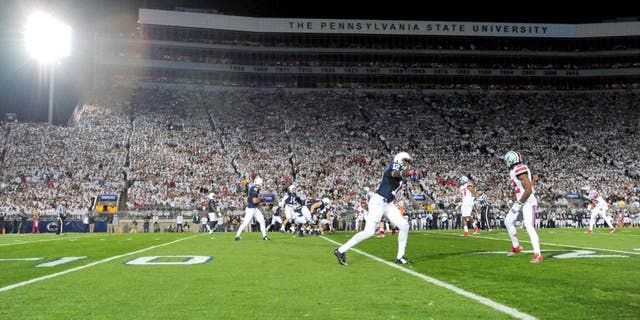 The 2014 whiteout game was against Ohio State. Evan Habeeb USA Today Sports
This week Penn State not only comes back from a week off but gets to play Michigan in front of a "white out" crowd at Beaver Stadium.
The first white out was in 2004 when the Nittany Lions took on Purdue, and it has come to be a symbol of the resurgence of the program after a down period at the end of the last century and the beginning of this one.
The new tradition got off to an inauspicious start as the ninth-ranked Boilermakers beat the Nittany Lions 20-13, but it would become an iconic event beginning one year later when Ohio State came to town.
The sixth-ranked Buckeyes were still hoping to get back into the national championship race following a close loss to Texas earlier in the season, but those would be dashed on a rainy October night.
Penn State, coming off a back-to-back losing seasons, road the momentum from a raucous home crowd to an early lead and eventually won a 17-10 defensive battle.
That decision would ultimately send them to a BCS bowl when they finished tied with the Buckeyes atop the Big Ten standings.
That 11-1 campaign was the first of five in a row in which Penn State won at least nine games after reaching that total only once in the previous five seasons.
The Nittany Lions would win a share of the Big Ten title again in 2008 and go to the Rose Bowl.
According to the PSU sports information department, Saturday will be the 11th white out of some kind and the eighth to involve the entire stadium rather than just the student section.
Penn State is only 5-6 in those contests with notable wins against Notre Dame in 2007 and Michigan in 2010 and '13.
Last year the Nittany Lions pushed eventual national champion Ohio State to the brink before losing in double overtime.