Penguins expecting Fleury's best off subpar outing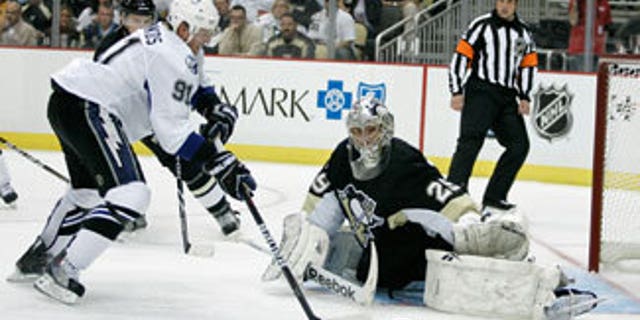 TAMPA, Fla. -- Goaltenders need short memories, and those who have them can recover from poor performances more quickly than others.
As Penguins forward Michael Rupp pointed out Monday morning at the St. Pete Times Forum, Marc-Andre Fleury has that and a little something extra most goaltenders lack.
"He's obviously an athletic and talented goalie, but he has this knack of … life's good, you know," Rupp said of Fleury's care-free attitude that could serve him well for Monday night's Game 6 (7 p.m., Versus, CBC, RDS) against the Tampa Bay Lightning.
The Penguins hold a 3-2 lead in the best-of-7 Eastern Conference Quarterfinal series, but were blown away by the Lightning 8-2 in Game 5 with a chance to end the series at home. Fleury allowed four goals on 14 shots before he was pulled early in the second period.
Fleury didn't look like a goalie carrying the weight the world on his shoulders during Monday's morning practice, flipping pucks toward onrushing shooters and dropping to the ice into the splits with teammates bearing down on him before popping up at the last second to make a save.
"That helps him. He's able to shake off anything and usually rebound and play in a way that his skills allow him to," Rupp said. "You don't want to see a goalie slamming his stick on the ice and throwing his head back after goals, and he doesn't do that. He's able to shake off things pretty easily."
To find proof of Rupp's assessment, look no further than the last two games played in Tampa.
By all accounts, Fleury wasn't as sharp as he needed to be in Game 2. He wasn't yanked in favor of backup Brent Johnson during the game, but he gave up four goals on 20 shots and allowed the Lightning to even the series as it headed here for Games 3 and 4.
But Fleury responded in both of those contests, allowing just four total goals (two in each game) on 58 shots to help the Penguins grab a commanding 3-1 series lead. With the margin of error much slimmer in these playoffs with stars Sidney Crosby and Evgeni Malkin out of the lineup, more of the burden falls on Fleury to be at his best.
So far, none that pressure has gotten to the Fleury, the epitome of an easy-going goaltender.
"He takes it hard the day of the game," forward Jordan Staal said, "but the next day, he's all smiles and ready to go again. He's a guy that's pretty good at forgetting and going and playing better the next game."
During Fleury's stellar regular season, one in which he finished in the top 10 in goals-against average (2.32) and save percentage (.918) among goaltenders playing at least 50 games, he allowed four goals or more eight times.
In Fleury's eight starts after those subpar outings, he's 5-2-1 with a 2.05 GAA and .917 save percentage.
"That's typical of Marc-Andre," defenseman Kris Letang said. "If he has a bad game, he always bounces back really well. I'm going to expect his best tonight."
Follow Dave Lozo on Twitter: @DaveLozo