Pedro Alvarez Hits it out the Ballpark, Reaches 26th Homer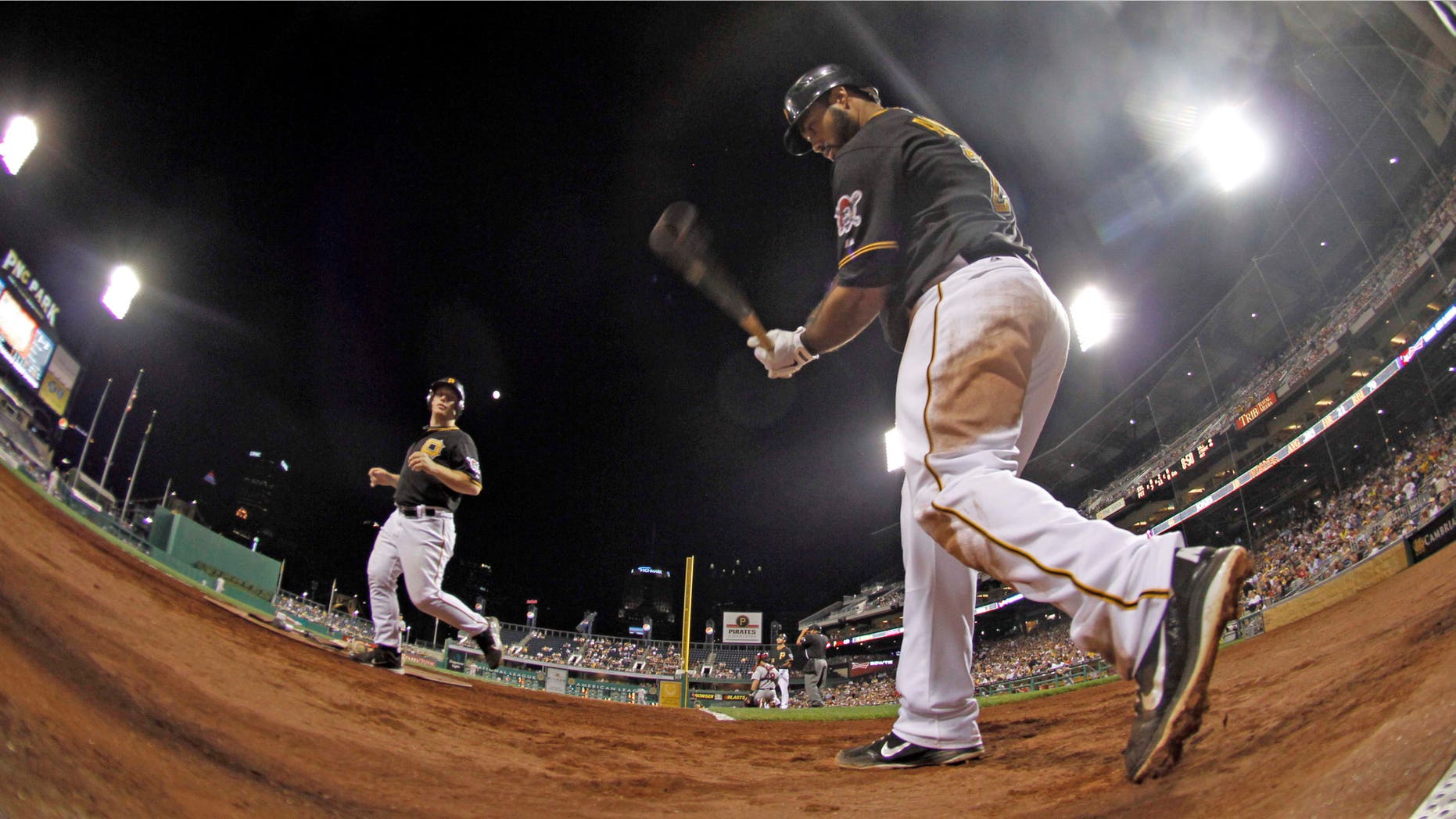 Pittsburgh – Pedro Alvarez was on top of his game Wednesday night, hitting the ball out of the park and making the Pittsburgh Pirates triumphant.
Alvarez stayed hot, blasting his 26th homer of the season and driving in three runs as the Pittsburgh Pirates rolled to a 5-0 victory over St. Louis.
The third baseman — who hit two homers on Tuesday — continued his season-long dominance of the Cardinals. His three-run shot in the third gave him seven home runs and 23 RBI in 15 games against St. Louis this year as Pittsburgh moved within one game of the NL's second wild card spot.
Wandy Rodriguez (9-13) worked six tidy innings for Pittsburgh to pick up his first victory as a starter since being acquired in a trade last month. Rodriguez walked three and struck out three while helping the Pirates shut out the Cardinals for the second straight night.
Joe Kelly (4-6) battled control problems during five rocky innings, giving up five runs on eight hits.
The victory helped the Pirates take the season series from St. Louis 8-7, not an insignificant number with both teams battling for a postseason berth. If the two clubs are tied for the second wild card spot at the end of the regular season, the Pirates would have host the play-in game.
There's still a long way to go before the first week of October, particularly for Pittsburgh. Still, the Pirates will head into September still in the mix, something they haven't done in 20 years.
Pittsburgh appeared to be teetering on the edge of collapse following a 4-3 loss on Monday that dropped the Pirates three games back. They responded with a pair of convincing wins being the streaky Alvarez.
The former first-round pick has finally developed into the lineup-anchoring power hitter the team envisioned when it drafted him four years ago. He's certainly feasted on St. Louis pitching this season, going 23-for-58 (.396).
He gave Rodriguez all the offense necessary in the third. Coming to the plate with two on and two out, Alvarez drilled an 82 mph curveball from Kelly into the right field seats. The ball left the park so quickly Alvarez barely had time to break into his home run trot before it landed.
The blast gave the Pirates a 4-0 lead and Alvarez made it 5-0 in the fifth when he doubled with two outs and scored on a single by Josh Harrison.
Rodriguez took advantage of the cushion. He came in 0-4 as a starter with the Pirates after being acquired from Houston on July 24. His only victory came in two relief innings during Pittsburgh's 19-inning victory in St. Louis on Aug. 19.
Pittsburgh manager Clint Hurdle blamed part of Rodriguez's problems on the pressure of trying to validate the trade. Hurdle urged the veteran lefthander to relax, and Rodriguez looked at ease playing with a sizable lead for the first time as a Pirate. The Cardinals managed just three paltry singles and never got a runner to third.
The Cardinals played without catcher Yadier Molina, who sat out as a precaution following a brutal collision at home with Harrison on Tuesday night. Molina suffered neck, shoulder and arm soreness after Harrison crashed into him trying to score from second.
Tony Cruz started in Molina's place and had two of St. Louis' five hits, but the Cardinals failed to muster any offense as their scoreless streak reached 21 innings.
NOTES: Pittsburgh 2B Neil Walker missed his third straight game with a stiff back. Walker said he's starting to feel better but still has no timetable on a possible return. ... The Cardinals begin a four-game series in Washington on Thursday. Jaime Garcia (7-9, 3.72 ERA) takes on Washington's Edwin Jackson (7-9, 3.72) in the opener ... Pittsburgh is off Thursday and travels to Milwaukee for a weekend series on Friday. Jeff Karstens (5-3, 3.47) faces Milwaukee's Mark Rogers (2-1, 4.28) in the first game.
Based on reporting by the Associated Press 
Follow us on twitter.com/foxnewslatino
Like us at facebook.com/foxnewslatino