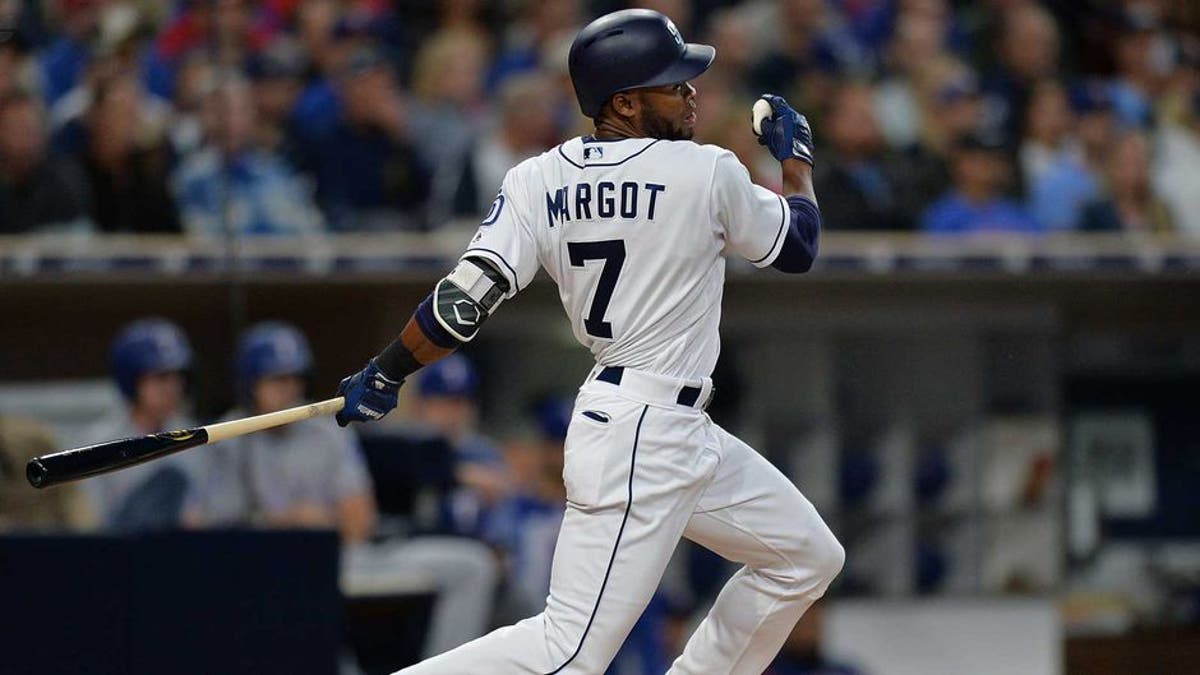 SAN DIEGO -- Texas' A.J. Griffin is ready for his hometown close-up.
Griffin, who attended the University of San Diego, gets the start on Tuesday as the Rangers face the San Diego Padres at the halfway point of this home-and-home interleague series. The Padres won the opener 5-1 on Monday.
Jered Weaver gets the nod for the Padres as they try to win two straight for the first time in a week.
After Tuesday's game, the teams head for Texas for the final two contests in Arlington.
For Griffin (3-0, 3.54 ERA), this season comes with a sense of deja vu. For the second straight year, he has won his first three decisions. This season, the trio of victories came on the road.
"His secret to his success?" Texas manager Jeff Banister said in repeating a reporter's question. "His health."
Griffin did experience one hiccup this year when he had gout in his left ankle. That caused a brief stay on the disabled list, but he was solid in his first start back. He helped the Rangers avoid a sweep to the Houston Astros on Thursday, surrendering but two runs (one earned), six hits and a walk. He struck out seven in an 88-pitch outing.
Griffin came to Texas last year after missing two years following Tommy John surgery. Then he was waylaid by a sore shoulder that cost him about six weeks in 2016.
But this year, save the gout, the right-hander has been spot on.
"He's been healthy," Banister said again. "The shoulder has felt good, and with the overall body being in much better shape, it has allowed for the shoulder to be healthy."
Griffin, who went to nearby Grossmont High School, is making his first appearance against the team he grew up cheering for. He no doubt will be packing his fastball, and hopefully, the command to go with it.
"He has a tremendous feel for the baseball," Banister said. "He can throw the fastball where he wants to, and he uses that up-down game. He has confidence in throwing strikes and the use of his secondary stuff."
The stuff hit the fan in Weaver's last outing. The veteran right-hander gave up a career-high 10 runs (five earned) on Wednesday against the Colorado Rockies. Once again, the home run ball -- Ian Desmond hit two -- was Weaver's downfall.
"It's just one of those games you wish you could start the thing over, and unfortunately you can't do that," said Weaver (0-3, 5.51 ERA). "They were able to get a couple early. I kind of fell apart there in the fifth. It was just a battle all game, a struggle. The location wasn't very good again, and those guys made me pay."
Maybe Weaver will be money against the Rangers. There is not a team he has faced more, with Texas being a regular foe from Weaver's days with the Los Angeles Angels.
Weaver has started 40 times vs. Texas and has a 18-8 record with a 3.44 ERA and two complete games.