Padres' flip rotation for Thursday night against Rangers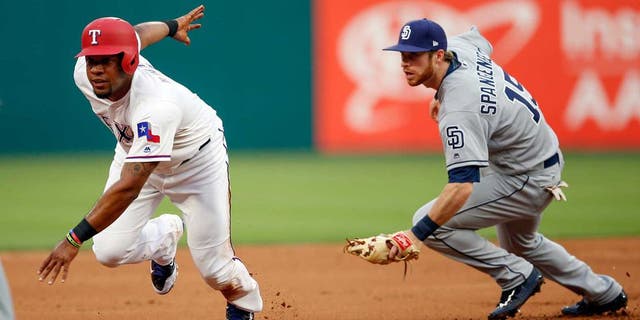 ARLINGTON, Texas -- The Texas Rangers and San Diego Padres are each looking for a spark from their rotation.
Texas hopes it can finally get one from left-hander Martin Perez (1-5, 4.06 ERA), who is off to a dreadful start heading into his first career appearance against the Padres on Thursday. The Padres are hoping a rotation switch is just the ticket for success as they look to avoid their third straight loss to the Rangers.
San Diego has flipped its rotation, going with left-hander Clayton Richard (2-4, 4.87 ERA) instead of right-hander Jhoulys Chacin to get a lefty against the Rangers. Chacin will start Friday at the Chicago White Sox. Texas is hitting only .192 against left-handed pitching this year.
Hitting against Perez hasn't been an issue for any team this year. Perez comes into the start having lost four consecutive starts, which matches the longest losing streak of his career. He's also tied for the American League lead with five losses.
While losses don't tell the story about a pitcher, it isn't hard to figure out that Perez is struggling just by looking at his numbers. Opponents over the last four games are hitting .326 against him. His ERA in those starts is 5.49 and he has pitched only 21 1/3 innings during that span.
Ugly numbers indeed, but Perez is confident that he can get things turned around starting Thursday.
"I'm feeling good," said Perez, who is 4-5 with a 4.60 ERA in interleague play. "My arm is good. I don't have a good record right now, but it's coming. If I continue to feel like how I feel right now, I can go 200 innings and make my 33 starts. That's my goal right now. I want to give my team a chance to win every time."
One area Perez said he feels better about is his command. His last outing -- a 5-1 loss at Seattle -- marked the first start for Perez this year that he didn't walk a batter.
He plans to attack the strike zone Thursday.
"I'm not going to walk anybody," Perez said. "I'm going to throw the ball in the middle, and if they hit the ball, good. If not, I get the outs."
Richard wouldn't mind a good start Thursday, either. He was 2-2 after four starts but his ERA has gone from 3.04 to 4.87 since then. He allowed five runs in five innings in his last start, a 10-2 loss to the Los Angeles Dodgers.
Facing the Rangers may be just what Richard needs, at least that's what manager Andy Green is hoping.
"Everybody's healthy, everybody's fine," Green said. "It's more matchup related. If you flip them, you get a .200 OPS advantage on each club. This Texas team has traditionally struggled a little bit more with left-handed pitching this season than right-handed, and vice versa in Chicago."
While Texas struggles against lefties, that hasn't been the case against Richard. He has faced the Rangers five times, including one start. He has a 7.36 ERA in those outings, but he does have 11 strikeouts in 7 1/3 innings.
But the numbers say Richard is due. Green said he thinks that's the case, too.
"Hopefully we're putting guys in positions to succeed and give us a better chance to win both ballgames," Green said.