Packers need to find balance on offense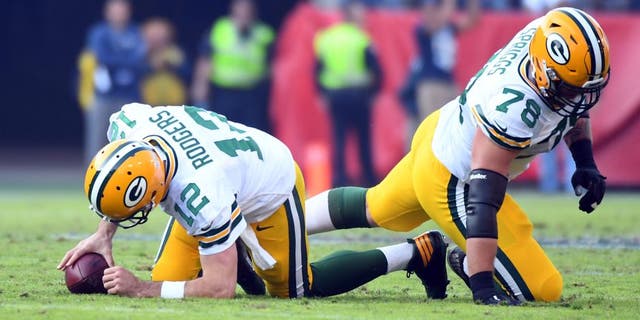 GREEN BAY, Wis. -- Without Eddie Lacy, the Green Bay Packers' offense has become the most pass-happy attack in the NFL.
With Lacy out following ankle surgery that's sidelined him for the past four games and will keep him out Sunday night at Washington, the Packers' sputtering offense has been at its best throwing early and often. Coach Mike McCarthy, however, wants to build a more balanced attack after Aaron Rodgers dropped back 59 times and handed off only 10 times in last week's blowout loss at Tennessee.
"I always want to run the ball more, but I also want to throw it 55 times a game, too," McCarthy said Wednesday. "That's the way games are. You have to run the ball. Everything starts with running the football. You can't extend your offensive line and your pass-protection unit the way we have. Running the football is very important for a number of different reasons."
To that end, Green Bay was awarded running back Christine Michael on waivers Wednesday. Michael joins a backfield with veteran James Starks, who returned last week after missing four games following knee surgery.
Michael was released by the Seahawks on Tuesday despite being the team's leading rusher with 469 yards (4.0 average) and six touchdowns. The hope is he will help deliver the balance the failed trade with Kansas City last month for Knile Davis didn't provide. Davis carried five times for 5 yards in two games before he was released Oct. 31.
"It allows us to get balanced again," receiver Jordy Nelson said of Starks and before the addition of Michael. "I think that's what we were able to do early in the year, just stay balanced. It allowed us to get into the play action. It makes the defense worry about another playmaker out there. I think he brings the screen game into it as well, like he did last week when he scored a touchdown on a screen.
"When you don't have a running back, it's hard to do those things. We've tried to manage. I think we've done a decent job with the circumstances but, hopefully, we can get some guys healthy and get back to a normal offense."
The Packers' offense has been anything but normal. They are passing two-thirds of the time, the highest rate in the league. Rodgers had a big game in almost upsetting Atlanta in Week 8 and rallied the team from deficits in losses to Indianapolis in Week 9 and Tennessee in Week 10. However, without the threat of a running game, the statistical production hasn't been consistently good. While Rodgers is third with 22 touchdown passes, he ranks 16th with a passer rating of 93.9, 20th with a completion rate of 63.1 percent, and 29th with 6.53 yards per dropback.
Redskins cornerback Josh Norman said don't be fooled by those mediocre numbers.
"Hey, man, let's not get things mistaken over there," said Norman, who called Rodgers and New England's Tom Brady the best quarterbacks in the NFL.
"That guy can hit you at any time, any place, anywhere, any given day, any given game," Norman added. "I really don't care what the outside noise is. I know who we're facing and that's a cerebral quarterback that's the best of the best at what he's doing. Regardless of what others may think of him, I know for a fact that that is the toughest quarterback challenge to face because he has everything in his toolbox, in his arsenal, to make them win."
Time is of the essence for Green Bay's offense to build an effective identity. With Starks and Michael, can it find balance? With Rodgers, is throwing the football repeatedly the way to go?
The Packers have lost three in a row and four of their last five games. At 4-5, their best road to the playoffs is through the beleaguered NFC North, in which neither Minnesota nor Detroit (both 5-4) has seized control.
"It doesn't matter stats-wise if we're running it a bunch of throwing it a bunch," Rodgers said. "We just need to find a way to win. If we've got to throw it 60 times to win, we've done that before. Obviously, you'd love to have some balance, but, at this point in the season, it comes down to winning football games."