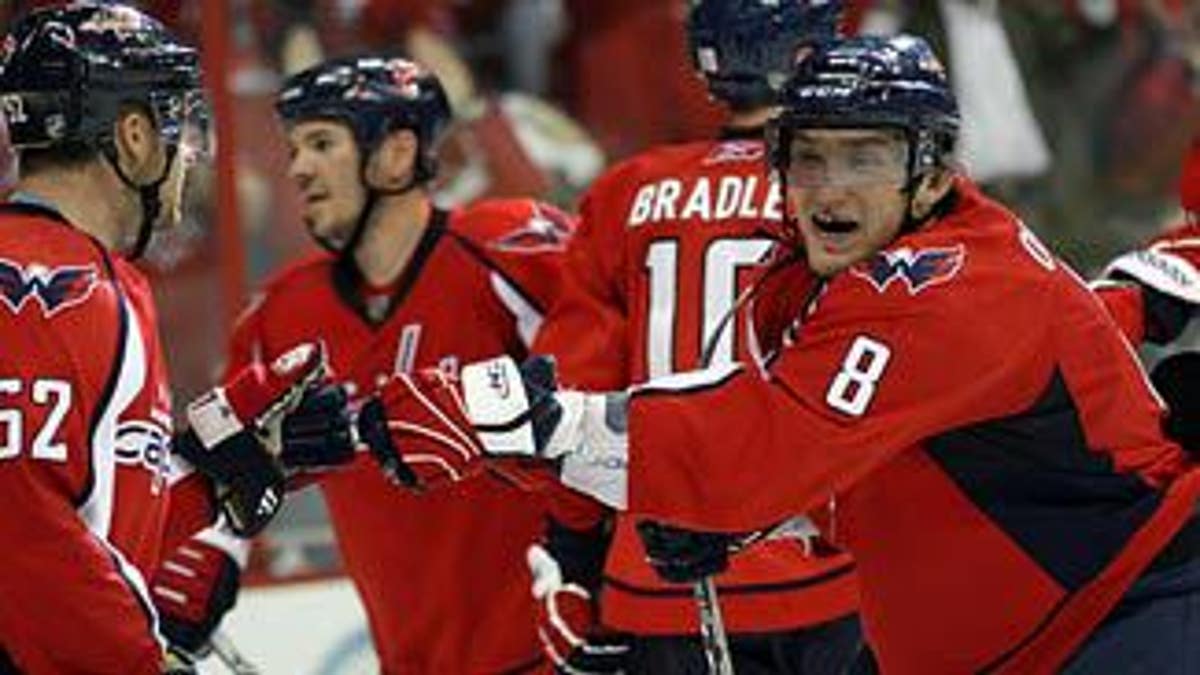 ARLINGTON, Va. -- Alex Ovechkin and the Washington Capitals got a good dose of playoff hockey Wednesday night in a 2-1 overtime victory against the New York Rangers. The game was tight and physical, with far more hits than fancy plays or odd-man rushes.
Ovechkin was able to score a goal by jamming the puck past Henrik Lundqvist in a scrum at the New York goalmouth, and one mistake by a defender led to the other two goals. Traffic in front of Lundqvist was a big key for the Capitals going into this series, and that sentiment hasn't changed.
"I don't think you can ever get enough," coach Bruce Boudreau said. "It is easy to say, 'Let's get traffic.' Everyone understands the phrase, but it is not as easy to do as you'd like to do. Their defense is really good and blocking out and sometimes the opportunity is not there to get traffic. The point man has to have time to shoot the puck and you've got to have time to get from the corner to the front of the net. We did as much as we could, but we'd like to do more. Every team would like to do more."
Here's what Ovechkin had to say after Washington's morning skate at Kettler Capitals Iceplex in Arlington, Va., as the Capitals prepare for Game 2 Friday night at Verizon Center:
Q: Obviously your goal came from right in front of the net, but did you think you guys got as much traffic and as much close-in chances as you wanted against Lundqvist?
Ovechkin: Well, I think it is the key against Lundqvist to have some traffic and find some rebounds. If he sees the first shot the whole time, most of the time he leaves rebounds. If we find the rebound it is, "Go high." My goal was kind of a work-hard goal. I think we have lots of opportunities to score goals but he made some unbelievable saves and keeps the Rangers in the game.
That was last game. Today is going to be a different game. It is going to be a more intense game.
Q: With this series and when you see how the first game was played, do expect the goals to be kind of ugly goals?
Ovechkin: I think in the playoffs everybody try to play more defensive style of hockey. Ugly goals are like most beautiful goals. You can see last night when [Buffalo's Patrick] Kaleta scored -- find the rebound and go to the net. It is that kind of goals that's playoff goals. It is all about hard work.
Q: Are you watching the other games?
Ovechkin: I just watched the highlights.
Q: How encouraging is it for you guys to see Dennis Wideman back on the ice this morning?
Ovechkin: It means a big step for him and for us, too. We'll see what is going to happen.
Q: It seems like the game plan for both teams is pound some of the young and experienced defense on both sides. Did you think you guys as forwards did a good job of helping them out by getting back and breaking pucks out?
Ovechkin: Yeah, I think last game every line on our team and their team played really solid D. Of course we have mistakes because it is the game, but we try to protect our defensive zone and try to make safe play.