Once fearful that his career was over, Ravens TE Pitta returns to form for defending champs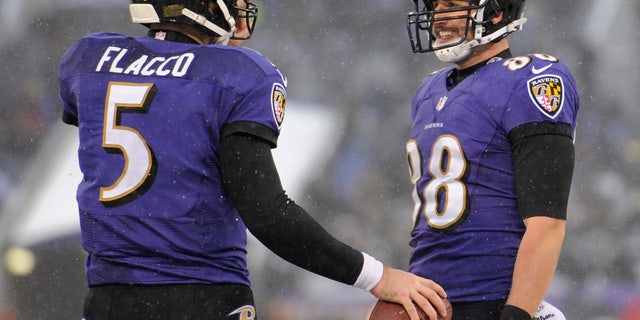 OWINGS MILLS, Md. – Dennis Pitta was uncharacteristically miserable, for good reason.
The Baltimore Ravens tight end had just undergone surgery to repair his dislocated and fractured right hip after he fell awkwardly in the end zone on the second day of training camp. As he lay in the hospital bed, Pitta knew his football career could very well be over.
"The surgery, for what had happened, went successfully," he said this week. "But still there were a lot of unknown factors."
Pitta would have to wait two agonizing weeks for an MRI that would determine the extent of the injury. If there was vascular or cartilage damage, the 28-year-old would be done in the NFL after only three seasons.
"He's usually a happy guy, but when I walked into the room I could feel his pain. He was sad and upset," Pitta's wife, Mataya, recalled. "I'd never really seen him like that."
Pitta's eyes lit up when he saw his wife and their infant son, Decker, who was born in May. But his delight was short-lived. The couple discussed their options, which included the possibility of Pitta beginning life after football by going back to school to complete his education.
"When you don't know if you're going to play football again, you start thinking about a lot of things and put things in perspective, kind of try to figure out what you would do with the rest of your life," Pitta said. "Those are tough questions to ask when you just want to play football."
That was late July. Flash forward to last Sunday, when Pitta and caught six passes for 48 yards and a touchdown to help Baltimore beat Minnesota 29-26.
"It was special for me to be able to not only take the field, but to be able to contribute like that," he said. "It's been a lot of hard work going into that, a lot of patience at the same time."
When he arrived at training camp, Pitta was coming off a sensational season in which he caught 61 passes and scored seven touchdowns. He was even better in the playoffs, adding 14 catches and three scores to fuel Baltimore's run to a Super Bowl title.
Pitta was supposed to be even more of a target this season. The Ravens traded receiver Anquan Boldin because they knew Pitta would be there to take throws from Joe Flacco in the middle of the field and on third-and-long.
"I felt like I prepared myself well going into the season and was really poised to play my best football," Pitta said.
Then came that fateful July 27 collision in the end zone with teammate James Ihedigbo.
"I woke up the next day and I had a nice big incision down my leg. They had to remove a bone fragment, there was another fracture in the socket," Pitta said.
The initial prognosis was not rosy.
"I told him, 'If it's over, you had a great run,'" Mataya said.
The MRI yielded a positive outlook, although Pitta remained on crutches and needed Mataya to put on his socks and help him around their three-story town house.
"My wife had a particular challenge, taking care of a newborn baby and me at the same time," Pitta recalled. "Bless her heart for what she had to deal with."
Not long after that, Pitta began the rehabilitation process.
"I have never seen anybody work as hard as he did," Mataya said. "Every day he did more than what the doctors and trainers asked. He changed his whole lifestyle, including his diet, and he really loves to eat."
Pitta toiled seven days a week to get back. All that work paid off Sunday, when he joined his teammates for his first game of the year.
"Seeing him Saturday night when I dropped him at the hotel, he was as happy as a little kid," Mataya said.
Although the game was played in the snow on an icy field, Pitta ran his routes with confidence. It was almost as if he never left.
"I don't think at any point did I think about my hip or was concerned about planting on it or landing on it or anything like that," Pitta said. "I was certainly encouraged by the things I was able to do on Sunday."
Pitta was targeted 11 times and five catches in the second half, one for a touchdown.
"They didn't waste any time getting him the ball when he came back," said Lions coach Jim Schwartz, whose team faces Baltimore (7-6) this Monday night.
Maybe the Ravens wouldn't be struggling to reach the playoffs if Pitta had been around from the beginning.
"He catches the football, he's in the right place, he runs routes, he knows how to get open," Flacco said.
Even the guys on the other side of the ball realize Pitta's value.
"Everybody knows I'm his biggest fan," Ravens linebacker Terrell Suggs said. "I'm happy to see him back out there doing what he does best, and that is helping us win games."
___
AP NFL website: www.pro32.ap.org