On comeback trail, Caps need more from Ovi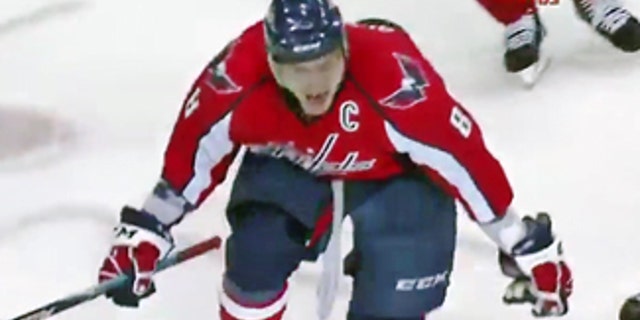 ARLINGTON, Va. -- Alex Ovechkin has already scored a critical goal for the Washington Capitals in their Eastern Conference Semifinal series against the Tampa Bay Lightning.
But, as it tends to be for the very best players in sport, expectations are incredibly high for Washington's captain. Given that, the Capitals are likely going to need more from Ovechkin if they are to stage an improbable comeback after falling behind 2-0 in this best-of-7 series with a pair of home losses to the upset-minded Tampa Bay Lightning.
"Everybody wants more from Alex," Capitals coach Bruce Boudreau said Monday morning at the team's practice facility. "I think he's trying out there. He's working hard. What are you going to say? ... We need more from everybody. We don't just need more from Alex."
Boudreau is correct -- Nicklas Backstrom has yet to score this postseason and was partly responsible for a goal allowed in Game 2 because of a turnover in his own end.
Mike Green has not had the same impact against Tampa Bay that he did against the New York Rangers in Round 1. Alexander Semin scored the first goal for Washington in this series, but his impact on games has come and gone.
Those three are all great players and compensated as such, but there is an extra burden place on Ovechkin. He's not only the face of the franchise but the face of his sport in his home country and one of the faces of his League -- and the other guy who typically shares that title with him -- Pittsburgh's Sidney Crosby -- hasn't played since January.
This explains why there is the expectation of more from Ovechkin, especially with his team down 2-0 to the Lightning.
"He's not getting a lot done," Boudreau said of Ovechkin after Sunday's Game 2. Ovechkind did, though, tie the game at 1-1 with 67 seconds left in regulation before Vinny Lecavalier won it in OT. "It is not hard to put defensemen against forwards. It is an easy matchup and (Eric) Brewer is doing a pretty good job on him."
Brewer and Mattias Ohlund have been on the ice a lot against Ovechkin, who did not speak to the media Monday, and have been able to contain him at even strength. Ovechkin's goal came with goaltender Michal Neuvirth on the bench and with six Washington skaters on the ice.
Ohlund was a key free-agent addition during the previous regime for Tampa Bay, a guy who was brought in to help stabilize a porous defense corps and help mentor countryman Victor Hedman. Brewer has turned out to be one new GM Steve Yzerman's top additions.
He was added at the trade deadline, and after a few years dealing with injuries and playing for a team in St. Louis that was often outside the playoff picture, Brewer has almost re-emerged this postseason with his play against Pittsburgh and Washington.
"[Brewer] and Ohlund are steady. They keep it simple -- big bodies," Mike Knuble said. "They don't make mistakes. They can be counted on by their team and they perform and they've been very strong as a pair and individually. They battle in the corners, they're big bodies, physical when they can be so they present a pretty good challenge."