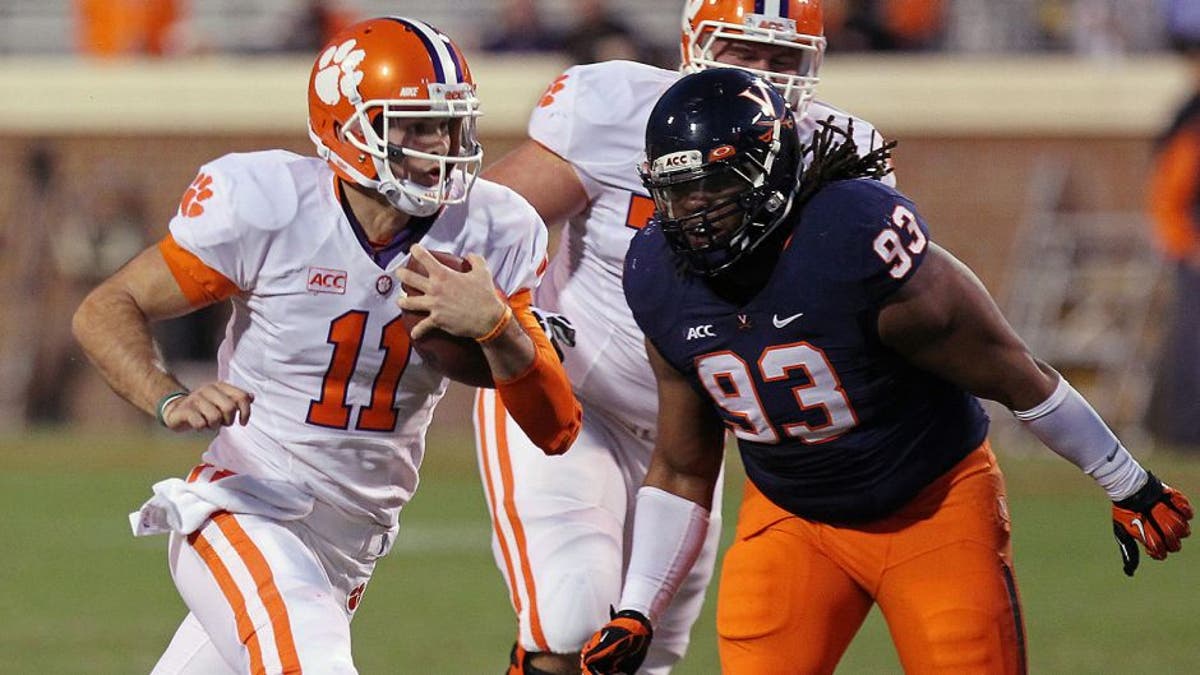 All eyes are on quarterback Chad Kelly heading into Ole Miss camp, which begins this week.
Kelly, a transfer from Clemson via East Mississippi Community College, isn't lacking for talent but has had off-the-field issues. He was dismissed at Clemson for what was officially dubbed "conduct detrimental to the program" and then was arrested after an altercation in Buffalo shortly after his transfer to Ole Miss.
As the expected starter for the Rebels this season following the graduation of Bo Wallace, Kelly understands that he's under a lot of pressure this fall. With that in mind, he reportedly spent time in Buffalo recently with his uncle, NFL Hall of Famer Jim Kelly, to get some mentoring -- in both quarterbacking and life.
"He told me I just had to understand I have a microscope on me all the time," Kelly told The Clarion-Ledger. "You have to understand you have to make the right decisions at all times of the day, because there's always someone looking at you.
"Understand, you're not just a quarterback on the field, you're a leader to young kids, GMs, head coaches. I heard the head coach at San Francisco say there are four phases of football, and I (liked) it: offense, defense, special teams and life. You have to understand that it's bigger than just football."
Kelly said that the two talked a little football as well, which will come as promising news to Ole Miss fans concerned about the quarterback position this season. The 6-foot-2, 215-pounder was the heir apparent to former Clemson QB Tajh Boyd as a highly touted four-star recruit before his dismissal and ensuing enrollment in junior college, where last year he threw for 3,905 yards and 47 touchdowns while leading East Mississippi Community College to an NJCAA national title.
Kelly explained that he and his uncle talk "occasionally," as he recognizes that his uncle has much to share in terms of both life advice, having beaten cancer twice, and football knowledge, having led the Buffalo Bills to four Super Bowls during a legendary career. During the most recent visit, Kelly told the Clarion-Ledger that he received the following quarterbacking advice:
"You have to know the situation, first, at all times. Take what the defense gives you, and the big play will open up. That's what my uncle was really telling me. Dink and dunk, and then you'll have the chances to throw down the field. I need to work on that."
He'll certainly be given every opportunity to do so in camp as the presumptive starter; Ole Miss coach Hugh Freeze said he feels good about Kelly heading into preseason practice, adding that he's been nothing but pleased with the newcomer's efforts thus far.
"The guy had a 4.0 GPA this summer, had a 3.6 in the spring. One of the strength staff's favorite kids, finishes first in every drill," Freeze said. "He's just like a lot of us, has made some mistakes in the past and is ready to hopefully move beyond them. I think he deserves that opportunity now."
(h/t Clarion-Ledger)