Of course Paul Pogba has a new outrageous haircut for the Euros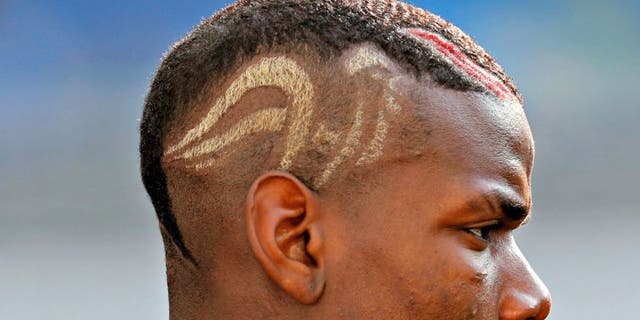 NEWYou can now listen to Fox News articles!
Euro 2016 starts on Friday, but France star Paul Pogba has already given us a taste of what we can expect from what we're now affectionately calling the "Summer of Pogba."
Not one to shy away from outlandish hairstyles, the French midfielder revealed a patriotic new hairdo at training on Thursday. It is not disappointing:
That's a Gallic rooster (or "coq gaulois"), the unofficial symbol of France, buzzed into the side of his head. And not just that, but it's dyed to match the French Football Federation's logo. It's pretty awesome.
Of course, the whole image doesn't take more than one half a head to complete, so that leaves a lot of untapped real estate. Fear not, Pogba knows better than to leave a canvas blank. It looks like he went ahead and added his name to the left side of his dome, because why not?
France have a lot riding on Euro 2016 -- having fallen in the quarterfinals at both 2014's World Cup and the 2012 edition of the Euros. Despite their being the hosts and having a load of young talent, they face an uphill battle.
But with Juventus' crown jewel Pogba pulling the strings, there's definite hope. With hair like that, who can bet against them?
MORE FROM FOX SOCCER: