Odell Beckham Jr. hints that his urination celebration was a shot at Trump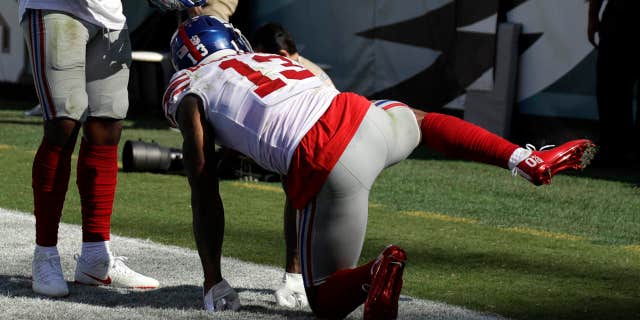 NEWYou can now listen to Fox News articles!
New York Giants star wide receiver Odell Beckham Jr. hinted Monday that his touchdown celebration where he pretended to urinate in the Philadelphia Eagles end zone was a response to President Trump calling players who kneel for the National Anthem "sons of b****es ."
Beckham responded to a tweet that questioned whether the move was in response to the president's remarks on Sunday, saying "If u seen that, I have to tip my hat to u for thinkin outside the box. #URRIGHTONPOINT impressed."
The fourth-year receiver was questioned after Sunday's game on his actions, but did not give a direct answer that it was a response to Trump's comments.
"I was in the end zone. I scored a touchdown," Beckham said, according to NJ.com. "I'm a dog so I acted like a dog. I don't know if the rulebook said you can't hike your leg. (The referee) said I peed on somebody, so I was trying to find the imaginary ghost that I peed on. But I didn't see him."
Beckham scored two touchdowns in the game. On his second touchdown, Beckham raised his fist, which many players have been seen doing during the National Anthem.
The Giants lost the game in the final seconds, 27-24.
Ryan Gaydos is a homepage editor for Fox News. Follow him on Twitter @RyanGaydos.