No. 4 South Carolina women seeking sole possession of SEC title, to finish undefeated at home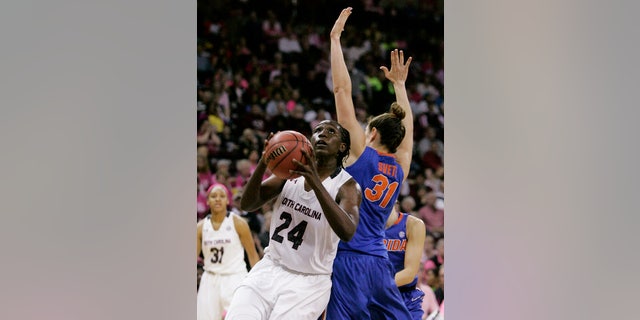 COLUMBIA, S.C. – South Carolina is looking to launch its biggest celebration of the year Thursday night when it takes on Georgia.
The fourth-ranked Gamecocks (25-2, 13-1 SEC) can wrap up the outright Southeastern Conference championship with a victory and finish 16-0 at home.
Coach Dawn Staley said her players' focus has been as even-keeled as always, despite the good feelings that followed clinching a share of the SEC crown Sunday after 17th-ranked Texas A&M lost to No. 12 Kentucky.
"Obviously, there's a lot at stake and I'm quite sure our players understand that," Staley said Wednesday. "But in front of us, they've put up a united front and a focused look."
That's how South Carolina has risen all season long, particularly at home where they can complete their first undefeated season since going 11-0 in 1978-79.
This past Sunday, the Gamecocks drew 10,547 people — the second largest crowd for women's basketball since the 18,000-seat building opened in 2002 — to watch them earn a share of their first-ever SEC title with a 69-55 win over Florida.
About an hour later, Staley was smiling again when word of the Kentucky victory came in. Practices have been solid the past few days and Staley believes her team knows there's more work ahead.
Georgia, usually near the top of the SEC standings, has struggled after going 0-4 to start the league season. Staley says the Bulldogs will certainly try and play the role of spoilers and prevent South Carolina from celebrating at home at their expense.
"We're prepping our players to play the (Georgia) team that has been at the top," she said.
Should the Gamecocks come up short against Georgia (18-9, 6-8), they'll have a final chance to claim the title by themselves at No. 10 Tennessee on Sunday.
South Carolina is the league's only one-loss team. Texas A&M and Tennessee are next with three SEC losses each. The Gamecocks would need to lose both contests this week while one or both of its pursuers win out for a tie at the top.
Gamecocks leading scorer Tiffany Mitchell says the players are excited about the opportunity to win the championship alone. "I don't think we're too good with sharing," she said. "I think we'd much rather have it by ourselves."
Some of the players left the arena Sunday before news about clinching part of the title came in. That's when the texts from coaches and friends about the result flooded her phone.
It was a moment Staley told Mitchell, a sophomore averaging 15.3 points a game, to prepare for during recruiting two years ago. Mitchell believed the Gamecocks were on the rise so the Parade All-American from Charlotte, N.C., signed on.
"I kind of wanted to be a part of all of that," she said. "I know we have a huge home crowd coming out for this last game so it would be fun to win it on our court."
Earlier Wednesday, Staley was named head coach for the U.S. women's under-18 team at the FIBA Americas championships this summer. Should America finish in the top four, it would qualify for the U19 World Championships next year.
Staley won three Olympic gold medals as a player and was an assistant coach when the American team won gold in 2008.
"I've given probably over half of my life to the organization," Staley said of USA Basketball. "I love to coach and be a part of because when you represent the United States, there's one common goal and that's to win gold."
Staley's got a goal for her Gamecocks — to win as much as possible.
Another victory would be Staley's most in a season so far at South Carolina and she's pointing to even more in the SEC and NCAA tournaments as the vision she came with six years ago is unfolding.
"A win is you see the fruits of your labor become reality," Staley said. "It is a beautiful thing."