NNS: 'Pops' Out At JR Motorsports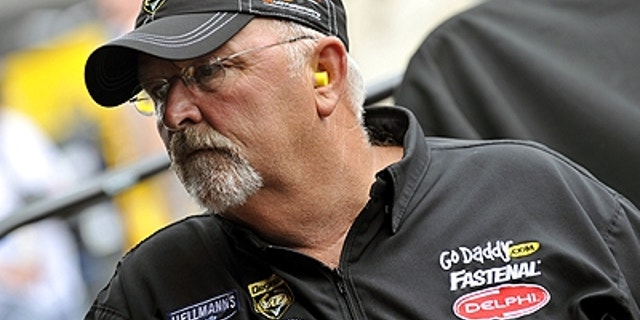 While the rest of the NASCAR community was focused on the last race before the Chase for the Sprint Cup, JR Motorsports made a stunning announcement on Friday, saying Tony Eury Sr. a/k/a "Pops" was out as the NASCAR Nationwide Series team's competition director, effective immediately.
Eury is Dale Earnhardt Jr.'s uncle. JR Motorsports is co-owned by Earnhardt; his sister, Kelley Earnhardt Miller; and Tony Eury Jr., who is crew chief for Danica Patrick at JR Motorsports.
While the press release issued by the team said the two sides agreed to "amicably part ways," there was little doubt the parting was performance related.
Cole Whitt, the rookie driver of the team's No. 88 Chevrolet, is seventh in points, while Danica Patrick is 10th.
"The conversation Tony Sr. and I had was one of the most difficult I've ever been a part of," said Kelley Earnhardt Miller, general manager of JR Motorsports. "I believe Tony Sr.'s passion for the sport is exceeded only by his yearning to excel in it, and that itself became the issue that both he and I struggled with. At JR Motorsports we do this to win races and compete for championships, and lately we have not met that standard. Being the competitor that Tony Sr. is, I know that bothers him more than anyone."
With Patrick departing next year to run full-time in the NASCAR Sprint Cup Series with Stewart-Haas Racing, JR Motorsports will lose GoDaddy.com as a sponsor and likely will need to show improved performance in order to keep both cars on track and fully funded. It's been more than two years since JR Motorsports has won a race.
Per the team's news release, Eury Sr. won 55 NASCAR races as a crew chief in both the Nationwide and Sprint Cup Series. He has 28 years in the NASCAR industry, the last five of which were served as competition director and crew chief for JR Motorsports. The company has amassed all nine of its victories under Eury's watch.
"I want what's best for Dale Jr., Kelley, Tony Jr., and all those employees. I really do," said Eury Sr. "We accomplished a lot in a short time, and nobody is prouder of that than I am. I'm not sure what's next for me, and I'm not sure I'm in a hurry to find out."
Eury came to JR Motorsports in 2007, compiling seven wins, 48 top-fives and 86 top-10s as crew chief of the No. 88 team. Prior to that he spent 21 years at Dale Earnhardt Inc., where he won two Nationwide Series championships with Earnhardt Jr. in 1998 and 1999.
"I can't think of anyone who has impacted my career and development as a driver more than Tony Sr.," Earnhardt Jr. said. "I know my dad ultimately put me in the Nationwide Series car back in the '90s, but Tony Sr. was the one who convinced him to do it. He was with me through two Nationwide Series championships and five full seasons as a Cup driver. We won a lot of races together, and as much as he impacted my career as a race car driver, he means more to me on a personal level. He's done a lot for this organization, and I thank him for it."
Tom Jensen is the Editor in Chief of SPEED.com, Senior NASCAR Editor at RACER and a contributing Editor for TruckSeries.com. You can follow him online at twitter.com/tomjensen100.