NFL venture with Yahoo will offer glimpse of the future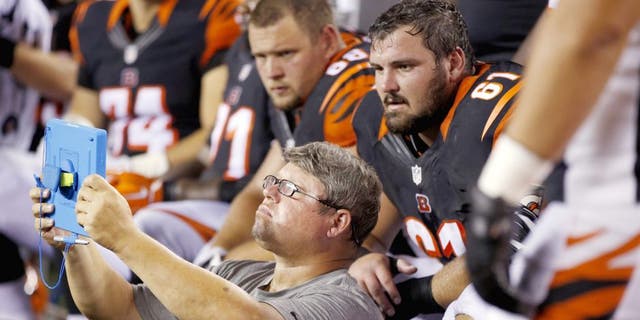 It's appropriate that a landmark technological sporting event is being staged on the same week as the 30th anniversary of Back to the Future II.
That's because the future is now for the free streaming of an NFL game globally through all devices.
The league has showcased its product on the Internet before via business partnerships with television networks and Verizon but never to the extent of what will unfold with Sunday's matchup between Buffalo and Jacksonville in London.
Yahoo is the host site for a game that serves as a likely precursor to how the NFL and other sporting entities will be presenting their product.
"I think it is not just about how you're going to be experiencing sports in the future but also TV in general," said Adam Cahan, Yahoo's senior vice president of video, design and emerging offerings.
"It's an interesting phenomenon. In the U.S., both cable and satellite providers for the first time ever are losing subscribers. As the number of households and the penetration rate goes down, larger and larger audiences are no longer engaging in TV as their primary source of video consumption."
NFL content remains America's highest-rated television programming and has yet to take a hit from cable and satellite subscribers "cutting the cord." However, the league is well aware of what can happen if new broadcast outlets for its wares aren't pursued. The NFL also is trying to expand its brand globally to increase revenues and safeguard against any potential dips in U.S. popularity.
That's where Yahoo comes in. The technology company reportedly paid $20 million for the streaming rights to the Bills-Jaguars game, which will be blacked out on television (including DirecTV's Sunday Ticket package) except for CBS viewers in the Buffalo and Jacksonville markets.
Yahoo has tried to make it as easy as possible for even the least computer-savvy users to watch the game in a click-and-view fashion. Directions and information can be found at www.yahoo.com/NFLstream. The Yahoo.com home page also will have a link to the telecast.
Cahan hopes the Bills-Jaguars audience will "rival broadcast numbers" for viewership. The sportsmediawatch.com website reported that the Miami vs. New York Jets game held in London earlier this month drew 9.9 million viewers on CBS. Because of the early kickoff, such viewership is considerably less than what later games on Sunday traditionally draw.
Yahoo, though, can tap into a far more expansive audience because of its worldwide reach. The ability to track where fans are watching Sunday's game also should provide valuable information as to how the NFL's global reach stands in foreign markets.
The Bills-Jaguars matchup will serve as a benchmark for how far internet broadcasts have come as well. Yahoo's previous streaming of other events with mainstream appeal like the recent U.S. visit of Pope Francis and a Taylor Swift concert showed the company can handle large numbers of viewers without ill effects like prolonged buffering that causes skips and pauses.
To better improve broadcast quality, Cahan said the Bills-Jaguars game will be streamed at 60 frames per second compared to the standard 30-frame rate for standard internet videos. Yahoo! also has other measures in place to accommodate viewers from all ends of the streaming spectrum.
"At the high end, if you're on a big-screen TV and have a perfect network connection, we can deliver six megabits per second for an Ultra-HD kind of experience" Cahan said. "The bit rate will go down if you're on a bad network connection or a screen that is not capable of delivering that type of experience like an old mobile device or laptop. We will adjust what you're getting to make sure to optimize what you have."
Yahoo will be airing the CBS game telecast but has added some of its own bells and whistles starting with a Katie Couric-hosted pregame show from 8 to 9 a.m. ET. Cahan said there will also be interactive elements with the viewing audience as the game unfolds like the ability to ask Yahoo commentators for fantasy football advice.
The NFL hasn't committed to any more "Internet-only" games, but all of this should be just a taste of what's to come if the Bills-Jaguars contest goes smoothly.
"We have the ability to address one billion global users in a high-quality experience," Cahan said of Yahoo. "We also have an advertising relationship with the NFL.
"What I'm saying is as a partner, we can rival any broadcaster."
We'll find out Sunday.