NFL Roundup: Dallas Cowboys Likely Need a New GM, the Jets' Santonio Holmes Benched for His Demeanor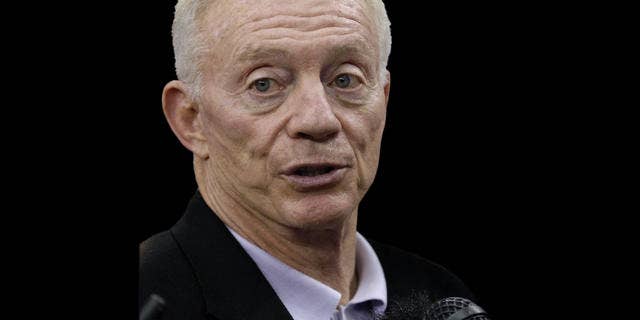 As we wrap up the 2011 season on the first day of 2012, the future is something to think about for many NFL teams with prominent Latino players and coaches. Lets see what happened yesterday, and what needs to be answered for tomorrow.
Romo & The Cowboys lose/Giants win
In what I consider the first playoff game of the season, the Dallas Cowboys and QB Tony Romo could not overcome a bad first half or contain a motivated New York Giants team with an unbelievable WR in Victor Cruz. For more on the game check out Adry Torres' extensive coverage of a game I was too invested in.
As for the future in Dallas, you can't blame Romo for a lackluster season, especially after playing with a broken rib, punctured lung, and swollen hand. You have to start looking at coaching staff and managerial decisions.
Is it time for owner/GM Jerry Jones to turn over the GM title to someone else? Sixteen years removed from their last Super Bowl and with limited playoff success in-between, I'd say he has to start thinking about it.
The Sanchize falls, uncertainty for the Jets in 2012
When it comes to QB Mark Sanchez and his New York Jets the only thing certain this year is that the overachieving team from the past two seasons with the loud-mouth head coach will not be going to the Super Bowl and will not make its third consecutive trip to the AFC championship game.
The Jets were beaten by the Miami Dolphins 19-17, but the drama continues as Jets captain and WR Santonio Holmes was benched for his "demeanor."
According to ESPN, Holmes quit on his own team even though the game was close, and his teammates were angry at him for how he was acting.
It's also being reported that "changes" are expected to happen to the offensive coaching staff. If you decode that, it means that offensive coordinator Brian Schottenheimer is probably going to be fired soon.
As for Sanchez, who had 207 yards passing, 2 touchdown passes and 3 interceptions, let's be honest, he hasn't been getting better. Sometimes he shows leadership and sometimes he just makes stupid decisions and is ineffective. It might be good to get someone else in there to determine if Sanchez is still the future or is a bust.
Skelton leads the Cardinals to a 8-8 season
Think about this -- with starting QB Kevin Kolb 7 games into the season, the Arizona Cardinals were 1-6 with a six-game losing streak. During the rest of the season, with Kolb primarily injured and backup QB John Skelton at the helm for the majority of snaps, the Cards went 7-2.
It wasn't easy for the Cards, who beat the Seattle Seahawks in Overtime 23-20 with fantastic play by WR Larry Fitzgerald and a game winning kick by Jay Feely.
The Cards have a QB controversy on their hands, folks. Skelton isn't perfect, but he has potential and his team wins with him at the helm.
Skelton threw for 271 yards, one touchdown and one pick.
Falcons win, clinch Wild Card, sign Gonzalez to an extension
The Atlanta Falcons beat the Tampa Bay Buccaneers 45-24 and now head to the playoffs, hoping to wipe away the disappointing playoff finish from last year.
The bigger news is that the Falcons re-signed TE Tony Gonzalez for a year and for the cost of $7 million to keep him from a speculated retirement and to add to his already stellar Hall of Fame career (according to ESPN).
Do the Falcons have enough to win the Super Bowl? I don't think so, and its too bad because Gonzalez deserves a ring, in my opinion.
Eagles end season with a win, future uncertain
How long can Andy Reid stay the head coach for the Philadelphia Eagles with no Super Bowl championships and an 8-8 season after the Eagles went into this season as a playoff favorite with a "dream team" of heralded free agents?
Unclear. Owner Jeffrey Lurie has a tough crowd and more than a decade of success doesn't mean much without a championship. If Reid survives, many predict his first year defensive coordinator Juan Castillo wont be permitted to stay.
Rivera ends his first season as head coach with a 6-10 record
Ups and downs for Ron Rivera's Carolina Panthers.
QB Cam Newton is a lock for Rookie of the Year but his team ends the season with a losing record and getting dominated by the New Orleans Saints 45-17. The Saints head to the playoffs and the Panthers hope to step it up next year with the foundation they've laid out this year.
Other Notes...
The Oakland Raiders fell to 8-8 and were eliminated from the playoffs after losing to the San Diego Chargers 38-26. Tebowmania continues as the Denver Broncos lost 7-3 to the Kansas City Chiefs, but win the AFC West anyway because they won the tie breaker.
Also, the next few weeks I will be covering all NFL playoff games -- Latinos or no Latinos -- so that you can can have your NFL fix all the way through the Super Bowl.
Victor Garcia is a Fox News Latino regular contributor from Fox News Channel and an avid Dallas Cowboys Fan.
Follow us on twitter.com/foxnewslatino
Like us at facebook.com/foxnewslatino