NFL owners considering ordering players to stand during national anthem
The NFL could vote as soon as next week on a rule change that would require players to stand for the national anthem -- effectively putting an end to the contentious protests that have broken out during the playing of "The Star-Spangled Banner."
Fox News obtained a letter on Tuesday sent by NFL Commissioner Roger Goodell to the league's owners confirming the rule change would be discussed.
"We live in a country that can feel very divided. Sports, and especially the NFL, brings people together and lets them set aside those divisions, at least for a few hours. The current dispute over the National Anthem is threatening to erode the unifying power of our game, and is now dividing us, and our players, from many fans across the country," Goodell wrote.
Goodell wrote he and the NFL believed players should stand for the national anthem.
"It is an important moment in our game. We want to honor our flag and our country, and our fans expect that of us," Goodell wrote.
TRUMP GOES AFTER JEMELE HILL AND ESPN, TARGETS NFL 'TAX BREAKS' 
Goodell noted, however, the NFL respects the opinions of players who've knelt, sat or raised a fist in protest.
"Building on many discussions with clubs and players, we have worked to develop a plan that we will review with you at next week's League meeting," Goodell wrote. "This would include such elements as an in-season platform to promote the work of our players on these core issues, and that will help to promote positive change in our country."
Goodell said conversations with players about the anthem issue would continue and he hoped the NFL and owners could have a "full and open discussion" during next week's meeting.
Goodell's letter follows President Trump's tweets Tuesday that suggested the U.S. change its tax laws to punish organizations such as the NFL if members were found to be "disrespecting" the national anthem or flag.
"Why is the NFL getting massive tax breaks while at the same time disrespecting our Anthem, Flag and Country? Change tax law!" Trump wrote.
Trump has also called on NFL owners to discipline players who don't stand for the anthem. On Sunday, Vice President Pence walked out on his home-state Indianapolis Colts game when members of the opposing team, the San Francisco 49ers, took a knee during the national anthem.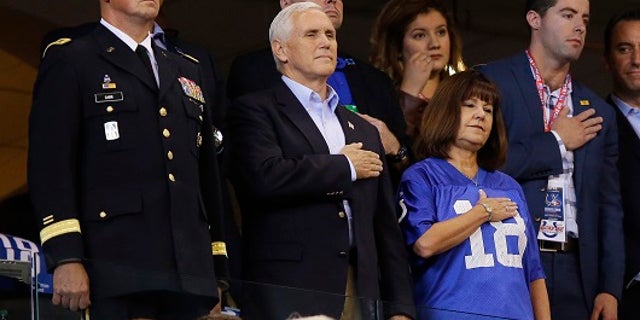 Pence tweeted around kickoff: "I left today's Colts game because @POTUS and I will not dignify any event that disrespects our soldiers, our Flag, or our National Anthem."
VICE PRESIDENT MIKE PENCE LEAVES COLTS-49ERS GAME AFTER PLAYERS KNEEL DURING ANTHEM
Trump tweeted Sunday he asked Pence to leave the stadium if players knelt or sat during the national anthem.
Dallas Cowboys owner Jerry Jones became the first NFL owner to suggest repercussions for displays of protest during the national anthem.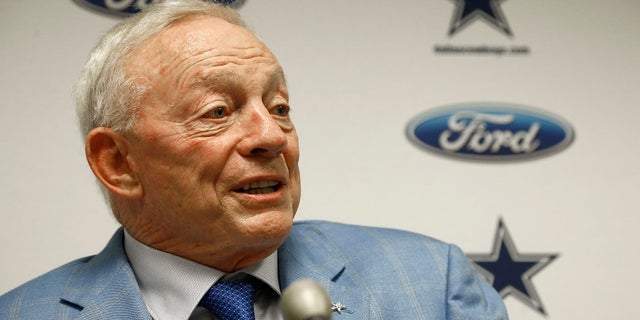 The protests began last year when former San Francisco 49ers quarterback Colin Kaepernick sat or knelt during the national anthem as a way to bring attention to the killings of black men by police officers. Kaepernick, a free agent, has not yet been signed by a team after opting out of his contract with the 49ers.
The Associated Press contributed to this report.