NFL Draft prospect sent teams 20 drug tests to show he's clean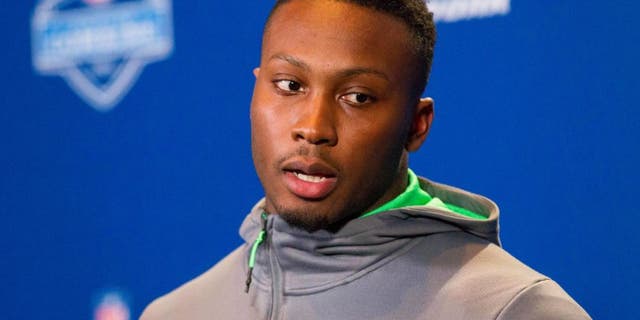 Of every prospect in the NFL Draft, there might not be one who is more intriguing than Noah Spence.
Spence, of course, was a one-time standout at Ohio State but was eventually booted from the school after testing positive for ecstasy multiple times. He ended up at Eastern Kentucky this season and, as best everyone can tell, has been 100 percent clean since then.
Still, there are lingering concerns about Spence, concerns that he is singlehandedly trying to eliminate.
Spence even went so far as to reportedly send drug tests results to all 32 teams in the days leading up to the draft, according to ESPN:
Eastern Kentucky LB Noah Spence, whom the Big Ten banned in November 2014 after a few positive drug tests at Ohio State, this week sent each of the 32 NFL teams the past 20 drug tests he has taken since May, per league sources.
And then this, from later in the story.
Spence had Eastern Kentucky conduct five drug tests from May through December, then an independent drug-testing company conduct 15 more each week from January until this week. All of the results were sent via FedEx to all NFL teams this week to review before Thursday night's draft.
If this report is true, it's an incredible gesture by Spence to show just how far he has come in his battle with drugs, and more importantly just how seriously he is taking the NFL Draft process.
Then again, it shouldn't be a total surprise either.
FOX Sports' Bruce Feldman did a fascinating, wide-ranging piece on Spence back in October, and even back then Spence seemed like a man on a mission, one determined to put the past behind him.
Here is how he described watching the 2014 Buckeyes celebrate a national championship without him.
"I will never in my life forget that feeling," Spence said. "That feeling right there is always in my head whenever I do anything because I know I don't ever want to go back again, hit rock bottom -- and I know I won't be back there ever again because I will always have that feeling in my mind."
Only time will tell if Spence is truly able to put his troubles in the past, but credit him for this: He isn't hiding from it either.
Spence is projected to go in the first round to the Arizona Cardinals, in Peter Schrager's latest mock draft.