NFL countdown: Packers vs. Lions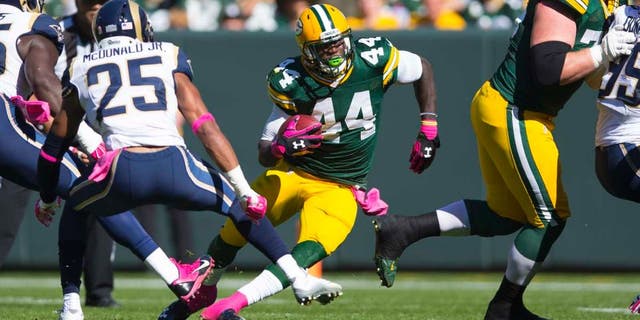 After back-to-back road losses against unbeaten teams, the Green Bay Packers kick off a stretch of four consecutive games against division foes with a contest against the Detroit Lions at Lambeau Field.
The Lions are in a tailspin, having fired team president Tom Lewand and general manager Mark Mahew over their bye week and reports circulating that star wide receiver Calvin Johnson likely won't be playing for Detroit in 2016. On top of that, Detroit hasn't been able to run the ball all season, averaging a league-worst 69.6 rush yards per game, part of the reason for their 1-7 record.
Playing a team in turmoil at home might just be the medicine to heal the Packers, who are an 11 1/2-point favorite.
A closer look at Sunday's matchup:
3 THINGS TO WATCH
-- How much will being back at Lambeau Field spark the Packers? Green Bay has been lights out at home this year with a plus-41 point differential. The fans know when to be quiet when Aaron Rodgers is calling the play and that hasn't hurt the quarterback's production. At home, Rodgers has led the way with a 114.9 passer rating, 11 passing touchdowns, an 8.7 percent touchdown percentage and 13 passes of 25+ yards.
-- How many points can Green Bay score in the first half? The Packers lead the NFL with an average of 9.1 points scored in the first quarter while the Lions are allowing an NFL-worst 13.5 points in the second quarter. It all could add up to an early blowout, perhaps.
-- Yes, the Lions are a bad football team, their 1-7 record certainly shows that. But don't expect Detroit just to lay down. In fact, expect them to put it up -- in the air. The Lions are ninth in the NFL in passing while Green Bay is 23rd in pass defense. In the last three games, the Packers have allowed 488, 340 and 297 passing yards. So watch out for Matthew Stafford trying to test the Green Bay secondary with Calvin Johnson, Golden Tate & crew.
2 THINGS TO REMEMBER
-- The Packers have won 24 straight games against the Lions in the state of Wisconsin -- this includes playoff games and those played in Milwaukee. Brett Favre was with the Atlanta Falcons the last time Detroit won a game in the state. Sometimes history means nothing. But in this case . . . combined with the fact that Green Bay is 13-0 at home since 2014 and the ball certainly seems to be in the Packers' court.
-- The Packers have turned the ball over only six times this season and have a +12 differential. Under head coach Mike McCarthy, Green Bay is 72-9-1 with plus-turnover differential. Detroit has 20 turnovers in its eight games.
1 KEY MATCHUP
James Starks vs. Lions defense
The Packers have run for less than 100 yards in three of the last four games and Eddie Lacy is out and Starks in as Green Bay looks to rejuvenate its rushing attack. Starks is averaging 4.3 yards per carry (compared to 3.8 for Lacy). He's also carried the ball more than 10 times in a game just twice this season and nine times overall since the 2012 season. But there is definite reason for hope that Starks will be the answer, at least for one game. Detroit is 30th in the NFL in rush yards allowed at 133.8 per game. Opponents are averaging 4.3 yards a carry (sound familiar?) and have 14 rushing touchdowns in eight games.
Follow Dave Heller on Twitter