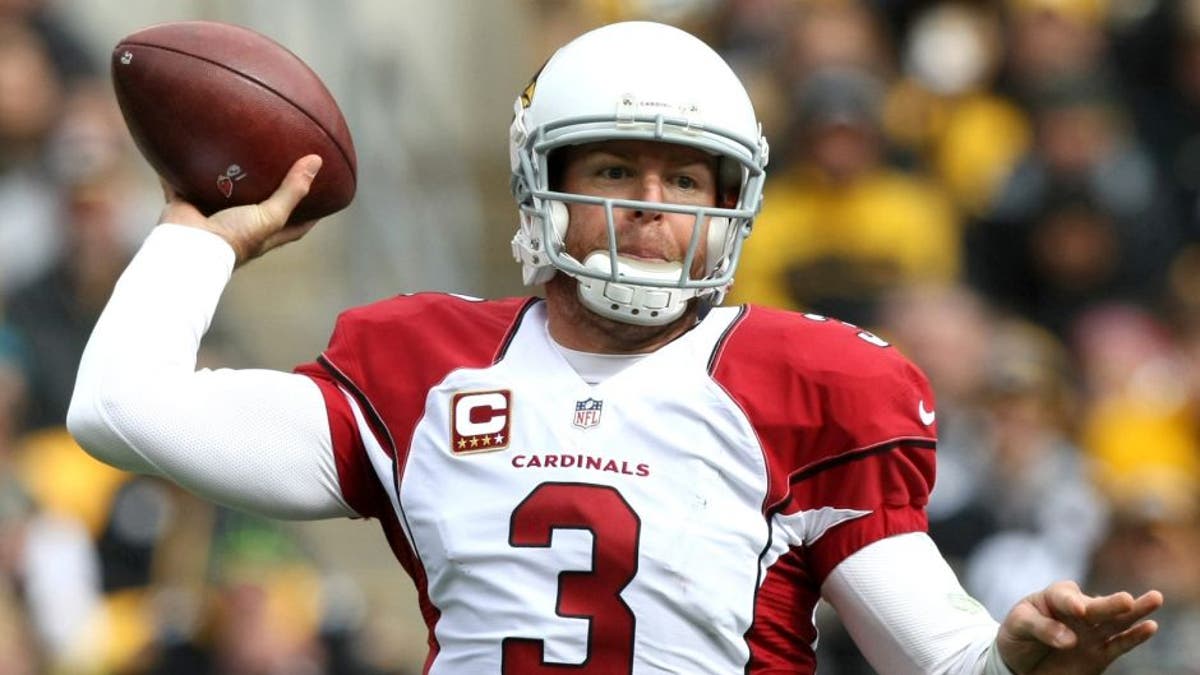 The Arizona Cardinals are the leaders in the NFC West clubhouse at the midpoint of the regular season as they pursue their first division title since 2009.
The Cardinals were in a similar position a year ago before they were derailed by injuries and overtaken by the Seattle Seahawks, who have overcome a wobbly start and are hoping to make another late-season charge. The St. Louis Rams are above .500 in November for the first time in nine years behind dazzling rookie Todd Gurley. Then comes the San Francisco 49ers, who closed the books on their turbulent first half by benching their quarterback and trading away a former Pro Bowl tight end.
Without further ado, let's review the best and worst of the NFC Wast Division play thus far.
Midseason MVP: Carson Palmer, quarterback, Arizona Cardinals
Nearly one year removed from suffering a season-ending knee injury, Palmer has the Cardinals perched atop the division and is directing an offense that ranks second in the NFL with an average of 32.9 points per game. Palmer is tied with New England's Tom Brady for the league lead with 20 touchdown passes -- the most ever in franchise history through eight games - while tossing only six interceptions. At age 35, Palmer owns the highest quarterback rating (110.2) of his career as he attempts to erase the memory of last season's slide, when Arizona failed to score more than 18 points following his Week 9 injury.
Unsung Hero: Rashad Johnson, safety, Arizona Cardinals
Now in his seventh year with Arizona, Johnson's main claim to fame had been when he continued to play after losing part of his middle finger while attempting to make a tackle during the 2013 season. Since that injury, Johnson has emerged as an indispensable component in a vaunted secondary regarded as among the league's best.
Despite the presence of high-profile teammates in perennial Pro Bowl cornerback Patrick Peterson and safety Tyrann Mathieu, Johnson has a team-high four interceptions for the Cardinals, who lead the league with 13 picks through Week 8. Johnson has already matched his career high - set last season -- in that category and has eight interceptions in his last 20 games after notching six in his first 70 contests.
Best Offseason Acquisition: Chris Johnson, running back, Arizona Cardinals
In an offseason where a number of top running backs were changing addresses (See: DeMarco Murray, LeSean McCoy, Frank Gore), Johnson's under-the-radar signing in mid-August has reaped the biggest dividends. Yes, there were questions as to whether Johnson was washed up following a pedestrian season with the New York Jets, not to mention he took a bullet in his shoulder during a drive-by shooting in March.
Johnson was brought in to provide depth behind off-injured starter Andre Ellington, who hurt his knee in Week 1 and opening the door for Johnson's renaissance. Despite turning 30 in September, the former 2,000-yard rusher with the Tennessee Titans has already gone over 100 yards in four games. Johnson ranks second in the league with 676 yards rushing, which surpassed his 16-game total (663) with the Jets in 2014.
Best Rookie: Todd Gurley, running back, St. Louis
An argument could be made that Gurley warrants MVP consideration, but the fact that he's played in only four full games tips the scales in favor of Palmer. What a four games it has been, though, for the breathtaking rookie. Like Palmer, Gurley is approaching a forgettable one-year anniversary, when he suffered a season-ending ACL tear at Georgia that left many to wonder if he'd be able to contribute much in his first NFL campaign.
The Rams sat Gurley for the first two games and gave him a cameo appearance in Week 3 before unleashing the rookie sensation on the league. Gurley rushed for 144 of his 146 yards in the second half at Arizona in his first career start and hasn't looked back. Gurley's 566 yards are the most by any player in his first four starts since the Super Bowl era and he's also the only rookie with four consecutive games of at least 125 yards rushing. Gurley has scored three touchdowns in the past two games and has a league-best four runs of at least 45 yards.
Biggest Disappointment (team): Seattle Seahawks
Admittedly, the bar is set high when a team is coming off consecutive Super Bowl appearances, but the Seahawks needed back-to-back wins the past two weeks to move to .500 at the midway point. The most alarming trend has been Seattle's failure to close out games -- the Seahawks squandered fourth-quarter leads in each of their four defeats, highlight by a collapse at Cincinnati in which they couldn't protect a 17-point cushion.
Seattle rebounded from a disappointing start last season, rattling off nine wins in its final 10 games after a 3-3 start. Supporters of the team can point to the fact that the four losses have come at the hands of teams who sport a collective 24-4 record through Week 8. Detractors will note that the four victories have come at the expense of four teams who are a combined 7-23.
Biggest Disappointment (player): Torrey Smith, wide receiver, San Francisco 49ers
How can one ignore Niners quarterback Colin Kaepernick, who was benched this week in favor of Blaine Gabbert? Not easy. Kaepernick's erratic play aside, the 49ers have a serious dearth of playmakers, one reason they dipped into free agency to sign Smith to a five-year, $40 million contract in the offseason. The return on that investment has been brutal: 16 catches for 342 yards and two touchdowns through eight games.
Smith's game is predicated on speed and he never was a high-volume target with the Baltimore Ravens, but he did catch 30 touchdown passes and record at least 49 catches in each of his first four seasons. Smith's production with San Francisco has come primarily from two long TD receptions of 76 and 75 yards. Otherwise, he has been limited to two catches or fewer in six of his eight games.
Player To Watch Out For In The Second Half: Jimmy Graham, tight end, Seattle Seahawks
While Gurley is a highlight reel waiting to happen and the focal point of an otherwise humdrum offense, Graham's contributions - or lack thereof - figure to have the biggest impact on the division race. Since the blockbuster offseason trade that brought in Graham from the New Orleans Saints, there have been concerns over how Graham would mesh with a run-first offense, particularly given his aversion to blocking. Yet there are signs that Seattle is figuring out how to best utilize Graham, who was targeted a dozen times in Week 6 and 10 more times in a Week 8 victory at Dallas.
Final Standings Prediction
1. Arizona Cardinals 10-6* Division winner based on tiebreaker
2. Seattle Seahawks 10-6
3. St. Louis Rams 9-7
4. San Francisco 49ers 4-12