New report claims Miami coaches told Incognito to 'toughen up' Martin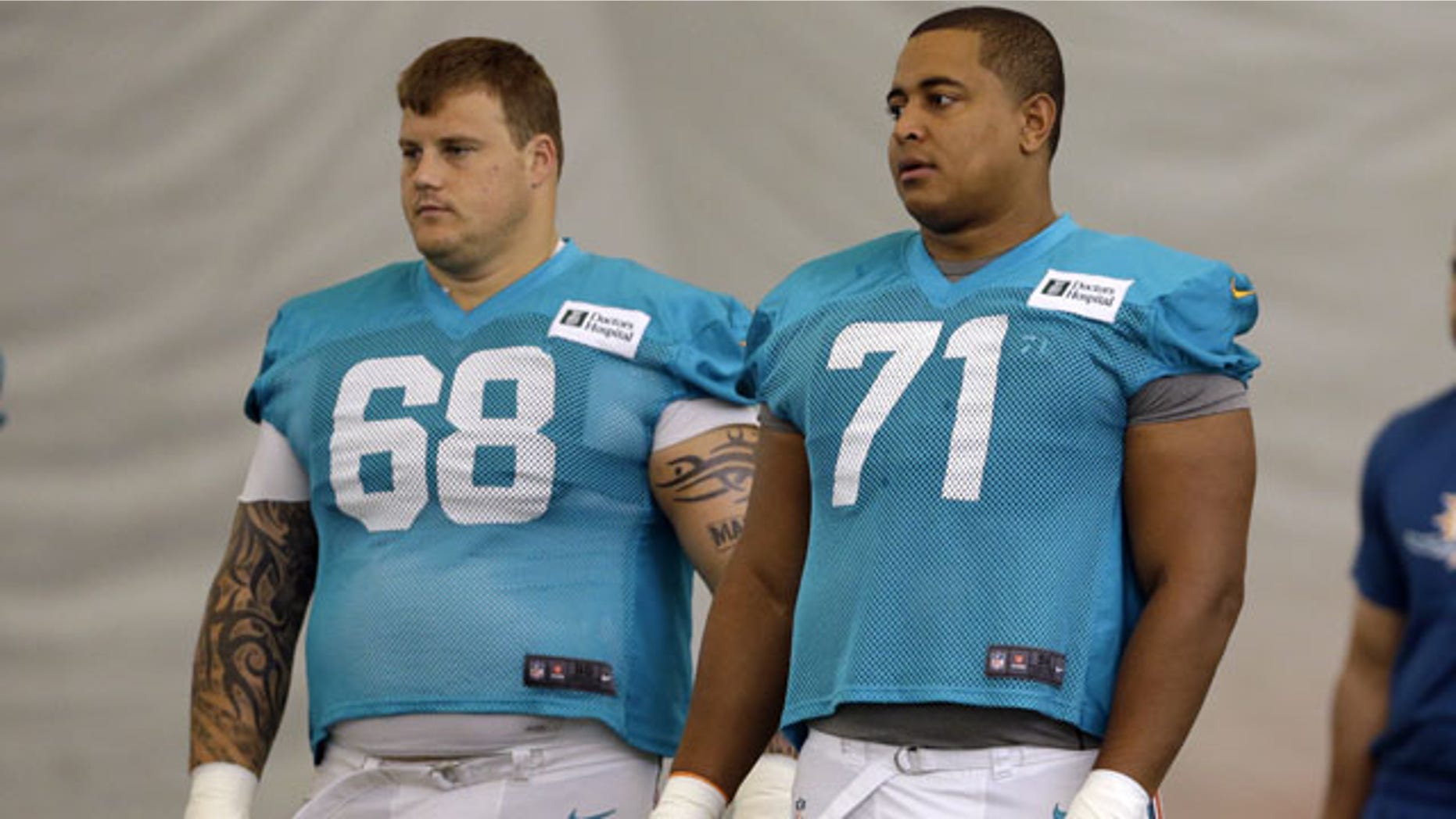 Miami Dolphins coaches reportedly told suspended lineman Richie Incognito to "toughen up" teammate Jonathan Martin after the latter player missed part of the team's offseason workout program, a new report claims.
The South Florida Sun Sentinel, citing team sources, reported that Incognito was encouraged by Dolphins coaches to "get [Martin] into the fold" after the second-year player missed two days of organized team activities (OTAs) this past spring. OTA workouts are voluntary, but NFL coaches typically put heavy pressure on players to attend.
A senior partner in a New York law firm with experience in sports cases was appointed Wednesday by NFL Commissioner Roger Goodell to investigate possible misconduct in the Dolphins' workplace and prepare a report that will be made public.
New York attorney Ted Wells has conducted special investigations into the Syracuse basketball sexual harassment case, and the NBA players union leadership dispute. In the latter case, his report led to a change in the head of the union.
"He is on the job as of today and will undertake to complete his work as promptly as possible," Goodell said in a statement. "Consistent with doing a thorough investigation, we have not imposed a specific timetable on him."
The Dolphins suspended Incognito late Sunday for misconduct related to the alleged harassment of Martin, who abruptly left the team a week ago to receive help for emotional issues. The sources told the Sun Sentinel that they believed that Incognito went too far with the instructions given to him by members of the coaching staff. It is not clear whether the instructions came from head coach Joe Philbin, offensive line coach Jim Turner, or other assistants.
The most crucial piece of evidence that Martin gave to his family and to the NFL is a voicemail left by Incognito on Martin's phone, in which Incognito calls the biracial Martin a "half-[n-word]," threatens to slap Martin's mother, and tells his teammate "I'll kill you."
When reached by WSVN-TV Tuesday, Incognito said he was "just trying to weather the storm right now. This will pass." He did not respond to questions about his status with the Dolphins. The Miami Herald reported Monday that Incognito was "done" in Miami, citing a team source.
Earlier Tuesday, Incognito was seen outside of his Fort Lauderdale home inspecting a new Ferrari which had been delivered by truck. According to the tag of the vehicle, it was bought in California. It was then shipped to Florida.
Also Tuesday, Gus Martin, the father of Jonathan Martin, told Fox News his son was "doing fine" and said the younger Martin wants to speak out and address the controversy. However, the elder Martin offered no timetable for when or where that would happen.
"We believe in maintaining a culture of respect for one another," the Dolphins said in a statement released shortly before midnight on Sunday, "and as a result we believe this decision is in the best interest of the organization at this time. ... We will continue to work with the league on this matter."
A source who is described as having direct knowledge of the situation told the Miami Herald that younger players on the Dolphins team are under pressure to pay for veterans' social outings, likening them to personal ATMs.
The source said younger players – some of whom make around $400,000 a year – were handed the tab for a $30,000 team dinner. One unnamed defensive player is on his way to becoming broke for not being able to say no to the older players' demands, the source added.
"Everything tastes better when rookies pay for it," veteran Miami defensive lineman Jared Odrick tweeted Friday.
Sources also told ESPN that Incognito asked Martin to contribute $15,000 to finance a trip to Las Vegas by some Dolphins players in 2012. Martin reportedly did not travel with the group.
Martin, who is an offensive tackle, left the Dolphins on Oct. 28, raising questions about the role harassment from teammates played in his departure. It's unclear whether or when he's expected back.
Incognito, a ninth-year pro, earned a reputation as one of the NFL's dirtiest players when he was with the St. Louis Rams. But he has won frequent praise for his leadership since joining the Dolphins in 2010, and this year he was voted by teammates to serve as a member of the Dolphins' player council.
The Dolphins have attributed Martin's absence to a  non-football related illness.
Fox News' Lee Ross and The Associated Press contributed to this report.