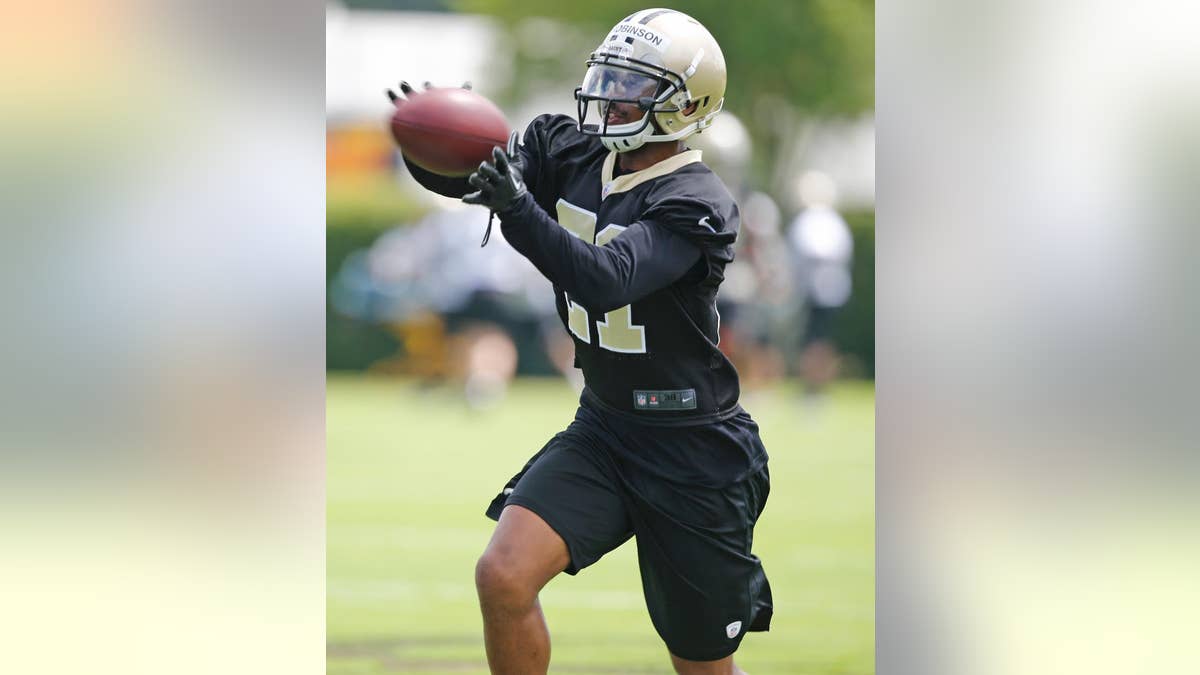 METAIRIE, La. – Saints cornerback Patrick Robinson is back in the starting role he was drafted to play, and looking a lot more comfortable this time.
If he can perform the way he did at Pittsburgh last Sunday, he won't have to worry about another demotion for a while.
"My confidence is a lot better than it was the last couple years," Robinson said after Thursday's practice. "I think that makes a huge difference."
Robinson's rebound could be crucial for the Saints (5-7), who've struggled to win consistently this season but remain tied for first in the NFC South Division with four games left, starting with a visit from Carolina this Sunday.
Now in his fifth NFL season, Robinson has managed to show only flashes of the potential the Saints saw in him when they made him a first-round draft choice in 2010. He didn't become a full-time starter until 2012, then found himself at nickel back for the first two contests of 2013 before a knee injury sidelined him for the rest of last season.
Returning healthy this summer, he performed well enough in practice and exhibition games to regain a starting job to open the regular season, but was demoted after just two games.
Coaches tired of seeing his natural speed and agility undermined by tentative play, which was never more evident than on Week 2 at Cleveland, when he backed away from Browns receiver Miles Austin moments before a snap near the goal line, bit on an outside fake and allowed an easy touchdown catch.
"I was doing too much thinking. I think in the last couple years, I was playing not to get beat instead of just playing my game, playing my technique," Robinson said. "That's just how I felt. I'm trying not to get beat, trying not to get beat, but I'm still getting beat, making me worse as a player. My mindset was not right."
Robinson said there were times when he had trouble letting even 10-yard completions against him roll off his shoulder.
"I never really doubted my skillset and my ability. I just kind of got down on myself. Like, 'Man, I'm not doing everything right. I'm not doing this right or I'm not doing that right,'" Robinson said.
When Robinson lost his starting job, he was relegated primarily to special teams at first, then was reinserted into pass coverage as a nickel back in Week 5 against Tampa Bay, when he made his first interception of the season on a deep throw down the left sideline.
Robinson said his steady climb back to a prominent role on New Orleans' defense began with a meeting in coach Sean Payton's office. Robinson said Payton, told him in direct and plain terms why he had to be demoted, but also why the Saints still had faith in his ability to bounce back.
"That made a huge difference," Robinson said. "You know, Sean had confidence. He's the head coach. He's the top guy. I should be fine."
From that point, Robinson recalled, "I changed my mindset. I really focused on just doing my job and that's it. Just do what the coaches tell me to, and I should be fine. And I think that really paid off."
Against the Steelers, Robinson decisively undercut an intended receiver and was in prime position for interception of Ben Roethlisberger. The ball hit him in the hands, but he couldn't hold on, missing out on a likely return for a score.
Payton was disappointed by the missed opportunity for a turnover, but pleased that Robinson was playing well enough to get his hands on the ball. Robinson finished the day with three pass breakups while defending highly regarded receiver Antonio Brown.
"At that position, you have to be mentally tough," Payton said, when asked about Robinson's rebound this season. "You have matchups each week and you get balls completed. You just have to get back up off the mat and keep competing. He's worked too hard to not respond that way.
"What he's had to overcome, I think that's served him well," Payton added.
___
AP NFL website: www.pro32.ap.org and www.twitter.com/AP_NFL