New NHL team in Las Vegas tries to lift spirits amid tragedy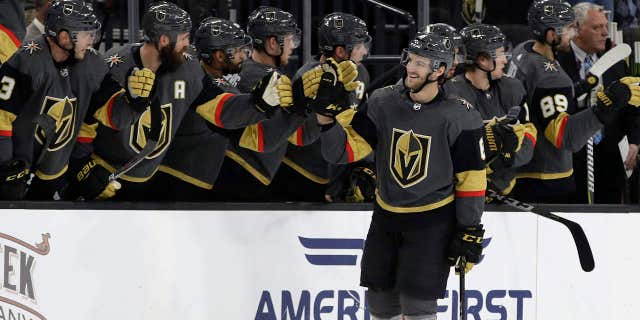 The newest Las Vegas attraction has been trying to lift spirits this week as the community copes with a mass shooting left 59 people dead.
Players from the Vegas Golden Knights -- the city's brand-new National Hockey League team -- are trying their best to offer a distraction from the horror that unfolded Sunday night.
This week, Golden Knights players such as Jon Merrill, Jason Garrison, William Karlsson, Griffin Reinhardt, Erik Haula, Deryk Engelland and others have made stops at Metro Police headquarters, the convention center and United Blood Services, the Las Vegas Sun reported.
"It's amazing to be able to see these people smile after what they've been through for the past few days is amazing," Merrill told the newspaper. "You forget about the impact that we are able to have on people as athletes so we're lucky to be able to bring a distraction to people. These are amazing people, and we are lucky to have them."
Metro police Sgt. Jeff Clark offered high praise of the Golden Knights for taking the time to visit.
"The Golden Knights from Day One have promised that they wanted to be an integral part of this community," Clark said. "It's unfortunate that during their inaugural season this had to happen, but the fact that they're stepping up and coming down to just provide some entertainment or someone to talk to is amazing."
The team, owner Bill Foley's charity and the NHL recently announced a $300,000 joint donation to support victims of the massacre. Fans were also encouraged to donate to the fund through the Vegas Golden Knights Foundation.
NHL teams and players will also honor victims of the shooting through the opening week of the season.
Engelland told the Las Vegas Sun he hopes the team's first game in franchise history will offer a temporary distraction, if only for a few hours.
"A big part is just turning your mind off a little bit," Engelland said. "You come to a sporting event, and you're not sitting around talking about it. You're enjoying the experience of the game and the atmosphere of the arena."
The Golden Knights play their first home game Oct. 10.