Nevada Commission clarifies Conor McGregor's fine from UFC 202 incident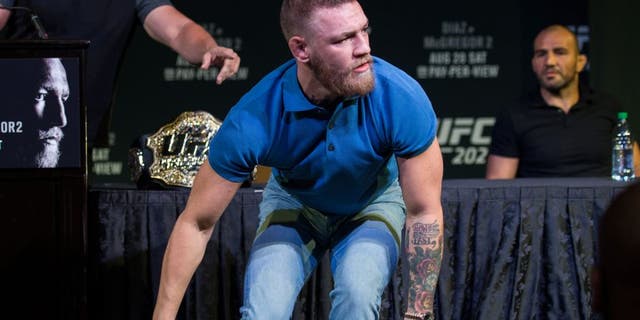 Conor McGregor was fuming mad this week when the Nevada State Athletic Commission hit him with a whopping fine stemming from his UFC 202 press conference incident with opponent Nate Diaz.
The event that took place in August erupted into both athletes throwing bottles and cans at each other before the press conference came to an abrupt end.
On Monday, the Nevada Commission fined McGregor five-percent of his $3 million purse along with 50 hours of community service. The fine totaled out at $150,000 but that number was actually split between money McGregor owed the state and funds he would use to make a public service announcement for the state.
Nevada State Athletic Commission executive director Bob Bennett clarified the situation in a statement to MMAFighting.com and later verified by FOX Sports.
The motion, which was later voted on and accepted, fined McGregor $75,000 that would be given to the general fund for the state of Nevada and a public service announcement that the Irishman would fund himself that would also total out at $75,000 in value.
"I think we ought to give him a fine and tell them they have to spend a certain amount on this PSA and let them come back with their accountants to demonstrate to the executive director's and chairman's approval that it's been spent," Commissioner Skip Avansino said prior to the vote.
In other words, technically McGregor only owes $75,000 in cash to the state of Nevada but then he must personally pay for the public service announcement with a monetary amount that also equals $75,000.
McGregor's team stated that he has access to a production crew that could help film the PSA for Nevada, but as noted by Avansino's objection, the fighter must then provide proof that he funded the project to the commission's designation. McGregor also has 50 hours of community service -- 10-percent can be used to produce the public service announcement and the balance must be served by the fighter personally.
Either way it doesn't appear McGregor is on board with paying the fine after stating earlier this week that he had no intention of honoring the commission's ruling and that he would no longer fight in the state of Nevada.
"I wanted to give them the respect and I felt they would have respected that but they didn't. So, whatever. It is what it is. Good luck trying to get it," McGregor said.
Of course, McGregor could potentially face a suspension if he fails to follow through with the commission's punishment. Just recently, Nick Diaz served his 18-month suspension for allegedly failing a drug test for marijuana, but he still owed the commission part of his fine that was incurred as a penalty.
As a result, Diaz remained under suspension was not allowed to corner his brother Nate in the fight with McGregor at UFC 202 in August.