NASCAR honors 70th anniversary of D-Day invasion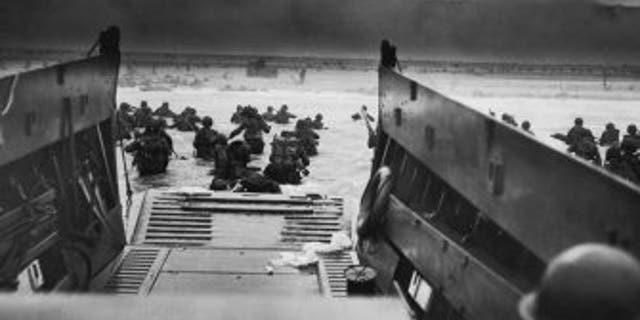 While the series may be practicing at Pocono Raceway, many in the NASCAR community took a moment on Friday to remember the sacrifices made on Normandy Beach, France on June 6, 1944.
Pearl Harbor may have been "the day that lived in infamany" for the United States during World War II, but D-Day truly marked the turning of the tide for the war in Europe. The Allied Forces crossed the channel with countless ships and transports, as paratroopers dropped behind enemy lines under the dark of night. The fighting was intense, bloody and, in the end, the Allied Forces were able to break through and start their trek to ending the war in Europe.
Dale Earnhardt Jr. was one of the first drivers to offer his thanks and rememberance through his Twitter account Friday morning.
Many other crew member and teams also offered their thanks, thoughts and rememberance through their social media accounts.
Jeff Burton's wife, Kim, tweeted out a few images of her father, who was a World War II veteran. While Arlene Martin, Mark Martin's wife, tweeted out an image from Normandy.
In 2004, Bobby Labonte and Joe Gibbs Racing honored the 60th anniversary of the D-Day invasions with a special paint scheme at the Sprint Cup Series race at Dover.
While some in the NASCAR community have family members who served during WWII, NASCAR Hall of Fame team owner Bud Moore had a firsthand experience at storming the beaches that fateful day 70 years ago.
"The biggest thing about World War II, I turned 15 years old on May 1943," Moore said during his NASCAR Hall of Fame press conference in 2011. "I was graduating high school, because we only went 11 grades. We graduated on June 2. That same day I got my draft papers to go into the service. I got drafted, all this. I went in. I was in the infantry. They gave me 13 weeks basic training. I joined the 95th division in Fort Dix, N.J. It was something to know what was happening, all this stuff.
"We went overseas, in England," he said. "We landed in Liverpool. Went to a little town in Wales. We got there in 1944. They told us they'd get things ready, we're going to make a dry run on the English coast. They had to waterproof all the Jeeps we had in our company. They done all this. They took us down, sat there for a day or so not even going out in the harbor.
"Finally when we did pull out in the harbor, I never seen so many ships, 5,000 or 6,000. We said, 'Look, this ain't going to be no dry run. They can't have a dry run this big.'
"Anyway, on June 4, a P.T. boat pulled up beside, got on board, had a map, pulled it down, said, 'We're going to land there and do that. That's the first time we knew we was going to be in D-Day because it was going to be on June 5. They called it off.
"And then about 8:30, 9, June 5, they came back aboard and said, 'Boys, it's going to be on tomorrow.' It was. That was some kind of experience, I'll tell you that. It was bad."