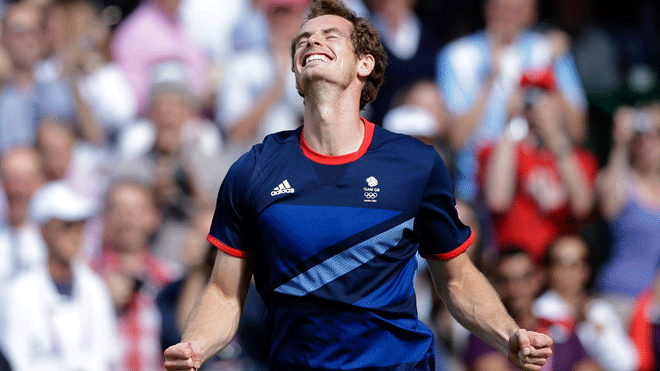 WIMBLEDON, England – Andy Murray stood with the Union Jack draped over his shoulders, an Olympic gold medal around his neck, flanked by the man he had just beaten, Roger Federer, and basking in the roar of the Centre Court crowd.
No wonder the often dour Scotsman was grinning.
Murray won one for the home team Sunday, beating Federer 6-2, 6-1, 6-4 in the tennis final at Wimbledon.
The victory marked a career breakthrough for Murray. He has lost all four of his Grand Slam finals, three against Federer, including Wimbledon a month ago.
"I've had a lot of tough losses in my career," he said. "This is the best way to come back from the Wimbledon final. I'll never forget it."
For Federer, the drubbing marked another Olympic disappointment. Playing in the games for the fourth time, he sought a victory to complete a career Golden Slam but settled for silver — his first singles medal.
"Don't feel too bad for me," Federer said. "I felt like I won my silver, I didn't lose it. So I feel really happy."
Murray swept nine consecutive games to take control, breaking Federer's serve four times in a row, his inspired play a reflection of raucous crowd support. He erased all nine break points he faced.
"He never looked back," Federer said. "His credit for getting in the lead and using the crowd to come through. He did an unbelievable job."
The match capped the most memorable Olympics for tennis since it returned to the games in 1988 after a 64-year absence. The event transformed staid Wimbledon into a more festive place.
Murray became the first British man to win the gold in singles since Josiah Ritchie in 1908. Those games took place at Wimbledon, too.
In the day's first match on Centre Court, women's singles champion Serena Williams teamed with sister Venus to win their third career doubles gold medal. They defeated Andrea Hlavackova and Lucie Hradecka of the Czech Republic 6-4, 6-4 under the retractable roof.
Murray settled for a silver in mixed doubles with teammate Laura Robson. They lost to Victoria Azarenka and Max Mirnyi of Belarus, 2-6, 6-3, 1-0 (8).
Juan Martin del Potro of Argentina won the bronze in men's singles, beating Novak Djokovic of Serbia 7-5, 6-4. Maria Kirilenko and Nadia Petrova of Russia won the bronze in women's doubles.
The roof opened shortly before the men's final, and the beloved Federer — winner of seven Wimbledon titles — walked onto the sun-splashed grass to a standing ovation. Then Murray entered, and an ovation became a the roar.
At the far end of the All England Club, thousands of fans with grounds passes enjoyed a carnival atmosphere on the picnic hill known as Murray Mount while watching the match on a huge video screen.
Federer wore red and Murray blue in the most colorful tournament ever held at Wimbledon. Their tactics were also in sharp contrast.
Murray returned aggressively to repeatedly put Federer on the defensive when serving. Federer tried to come forward more than in any match this summer, but Murray answered with a succession of crisp passing shots for winners.
"Andy looked like he was never doubting himself," Federer said. "He had a clear plan."
The fans loved it, waving British flags of all sizes. "An-dy! An-dy" they chanted. They applauded when Federer won a point, but they boomed when Murray won one.
And the bounces seemed to go Murray's way. One of his service breaks came when he hit winners that clipped the net cord on successive points. But then the net, after all, was British.
Altogether Federer dropped serve five times, surprising anywhere but especially on grass. He also lost 15 of 33 points when he went to the net, often watching groundstrokes by Murray whiz past out of reach.
"That's the best part of his game," Federer said. "If he doesn't do those passing shots, he's not going to win gold."
The impassive Swiss showed little frustration as the match slipped away. Instead, it was Murray tossing his racket in the second set when he made a rare error.
Otherwise, Murray had little to get upset about. When he netted an easy forehand on break point early in the match, he laughed at his mistake.
"I felt so fresh," he said. "I didn't feel nervous really at all, apart from at the beginning of the match."
He won with plenty of flair and a succession of spectacular shots. A lunging backhand pass in the corner had fans on their feet. And he erased a break point with an acrobatic leaping overhead, followed by an improbable reflex volley winner after Federer fired at him from point-blank range.
Murray fell behind 15-40 serving in the opening game but rallied to hold, and from 2-all he took charge, winning every game until 5-0 in the second set.
Federer struggled to hold but had many chances to break, including in the third game of the second set. He held six break points but Murray erased them all and won the game on the 20th point on an errant Federer backhand, one of many.
Federer, taxed by his 19-17 third-set semifinal win Friday, couldn't summon a comeback. Murray hurried to the finish line, winning the final set in 33 minutes.
He reached match point with an ace, then hit another at 131 mph to seal the win. He briefly sank toward the turf, then rose to share a warm embrace with a smiling Federer.
"I was very happy for him," Federer said. "It's a long time coming for him, and he did great."
Murray climbed into the player box to share hugs with friends and family. He then leaped back onto the court, and when he threw a final knockout punch, the crowd roared one more time.