Monica Puig is '100 percent ready' for U.S. Open after historic Olympic win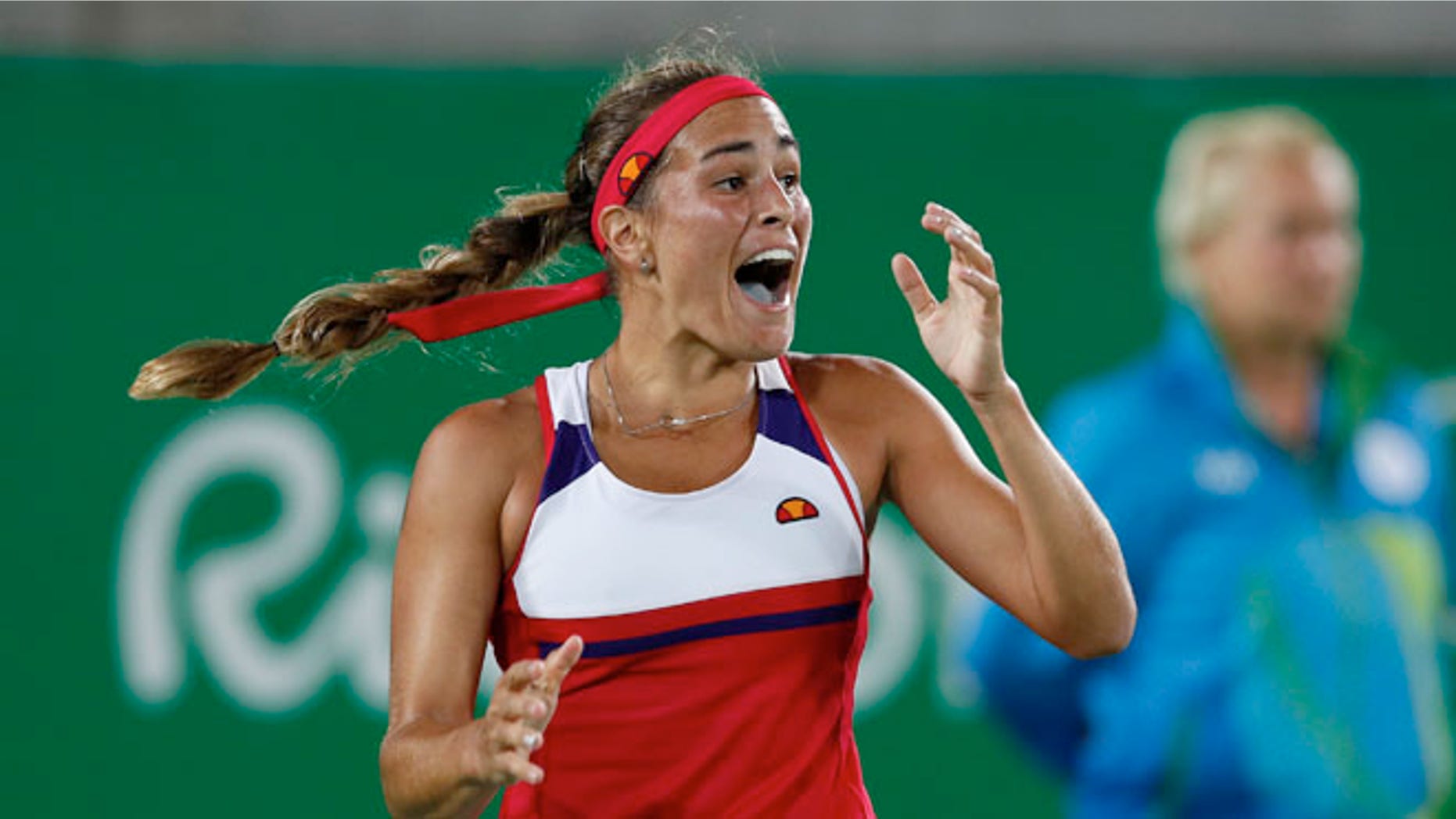 New York – Two weeks ago, Monica Puig made history in Rio de Janeiro, Brazil. Now, the No. 35-ranked tennis player in the world, according to the WTA, hopes to pull off another miracle – this time in Flushing, Queens.
When Angelique Kerber hit her forehand ball out of bounds at the Rio Olympics, Puig put her arms over her head and then covered her mouth in disbelief.
Puig is Puerto Rico's first ever Olympic gold medalist, and the 22-year-old still has to pinch herself or wake up in the middle of the night to look at her medal because she still can't truly believe what happened.
"It's been chaos, but in a good way. It's been a real wild ride," Puig told Fox News Latino at the U.S. Open on Saturday. "I still don't believe I did what I did. I am just basking in the moment. It's been really fun and really inspiring – not just for me but for everyone else."
Her Olympic moment reminded her of the scene in the Disney movie, "Miracle," when the 1980 U.S. men's Olympic hockey team defeated the Russians to win the gold.
In the film, with the crowd chanting "U-S-A!," coach Herb Brooks tells his players, "Listen to them. That's what you've done."
Instead of "U-S-A!," the crowd at her gold medal match was shouting, "Sí, se puede!" ("Yes, you can!").
"I needed to listen to the crowd," she told reporters at the U.S. Open over the weekend. "I had to believe in myself … that I could contend for that medal."
Puig appreciates that her stunning run to the individual tennis gold medal has become an example of the apparently impossible coming true, and hopes her win reverberates far beyond the tennis court and in the minds and hearts of the people of Puerto Rico.
"If Puerto Rico channels that same energy and belief that things will get better ... things will improve," she told reporters on Saturday. "I really hope I gave them a lot of confidence moving forward that things will actually get better."
As she prepares to face 60th-ranked Zheng Saisai in the first round of the Open on Monday, Puig – who has never made it past the round of 16 at a major tournament – said she is prepared to show her fans, and critics, that her Rio gold was no fluke and that she can contend against the best in the world.
However, she is not pressuring herself.
"I'm 22 years old. There's still a long way for me to go, a long stretch of career," she told reporters. "If anything happens, any kind of slip-up, it's not really going to be a big deal, because I have a process, and I have a long-term view of where I want to go."
She told FNL, "I am here with the same focus and same determination [as in Brazil], and I've tried my best to prepare myself the best [way] possible and will just see what happens here. All I know is that I am 100 percent ready."
Puig said she enjoys the fact that she'll always been known as "Olympic gold medalist Monica Puig" but now wants to add a grand slam title to that.
"Time will tell, and I am in no rush to get anywhere," she said. "I am just going to keep working hard and keep competing."