MLB umpire Wally Bell dies days after working playoff series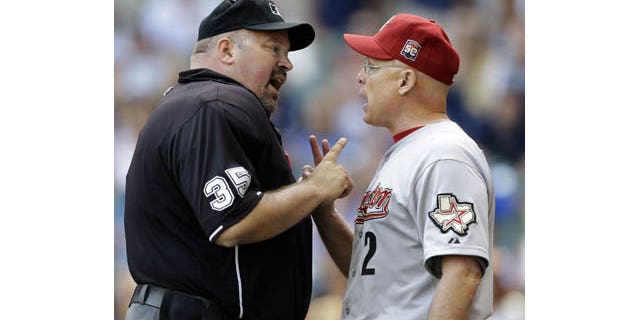 Major League Baseball umpire Wally Bell died of an apparent heart attack Monday, a week after working the NL playoff series between the Pittsburgh Pirates and St. Louis Cardinals. He was 48.
The commissioner's office said Bell died in his home state of Ohio.
Bell had not been feeling well over the weekend and had been scheduled to see doctors later Monday at the Cleveland Clinic.
Bell had quintuple bypass surgery on Feb. 18, 1999, that left him with an 8-inch scar down the middle of his chest. His father survived two heart attacks before he died.
"All of us at Major League Baseball are in mourning tonight regarding the sudden passing of Wally Bell," Commissioner Bud Selig said in a statement. "I always enjoyed seeing Wally, who was a terrific umpire and such an impressive young man. On behalf of our 30 clubs, I extend my deepest condolences to Wally's family, fellow umpires and his many friends throughout the game."
Bell was the first active MLB umpire to die since John McSherry passed away of a heart attack on the field in Cincinnati on opening day in 1996.
Bell worked the 2006 World Series and three All-Star games, including this year's event at Citi Field, where he was stationed at first base. A veteran of 21 big league seasons, he had also worked four league championship series and seven division series since joining the major league staff in 1993.
"It was a devastating loss for us. Wally was a true umpire's umpire," said Gerry Davis, crew chief for the NL championship series. "I think if you'll check with the players and teams they felt the same way because Wally always gave 110 percent on the field."
The umpires for Game 3 at Dodger Stadium heard about Bell's death an hour before they took the field.
"We had to regroup rather quickly and put our concentration where it needed to be," Davis said after Los Angeles beat St. Louis 3-0.
"We kept telling each other that that's the way Wally would have wanted it, and we know that that's really true. One of the things that we shared in the locker room afterwards is that I'm sure he's very proud right now," he said.
Several players from around the majors expressed their condolences on Twitter.
Dodgers catcher A.J. Ellis wrote: "Wally kept game fun and loose and I always looked forward to catching with him behind plate. I will miss his personality and professionalism."
Boston pitcher Jake Peavy: "Just heard the news & devastated about the passing of Wally Bell. A great umpire, a great man."
Toronto slugger Jose Bautista: "He always had great spirits on the field, i will always remember how he teased me about my beard."
Red Sox outfielder Shane Victorino: "My thoughts and prayers go out to the family of Wally Bell. So sad to hear (and) will remember him tomorrow as I take the field."
According to Bell's biography on MLB.com, his proudest moment as a big league umpire was returning to the field after having open heart surgery. Two of his arteries had been 100 percent blocked, two more had been 80 percent blocked, another 70 percent.
Bell came back 11 weeks after his heart problem was detected for a game in San Diego. That night, plate umpire Mark Hirschbeck took the first ball out of play and kept it as a souvenir for Bell.
"I am deeply saddened and shocked at the loss of umpire Wally Bell," said Joe Torre, MLB executive vice president for baseball operations. "Umpiring was his life, and he touched so many people within the game of baseball. Aside from being an accomplished, All-Star-caliber umpire, Wally was a loving dad to his two teenage children. I extend my deepest condolences to them, his girlfriend Renee, the rest of his family and his admirers across Major League Baseball."
During the 2013 regular season, Bell was a member of Tim McClelland's crew.
"Wally was a great umpire, a great partner and a great friend. The umpiring community is deeply saddened by this tragic loss. He will be sorely missed by many," said major league ump Joe West, President of the World Umpires Association.
Bell is survived by his son, Jason, and daughter, Lindsey.