MLB Pitcher Alfredo Simon Surrenders to Dominican Police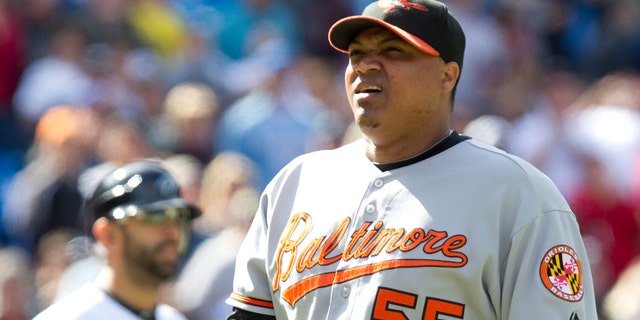 Dominican Baltimore Orioles reliever Alfredo Simon has surrendered to Dominican police for questioning about a fatal shooting on New Year's Eve.
The Dominican pitcher arrived at national police headquarters Monday. He was accompanied by his mother and lawyer, who gave detectives Simon's gun as part of the investigation into the killing of a 25-year-old man.
According to Reuters, the 29-year-old player told local police that he fired twice into the air during the New Year celebrations in the northeast coastal town of Luperon, and had not intended to harm anyone. But witnesses cited by police said Simon was involved in an argument before the shooting.
Simon is the main suspect in the fatal shooting. The shots also injured the dead man's teenage brother, who was shot in the right arm and is hospitalized in the city of Santiago.
Simon had a record of four wins, two losses and 17 saves with an earned run average of 4.93 in 49 games with the Orioles in 2010.
The Associated Press contributed to this article.
Follow us on twitter.com/foxnewslatino
Like us at facebook.com/foxnewslatino