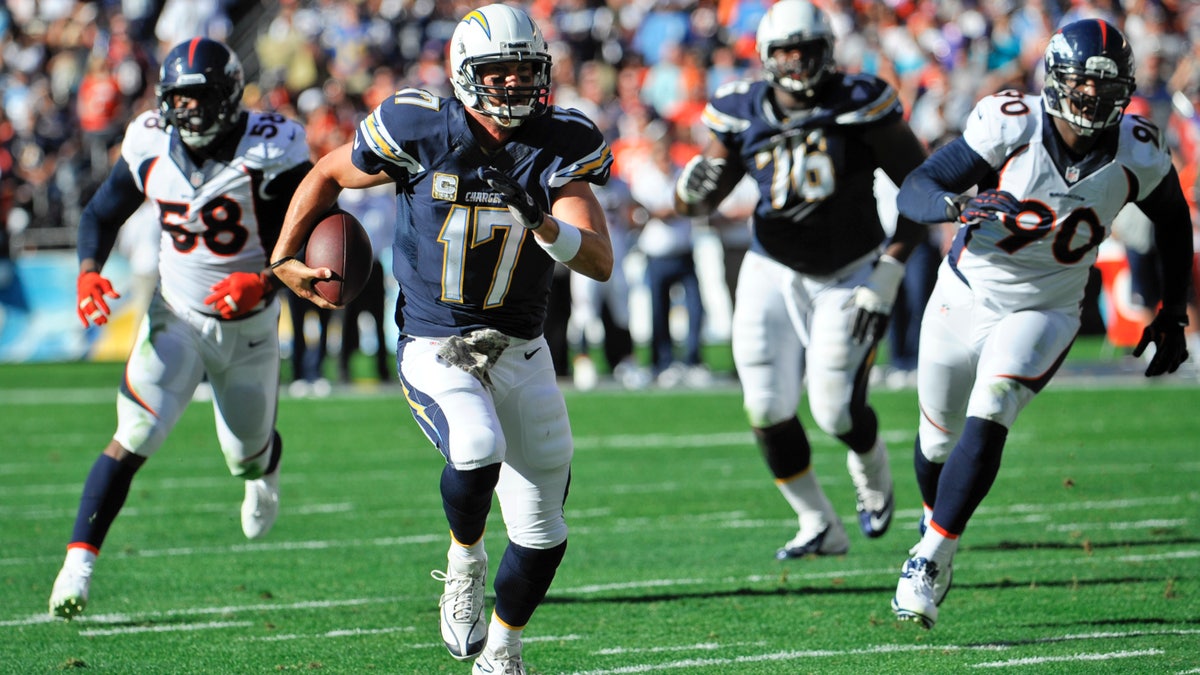 MIAMI – The stands will make a statement Sunday regarding the state of the Miami Dolphins.
A harassment case and a succession of dismal defeats have sent the Dolphins reeling, and they'll play at home for the first time since the scandal broke when they face the San Diego Chargers.
Fans are expected to stay away in large numbers. The Dolphins' stadium has been half-empty several times already this season, and now the loyalty of even the most ardent supporters is being tested.
Miami has lost five of the past six games, including a dreadful defeat Monday at previously winless Tampa Bay. The harassment case has prompted an NFL investigation, raised questions about the team's locker room culture, and left the future of coach Joe Philbin and general manager Jeff Ireland in doubt.
"It has been an ugly, ugly two weeks for the Miami Dolphins," retired linebacker Kim Bokamper told the Dolphins Touchdown Club. "It has been chaos. It seems like a faucet dripping. Every day another drop drips."
Quarterback Ryan Tannehill's message to fans: "Hang in there."
"We're going to battle through this thing," he said. "We're going to get this situation sorted out in the locker room. Whatever needs to take place, whatever decisions need to be made, that's what we're going to do. On the field we're just going to keep pressing forward and continue to fight and get better. We're in a tough spot right now, but at the end of the day we're still in the playoff hunt."
Here are five keys to look for in the game, even if a lot of folks in Miami don't watch:
PLAYOFF PICTURE: The Dolphins (4-5) have looked nothing like postseason contenders lately, but they began the week tied with the Chargers and three other teams for seventh place in the race for the six AFC playoff spots.
San Diego's a staggering five games behind unbeaten Kansas City in the AFC West, and Miami trails AFC East leader New England by three games, but both still have a wild-card shot.
"There were a lot of teams in a very similar position that we are in right now," Philbin said. "November and December decide a lot. The teams that have the great character, the great chemistry, find a way to fight through the obstacles and adversity, and perform at a high level this time of the year. That's what we have to do."
If Miami and San Diego finish with the same record, the game could serve as the tiebreaker for a playoff berth, which makes it even more important.
"We can't worry about seven weeks down the road from now," Chargers coach Mike McCoy said. "That will all work itself out. You have to win this one."
CAN EITHER TEAM BLOCK?: Both offensive lines are a mess. The Chargers have played 16 combinations in their front five, while the Dolphins are without two starters because of the harassment scandal.
Tackle Jonathan Martin left the team nearly three weeks ago, and following his allegations of harassment by teammates, guard Richie Incognito was suspended. Miami then ran for a franchise-record low of 2 yards against the Buccaneers, averaging 5 inches per carry.
"If we blocked them well enough, we could probably get 6 or maybe 7 inches," offensive coordinator Mike Sherman said.
SLIDING RIVERS: Chargers quarterback Philip Rivers slid when he had more room to run and came up short of a first down in the first quarter of last week's loss against Denver, and two plays later San Diego settled for a field goal.
Some saw the slide as a symbol for a season gone awry with mistakes. Rivers said he would do the same thing again, even though he has slid just short of a first down when running several times this year.
"It being second down, I wasn't paying too much attention to the chains," Rivers said. "It's run as far as you can and get down. After watching it, sure I could have dove or maybe ran two more steps, but I think I would do that 10 out of 10 times on second-and-6 early in the game. It's not so much I'm worried about being hit, but you obviously have to be smart."
WHITHER WALLACE?: The Dolphins gave newcomer Mike Wallace a $60 million, five-year contract this year because they expected him to stretch the defense and provide big plays long missing from Miami's offense.
That hasn't happened. Wallace has one touchdown and is averaging a career-low 12.4 yards per catch with nine drops, while Miami ranks third worst in the league in yards.
"We need more explosive plays on our offense," Philbin said. "Certainly I wouldn't argue that."
Wallace and the Dolphins will face a Chargers defense allowing opponents to complete 68 percent of their passes for an average of 8.6 yards per attempt, both worst in the NFL.
PLAYOFF MEMORIES: On Jan. 2, 1982, the Chargers blew a 24-point lead, rallied in the final minute of regulation and beat the Dolphins 41-38 in overtime. San Diego's Dan Fouts threw for 433 yards, Don Strock threw for 403, and the game was voted the NFL's Game of the '80s by the Pro Football Hall of Fame.
That's the last time the Chargers won in Miami, where they have since lost six games in a row.
___
AP NFL website: www.pro32.ap.org and http://twitter.com/AP_NFL
___
Follow Steven Wine on Twitter: http://twitter.com/Steve_Wine