Minnesota Twins 2016 MLB Draft capsules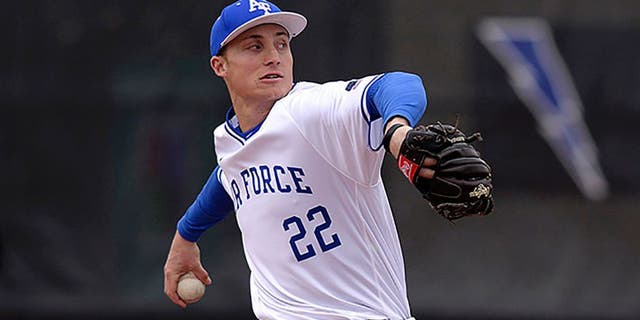 NEWYou can now listen to Fox News articles!
A complete listing of the Minnesota Twins' 2016 MLB Draft picks with a capsule summary of each.
Round 1, pick 15 -- OF Alex Kirilloff (6-2, 195), Plum HS (Pittsburgh): Kirilloff was rated as the 15th-best prospect in the draft by Baseball America. He hit .539 with 30 runs and three home runs in 21 games this year for Plum High School, primarily playing first base, earning 2016 Rawlings-Perfect Game first-team All-America and Atlantic All-Region first-team honors. "He's 100 percent baseball. We expect big things from Alex," said Twins scouting director Deron Johnson.
Round 2, pick 56 -- C Ben Rortvedt (5-10, 190), Verona (Wis.) Area High School: Rortvedt was ranked as the best offensive high school catcher and 52nd overall prospect in the draft by MLB.com, the 55th overall prospect in the draft by Baseball America and the second best catcher in the draft by Perfect Game. As a senior at Verona Area High School, the 18-year-old left-handed batter hit .406 with five doubles and three triples and 10 RBI. As a junior in 2015, he batted .437 with 10 doubles, two triples, five home runs and 29 runs batted in with a .770 slugging percentage.
Competitive Balance Round B, pick 73 -- SS Jose Miranda (6-2, 180), Leadership Christian (P.R.) Academy: Miranda was ranked as the 113th best prospect from Puerto Rico. The Caguas, PR native was a commit to Broward Community College in Florida.
Competitive Balance Round B, pick 74 -- OF Akil Baddoo (5-11, 200), Salem (Ga.) High School: Baddoo was rated the 63rd best prospect by Baseball America and the 72nd best prospect by MLB.com entering the draft. In 2015, the 17-year-old was a Perfect Game Underclass high honorable mention. In 2016, the Georgia native was named a Rawlings-Perfect Game second-team All-American, and named to the Southeast – All Region first-team.
Round 3, pick 95 -- RHP Griffin Jax (6-2, 195), Air Force: No. 95 ranked prospect by Baseball America entering the draft and No. 75 by Perfect Game. Jax was 9-2 with a 2.05 ERA in 15 starts for air Force this season with 90 strikeouts in 105 1/3 innings. Was the Mountain West co-pitcher of the year and All-Mountain West first team. Son of former NFL offensive lineman Garth Jax.
Round 4, pick 123 -- RHP Thomas Hackimer (5-11, 190), St. John's: A Golden Spikes semifinalist who was 7-3 with 8 saves and a 1.17 ERA as a junior, allowing just 24 hits in 53 2/3 innings with 71 strikeouts. Hackimer is St. John's all-time leader in saves and appearances. Drafted by the Mets in the 15th round last year.
Round 5, pick 153 -- RHP Jordan Balazovic (6-3, 170), St. Martin Secondary School (Ontario): Top-ranked Canadian player in draft by Baseball America. Committed to Auburn for Class of 2017. A 2016 Rawlings-Perfect Game honorable mention All-American.
Round 6, pick 183 -- RHP Alex Schick (6-7, 210), California: Knee injury sidelined him for part of the 2016 season. Appeared in seven games, allowing 3 runs on 5 hits in 13 1/3 innngs with 9 strikeouts. Schick was the No. 164th-ranked prospect for the 2016 draft according to D1Baseball's Preseason College 300.
Round 7, pick 213 -- OF Matt Albanese (6-2, 200), Bryant University: Right-handed batter hit .366 with 11 home runs and 15 steals in 49 games as a junior this past season. In three years at Bryant, has a .336 batting average with 18 homers and 35 steals in 142 games.
Check back often Friday and Saturday for the latest picks.