Miles is ready for 'a very capable guy' in QB Treon Harris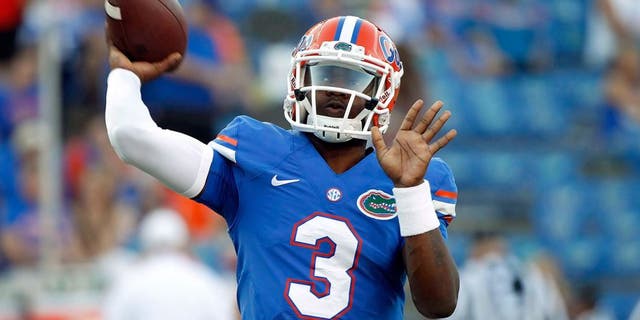 NEWYou can now listen to Fox News articles!
Harris' ability to run will test LSU's defense. Kim Klement USA TODAY Sports
The sudden suspension of Florida quarterback Will Grier means Treon Harris will assume the role as the starting signal-caller for the Gators.
While Grier had been off to a very good start to the season, Harris' insertion complicates things a bit for Les Miles and his defense.
There isn't a whole bunch of film to go off of from this year. Harris' only real big chunk of action came in week one versus New Mexico State. Realistically, it isn't the most accurate depiction as to how good Harris may be (considering the level of competition).
However, Harris almost did win the starting gig coming out of the fall. A player with talent, the sophomore is both quick and athletic with his movements. LSU may face issues when blitzing in obvious passing situations. Harris might not be able to stretch the field vertically when compared to Grier, but his mobility gives him the option of scrambling for good yardage when the play breaks down.
This isn't necessarily someone one can gameplan for, other than tackling well in space and potentially "spying" Harris with a linebacker or safety.