Mikey Garcia Puts Boxing Hall Of Fame Career To The Test In Upcoming Title Bout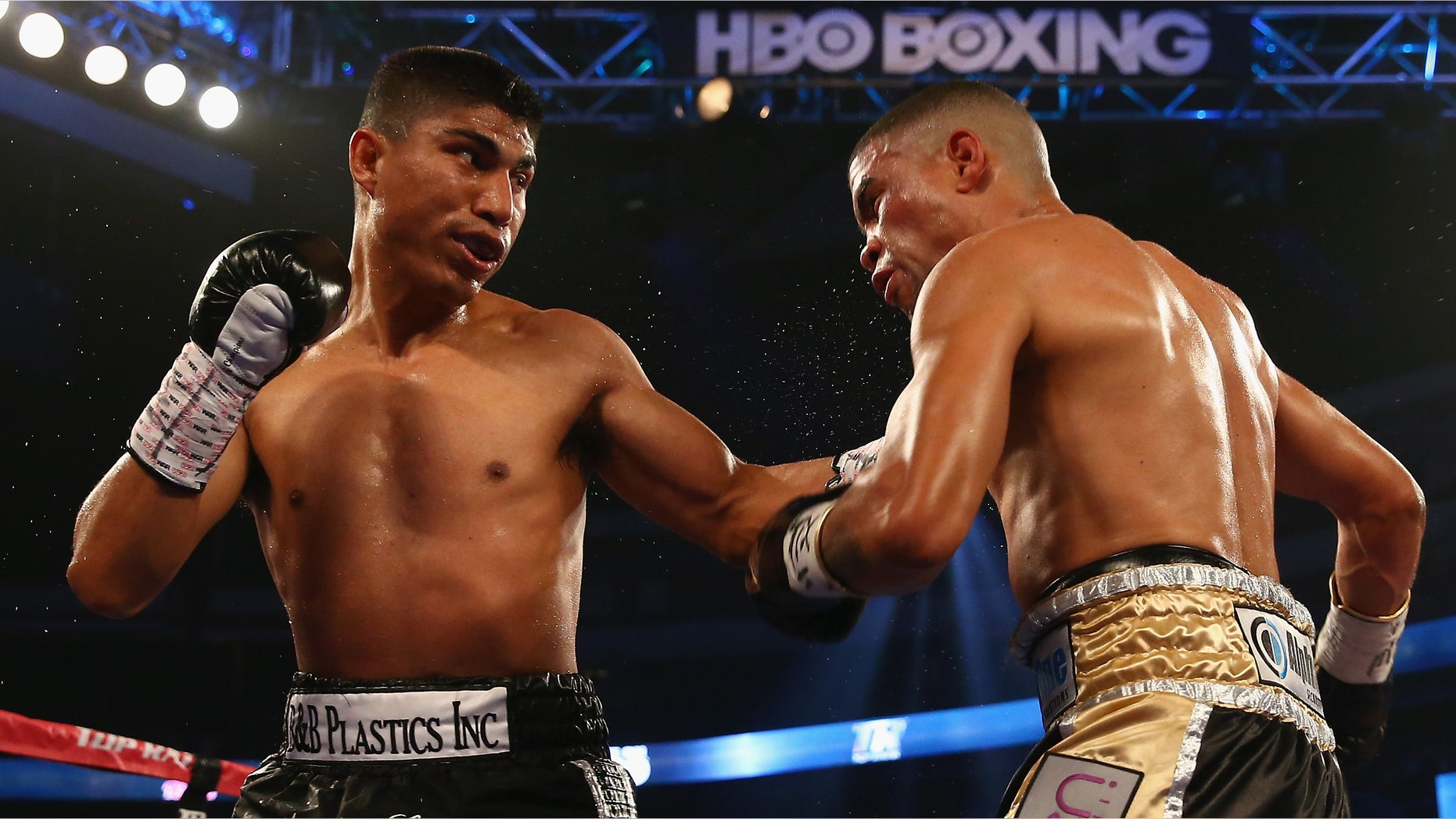 The WBO super featherweight champion, Miguel Angel García, is known by the youthful nickname "Mikey," but there's nothing childlike about the way he punches. His record as a fighter is 33–0 with 28 knockouts — an astonishing 85 percent knockout rate.
García is regarded as an excellent technical fighter, too, a hard worker with a wicked counterpunch who can even take a blow.
Here are some of the words and phrases that have been used to describe him over the last year: "Smart," "focused," "no-nonsense," a "pound-for-pound superstar," "smart but aggressive," "a prodigy," "technically proficient," and "on a Hall of Fame trajectory."
The next step on the phenom's career takes place at Madison Square Garden in New York on Saturday, against Juan Carlos Burgos. It will be García's first title defense since winning the WBO super featherweight crown from Román "Rocky" Martínez on Nov. 9 in Corpus Christi, Texas.
And that wasn't García's first world championship belt.
Mikey García grew up in Oxnard, Calif. His father, Eduardo, was himself an amateur fighter from Guanajuato, Mexico, who piled up a 48–2 record.
After Eduardo moved to California, he picked strawberries and moonlighted as a trainer at the La Colonia Youth Boxing Club, according to Sports Illustrated.
Eduardo's best pupils may have been his sons, Roberto and Mikey. Roberto, the older brother by 12 years, was good enough to win the IBF featherweight belt and retired with a 34–3 record. But he's made a more lasting mark as a trainer, working with fighters like Fernando Vargas, Nonito Donaire, Brandon Rios, and, yes, his little bro, Mikey.
The Boxing Writers Association of America gave him the 2013 Eddie Futch Award as best trainer of the year.
Both dad and brother are in Mikey's corner during fights. "I have the best team in the world," the youngest García told Bleacher Report sports website in January. "Having my brother and dad in the corner makes it that much better, because they understand what I'm capable of doing. They understand and really know what my experience has been, so it's the best situation for me."
García began fighting at the age of 14 and won national Junior Golden Gloves and Police Athletic League titles before turning pro in 2006 and signing with Bob Arum's Top Rank promotion company.
A natural righty, he's been known to switch to a lefty stance in the middle of a fight.
In June 2011, he got his first shot at a title, but turned it down for the opportunity to fight on HBO instead. It wasn't until a year ago that he got another crack, squaring off against WBO featherweight champ Orlando Salido on Jan. 19, 2013.
At the time, as García has said, Salido "was 'the man' in the [featherweight] division."
Even so, García dominated from the opening bell, knocking the champ down four times in the first couple of rounds and getting so far ahead in the scoring that, after a head-butt broke García's nose and the fight was stopped after the eighth round, he was awarded a unanimous technical decision.
Five months later, García's first title defense—against the man who held the title before Salido, Puerto Rico's Juan Manuel López—was scheduled to take place in Dallas, Texas. The scale, not his opponent, defeated him.
Despite two days of dehydrating himself, García weighed in two pounds over the 126-pound limit. "It was very disappointing," he told reporters a few months after the fight. "I waited over two years in line to get that title shot, and to not be able to defend and lose it on the scale… It was hard. I tried to move forward and do the best I could."
Moving forward meant going on with the fight against López. He stopped the former champ cold in a fourth-round TKO.
Trying to lose that weight had taken a toll on his body, and García decided it would be prudent to step up a weight class. Immediately, a November title shot against Rocky Martínez was lined up.
"I believe he has more technique and more intelligence than some of the other guys I have fought, without a doubt," the 30-year-old Martínez said of García before the fight, according to USA Today. "I think he'll be one of the top challenges I will have as a champion."
Martínez was dead right. After he knocking García down in the second round, the younger fighter took over, eventually knocking Martínez out in the eighth round with a left hook to the body.
Now Arum is talking about setting up Manny Pacquiao as García's next fight. "Pacquiao is one of the biggest stars and one of the all-time greats. To make my mark, I need to beat someone like him. If I get a fight with Pacquiao or someone like him, those are the fights I look forward to," he told Bleacher Report.
And a lot of people are comparing García to superstars of the sport like Floyd Mayweather and Oscar De La Hoya, which doesn't faze the young champ.
"It doesn't get to my head to where I think that all of a sudden I'm better than anyone else out there," according to Bleacher Report. "I'm the same person, the same fighter. I still want to do more. I still want to keep winning, and I just have to make sure I do what I need to do, whatever my brother and my dad tell me, to keep winning."