Miesha Tate: Rousey would arm bar the hell out of Mayweather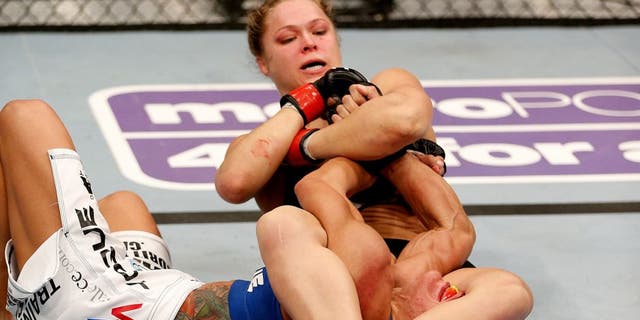 After losing by arm bar twice to Ronda Rousey, Miesha Tate is no fan of the Rowdy one. Still, she gives the UFC champ her due credit.
That includes in picking Rousey in a hypothetical no-rules fight against boxing's best, Floyd Mayweather Jr. UFC president Dana White, Conor McGregor and Ronda herself all have said she'd beat Mayweather in anything resembling a real fight.
Tate agrees and stated her opinion during a recent Seattle Times Q&A session that since Rousey is similar in size to Mayweather, the fact that she is simply a much more well-rounded fighter as an MMA athlete gives her a clear advantage over the boxing champ. "I agree with her," Tate said of Rousey.
"Floyd is a great, great boxer, but boxers meet in the center and agree to box. When you take that away and someone rushes in and the ref doesn't break up the clinch for you, and you don't know how to wrestler or stop a throw -- I'm sorry, he's going down."
Once on the ground, Mayweather would not last longer than MMA fighters have against the submission specialist and Olympic Judo medalist Rousey. "From there, she would arm bar the hell out of him," Tate concluded.
Some have argued that talk about an impossible-to-make fight between Rousey (or any other MMA fighter) and Mayweather is in poor taste and should stop. After all, who would argue for a man to fight a woman, right?
Well, you can't blame fans for being interested how a woman his own size, who is actually trained in combat, might fare against Mayweather.
Tate wouldn't mind seeing such a fight happen, at all. Anything to help folks see just how complete a combat sport MMA is.
"If it puts more eyes on what we do," she said, "then it's good, overall."
How, exactly, might Ronda arm bar Floyd if they ever crossed paths and fought? Kenny Florian breaks down her signature move: