Miami Dolphins preview (No.19): Joe Philbin's last stand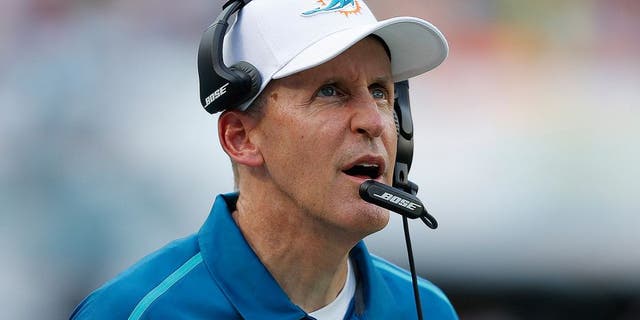 Our 2015 NFL preview series ranks every team, from worst to first. Today: the No. 19 Dolphins.
2014 Record: 8-8
Head coach: Joe Philbin
Key arrivals: Ndamukong Suh (defensive tackle), Jordan Cameron (tight end), Greg Jennings (wide receiver), LaMichael James (running back), CJ Mosley (defensive tackle)
Key departures: Jared Odrick (defensive tackle), Daniel Thomas (running back), Brandon Gibson (wide receiver), Brandon Hartline (wide receiver), Charles Clay (tight end), Shelley Smith (guard), Randy Starks (defensive tackle), Jonathan Freeny (outside linebacker), Brice McCain (cornerback)
2015 Schedule:
Sept. 13: at Washington, 1:00 pm
Sept. 20: at Jacksonville, 4:05 pm
Sept. 27: Buffalo 4:25 pm
Oct. 4: New York Jets 9:30 am
Oct. 11: BYE
Oct. 18: at Tennessee 1:00 pm
Oct. 25: Houston 1:00 pm
Nov. 1: at New England 8:25 pm
Nov. 8: at Buffalo 1:00 pm
Nov. 15: at Philadelphia 1:00 pm
Nov. 22: Dallas 1:00 pm
Nov. 29: at New York Jets 1:00 pm
Dec. 6: Baltimore 1;00 pm
Dec. 14: New York Giants 8:30 pm
Dec. 20: at San Diego 4:25 pm
Dec. 27: Indianapolis 1:00 pm
Jan. 3: New England 1:00 pm
TRAINING CAMP QUESTION: Who will be the starting guards?
Dallas Thomas (left) and Billy Turner (right) entered the offseason as the projected starters, but both are being pushed by free-agent journeyman Jeff Linkenbach and fourth-round pick Jamil Douglas of Arizona State. The Dolphins also are still in the mix to land standout Evan Mathis, who remains unsigned after being released by Philadelphia.
IF EVERYTHING GOES RIGHT:
It all begins with Ryan Tannehill. Should he meet the expectations of a $100 million quarterback, the Dolphins could be a playoff-bound team. Kevin Coyle's defensive unit will apply a severe amount of pressure on the opponent and it's up to a young, promising back linebacker corps and secondary to make the most of its opportunities.
IF EVERYTHING GOES WRONG:
Not a lot has to go wrong for this season to become a disaster. For a franchise that has failed to get over the eight-win mark since 2008, the Dolphins must get over the hump and find themselves in the postseason. In fact, the Dolphins have only won one playoff game since the turn of the millennium and anything short could cost head coach Joe Philbin his job.
BREAKOUT PLAYER: Cornerback Jamar Taylor
After two unimpressive seasons, it appeared Taylor was en route to becoming yet the latest second-round bust in Miami draft history. Taylor, though, came on so strong in offseason practices that he now enters training camp as the favorite to replace retired starter Cortland Finnegan.
CIRCLE THIS DATE ON THE CALENDAR GAME: vs. New York Giants in Week 14 (8:30 pm ET/December 14):
The Giants haven't played in South Florida since 1996 because of scheduling quirks and one matchup being moved to London. Expect a flood of New York fans to try and takeover Sun Life Stadium.
ALEX MARVEZ'S PREDICTION: 8-8, second place
The Dolphins have finished at .500 under Philbin the past two seasons. This year looks like more of the same. It's not because of the talent (although the starting guards are a worry). Tannehill took large leaps in 2014 under new offensive coordinator Bill Lazor, who tailored a short/intermediate passing attack to take advantage of his quarterback's strengths. Tannehill's completion percentage jumped from 60.4 to 66.4 percent. Lazor also took advantage of Tannehill's athleticism with more quarterback keepers, which resulted in career-highs for rushing attempts (56) and yardage (311).
The next challenges for Tannehill are building chemistry with an overhauled group of receiving targets, improving his deep passing and doing a better job on his part to avoid sacks after going down a whopping 104 times over the past two seasons. Miami's blockbuster signing of defensive tackle Ndamukong Suh should bolster the NFL's 24th-ranked run defense and free ends Cam Wake and Olivier Vernon to better rush the quarterback because of the double-team attention he will receive. While the Dolphins' roster is better on paper since the arrival of new top football executive Mike Tannenbaum, the schedule is a killer. Miami plays only three of its first nine games at home, including a November stretch of consecutive road contests against New England, Buffalo and Philadelphia.
The Dolphins will be at home for four of their final five games, but three of the teams during that span -- Baltimore (Week 13), Indianapolis (Week 16) and the Patriots (Week 17) -- were all playoff teams in 2014 that look like contenders once again. Philbin, too, must prove he is the right man for the job after late-season collapses the past two years.