Mexico's Leonardo Cuellar Has Turned 'Las Tri' into a Global Power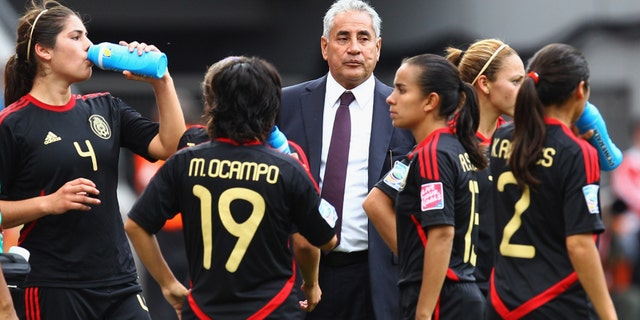 In a culture that seemingly switches national coaches as quickly as some people change their underwear, Leonardo Cuéllar is an anomaly.
He has directed the Mexico's women's soccer program since 1998. That's right, he has run the show for 14 years. It is rare for anyone to last in any position in sport for that long, but it has allowed the former Mexican international not to worry about the short term, but have some vision for the future.
Until Jan. 27, Cuéllar's focus, however, will be to qualify El Tri for the London Olympic Games, which kicks off for the Mexicans on Friday.
Reaching the Olympics "would be a big push for women's soccer in Mexico," Cuéllar said.
"It is very important," he added about playing in England this summer. "We are still in a culture you must win something to keep receiving support."
Cuéllar noted the success of Mexico's men's teams that won a world championship (Under-17) and finished third in another (U-20) last summer.
It's a profession you need to keep improving, you need to keep innovating.
"So for us to go to the World Cup in Germany was a big accomplishment," he said of the 2011 Women's World Cup. "we have a big challenge for 2012 with the Olympic qualifiers. The federation has been great. They have supported our programs. Everything is going in the right direction. But we need to confirm that with results."
Cuéllar, a former Mexican international who has World Cup (1978) and Olympic (1972) experience under his belt, certainly doesn't sound like someone who is complacent after 14 years on the job as a national coach. Few, if any coaches, last more than two world championship cycles, eight years, on the job.
"That is something that is strange in our culture to have a project on the long term," he said in a recent interview. "They have been very supportive of that. But at the same time I have to consistently check myself to renovate my ideas, to renovate my work in the field to shape things, to fire people, to hire people. Only things that are the best for Mexico and women's soccer in Mexico. It's a job.
Since the 57-year-old Cuéllar took over, El Tri has improved by leaps and bounds. The Mexicans qualified for the 1999 and 2011 Women's World Cups and reached the quarterfinals of the 2004 Summer Olympics in Athens.
"It's a profession you need to keep improving, you need to keep innovating.You need to find the right people next to you. You need to challenge yourself in all kinds of areas. Seeing my job that way, it gives me the energy," he said.
Saying that, Cuéllar realizes there is still a long way to go.
In 2010, the Mexicans stunned the women's soccer world by upsetting the favored United States in the semifinals of the Women's World Cup (WWC) CONCACAF qualifying. The 2-1 victory, the first time the Mexican women defeated their rivals to the north in 26 matches (the Mexicans are 1-24-1 vs. the U.S.), booked them a spot at the 2011 WWC in Germany and forced the Americans to qualify by defeating Italy in a home-and-away playoff.
"In Mexico it was a great accomplishment," Cuéllar said. "The fans were going crazy in the stadium. The city [Cancún] was outstanding in supporting our team in Cancún."
Since a 9-0 U.S. romp in the first meeting between the two countries in 1991, Mexico has closed the gap. No longer are there routs, only close encounters.
Still, Cuéllar realized there still is a long way to go before the team can play with the U.S. and the big girls of international soccer on a consistent basis.
"Obviously, we have taken beatings from the U.S. for several years," he said. "Every time we play the U.S. it's going to be a test to evaluate our work, to evaluate our players, to evaluate our attitude. We are very fortunate that we have the United States in our confederation because by the United States being the best program in the world, it's a constant evaluation of our program.
"When we had the opportunity to play them in Mexico and beat them, it just shows we had worked very hard to get closer. Obviously, that day things were rolling our way. But it was only one game."
Cuéllar noted that Mexico dropped a 1-0 decision to the Americans in a WWC warm-up last June.
"They were a lot better than us," he said. "The score could have been different, more on their side."
The Mexicans will get another opportunity to play the U.S. in the third and final group stage match at B.C. Place on Tuesday after they meet Guatemala on Friday and the Dominican Republic on Sunday. The U.S. game most likely will decide who finishes one-two in the group, as the top two sides will qualify for the semifinals.
"I expect we're going to step on the field stronger, that we have the attitude that we have done it before and we can do it again," Cuéllar said. "And we can play better soccer closer to our potential."
As a technical director, Cuéllar oversees the entire women's game in Mexico, so no one has to remind him how much work there still has to be done.
Cuéllar has had to fight a culture that traditionally had seen a female's place was in the home and not on the soccer field.
"In the beginning, it was rare to see a younger girl play," he said. "Even at times the family was against that, but now they are more supportive. Now they are encouraging themselves to create teams in the little towns, to create leagues. The change of culture is also helping. They see the more natural way to see the younger girls play in our country. That's been very positive."
Cuéllar said the media has gotten on board, too. Well, at least for the National Team.
"The interest is growing," he said. "But at the same time, we need to confirm the results so we're always under pressure."
Ah, the pressure to win. When you find success, there are greater expectations. It sounds like the urgency that permeates the men's game in Mexico has begun to seep into the women's game.
Cuéllar noted that the women's team practices in the same facilities as the men.
"The men's players, coaches, are always supportive of the women's program. They are always interested," he said. "It is always a big motivation for the girls to work next to their heroes."
When he took over 14 years ago, there was only one league, one bracket, where females could play soccer.
"You could have a 40-year-old woman on a team with a 13-year-old girl," Cuéllar said.
Since then Mexico created four age groups for women -- Under-12, U-15, and U-20, with a senior level as well.
"It's still recreation in most of the country," he said. "We don't have the concept of clubs were the girls would practice two or three days a week for the weekend's games. We still have a lot of youth getting to clubs on the weekends as a team. We have to create better ideas and better infrastructure all over the country. It's not going as fast as we'd love it to."
Cuéllar did not plan to be the Mexican women's coach. In 1998, he was living in the United States, starting a college soccer program and coaching a youth club in southern California that had six girls teams. He was approached by the president of the Mexican Football Federation and two other high-ranking soccer officials about starting the women's program from scratch.
He had to turn it down because of his commitments, but the officials would not give up and eventually convinced Cuéllar to take over the coaching reins.
"It was such an exciting challenge that they convinced me to come back to Mexico and start this program," Cuéllar said. "It was nothing from design. It was more from destiny and I feel very grateful that I had the opportunity that I could do something for my country to start a lot of things from zero and to see how it developed to this moment."
While Cuéllar has enjoyed a dynasty in the position, he doesn't envision himself running the show forever.
"At one point the best thing for the program will be for me to step aside and tell the right people to keep guiding this in the right direction," he said. "I don't see myself being here forever. The competition, the results, also teams can change. But at the same time, I wake up every day looking to do my job the best way possible."
Thanks to the patience of Mexican soccer officials and his hard work and vision, Cuéllar has accomplished so much, building a program from scratch and into one of the best in CONCACAF.
Michael Lewis, who has covered international soccer for three decades, can be reached at SoccerWriter516@aol.com.
Follow us on twitter.com/foxnewslatino
Like us at facebook.com/foxnewslatino