Mexico Women Look to Upset Canada in Olympic Soccer Showdown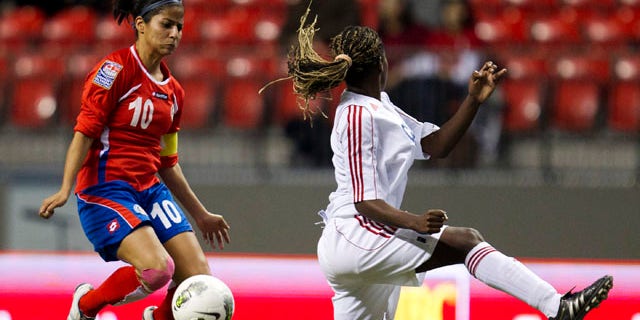 VANCOUVER, Canada – Depending on your vantage point, you can interpret Canada's domination of Mexico in women's international soccer in two ways.
If you're a Canadian fan, you probably feel that the team's 16-1-1 record bodes well for the hosts in Friday night's CONCACAF women's Olympic qualifying semifinal at BC Place.
If you're a Mexican supporter, you most likely will point to EL Tri's lone victory, a 2-1 win that clinched a spot at the 2004 Summer Games in Athens.
The winners will book tickets to the London Olympics, while the losers will go home.
Despite Canada's superior record, Mexico coach Leonardo Cuellar has refused to throw in any towel before the 11 p.m. ET kickoff of the confrontation.
Cuellar noted Canada was seventh and Mexico 21st in the latest FIFA women's rankings.
"First of all, there is a popular sports saying," he said. "On paper we're behind. But you need to play the game. They also might have pressure on them playing at home. They may prefer to have more rhythm playing against better opponents while we have been able to play against the best team in the world. I feel that may loosen us up a little bit and make our players come out and be very aggressive."
Chicharito's Excellent Adventure
In 2004, the Mexicans pulled off one of the biggest upsets in CONCACAF women's soccer history when they stunned Canada, 2-1, to reach the Olympics for the very first time. A talented 25-year-old named Maribel Domínguez led the way with two goals. Domínguez helped the Mexicans to the quarterfinals in Athens, scoring once.
Now eight years older and wiser as team captain and leader, Domínguez is a seasoned veteran as Mexico's all-time goal-scoring leader with 71 goals in 96 international appearances.
She has learned what it takes to win. After all, she lived through the early struggling years and has enjoyed the recent success, which included an appearance in the 2011 Women's World Cup the Mexicans jolted the United States in qualifying. In case you were wondering, Domínguez scored a goal in that triumph as well.
"You always start with a dream and you always hope to be part of a good team," she said after Mexico (2-1) lost to the U.S., 4-0, on Tuesday. "Later on, you start thinking about the national team and foreign teams and your dream starters getting bigger. Over time you eventually start to achieve it.
"We know it's a long journey," she said of London. "The last time we weren't able to qualify, but we haven't lost anything yet and the ticket to the Olympics is right in front of us."
Standing in Mexico's way is Canada, which boasts the likes of striker Christine Sinclair, who has paced her side with seven goals in this competition and 127 overall as one of the world's best women's players. New coach John Herdman has picked up the ashes of Canada's first-round elimination from last year's Women's World Cup to restore the team's confidence. The Canadians captured the Pan American Games gold last year, while Mexico finished with the bronze.
Given the earlier results, it could be the game of the tournament. Each game has been decided by a minimum of two goals, with routs in most matches. All but one of the previous group stage encounters ended in a shutout -- before Costa Rica scored late in Canada's 5-1 win on Monday.
The Canadians have outscored recorded three consecutive victories, which also included a 6-0 rout of Haiti, and a 2-0 decision past Cuba, so Mexico will have its work cut out for itself.
"They are a very good side," Cuellar said after Tuesday's 4-0 defeat to the U.S. "They are an experienced team. We need to play better than we did. We need to be more concerned about the possession of the ball. Canada has changed its style with a new coach. They also put a lot of numbers. They are very aggressive, very direct. They have some outstanding players. We need to play better than we did today to go to the Olympics. I feel the team after this experience will be ready for the challenge."
So does midfielder Teresea Noyola, the Hermann Trophy winner as the U.S.'s top collegiate women's player at Stanford Univesity and who could be Domínguez's successor.
"It's important for us to move past this loss. Despite the score line it should give us confidence," she said. "I think it was pretty even at times and I don't think the score totally reflects how we played. I think we should take confidence going into our next game.
"It will be the test for the [Olympic] ticket."
Soccer-Mad Church Worships Diego Maradona as a God
Of course, Cuellar, Domínguez, Noyola and their Mexican teammates might have a surprising secret weapon up their sleeve -- the 12th player -- fans in the stands. The El Tri feel at home.
On Tuesday, there seemed to be more Mexican than American supporters in the BC Place stands. They certainly were a loud and enthusiastic bunch.
"I know we are away, but you saw the crowd," Cuellar said. "Don't be surprised if we have more Mexicans than Canadians on Friday."
Canada might want to hope that will be the only surprise on Friday.
Michael Lewis, who has covered international soccer for more than three decades, can be reached at SoccerWriter516@aol.com.
Follow us on twitter.com/foxnewslatino
Like us at facebook.com/foxnewslatino