Mets website prematurely declares them NL champions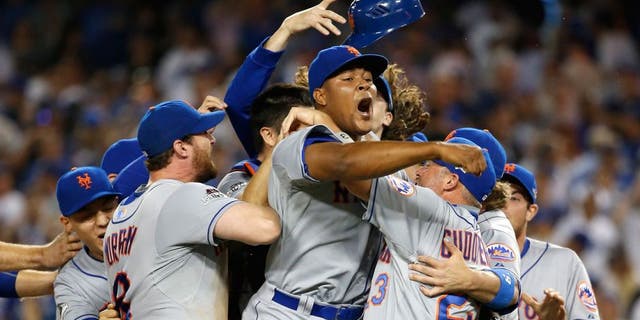 NEWYou can now listen to Fox News articles!
The Mets are one game away from winning the NLCS. Above, they celebrate winning Game 5 of the NLDS. Sean M. Haffey Getty Images
The New York Mets are only one game away from winning the National League pennant for the first time in 15 years, but before they get a shot at advancing to the World Series on Wednesday, there was some premature celebration on the team's website.
On Wednesday afternoon, prior to Game 4 of the NLCS between the Mets and the Chicago Cubs, the Mets' website declared them the National League champions and advertised NLCS champions gear.
A team spokesman for the Mets called the display, which was captured by screen grabs, a "glitch."
After winning Game 3 on Tuesday, the Mets hold a commanding 3-0 lead in the NLCS. Only one team, the 2004 Boston Red Sox, has ever overcome a 3-0 deficit in a best-of-seven series.
Although it's commonplace for teams to prepare in advance for events like clinching a series, the premature publishing of the NL championship graphics will undoubtedly be referenced to as a bad omen for the Mets should the Cubs make a miraculous comeback in the series.
While the Mets are eager to return to the World Series for the first time since 2000, the Cubs are even more anxious to return to the Fall Classic, as their last trip was in 1945, and the franchise infamously has not won a World Series since 1908.