MCREYNOLDS: Gordon, Edwards Need A Win — Now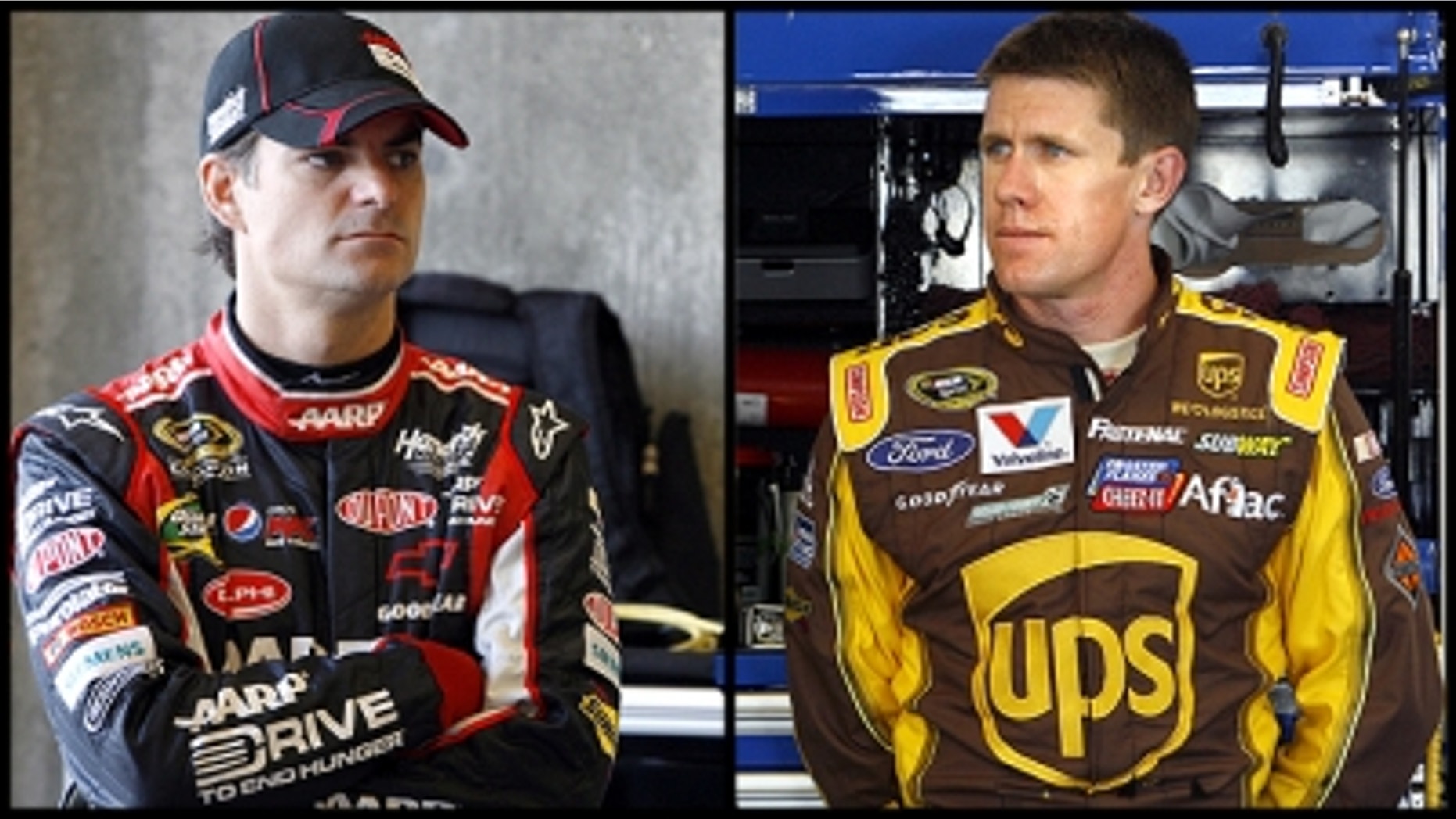 So here we are down to the final six races before the field will be set for the 2012 NASCAR Chase for the Sprint Cup. And one of our sport's biggest names is still on the outside looking in.
Jeff Gordon is going to have to win at least a third of these remaining races or he will miss this year's Chase.
Jeff has been pretty vocal about this lately. He's made it clear he and his team aren't trying any harder to win races now than they were when the season started. So for them it is business as usual this week, next week and so forth.
Now the good news I see for the No. 24 camp is they are starting to close the deal on these races lately. They aren't having these freak things happen to them like the issues that plagued them from the beginning of the season. They really are pretty solid right now.
Even though he is sitting there with a goose egg in the win column and sitting too far out points-wise to make it into the top 10, we all know Jeff Gordon can win at any of these next six racetracks.
Everyone from Jeff on down realizes the sand in the hour glass is running out. They know they have to win and they have to win now.
People like Tony Stewart, Brad Keselowski, Jimmie Johnson and a couple others have the luxury right now of rolling the dice these next six races. If they want to try a new trick setup or gamble on fuel-mileage strategy, they can because, if it backfires on them, so what.
At the other end of the spectrum you have Jeff, Carl Edwards and Paul Menard. They must roll the dice. They have to try something different. A solid top-five or top-10 finish does them no good whatsoever.
They have to win immediately.
There is an extreme amount of pressure on these guys. Jeff Gordon has done a really good job keeping his focus and not showing signs of panic. Now Carl Edwards has a new crew chief, as Bob Osborne stepped down because of health reasons. I still maintain this change brings Carl a new outlook. I think the performance of Carls and his team at Indianapolis Motor Speedway this past weekend showed it.
They qualified on the outside pole and had a very solid race car. So they did their job. Unfortunately, they have no control over something that was going on with this engine deal —whether it was a spark plug, electronic fuel injection or whatever it turns out to be — that led to their slow start.
Despite the engine issue, I think Indy was a great beginning for the team with Chad Norris taking over as crew chief. I think this keeps Carl, Chad and the entire team energized and full of hope over these next six races. Carl's also in somewhat of a different position than Jeff.
As I stated, Jeff knows he has to win two races to have any hope of making the Chase. Based on where he is in the points, Carl could have to win only one race in these next six and still make the Chase. He can do that by getting that win, hoping Kyle Busch doesn't win another race and by finishing ahead of Kyle in the points. That will bring Carl one of the two wild-card spots.
Now, while Tony Stewart is solidly in the Chase and doesn't have any of the sleepless nights that Jeff and Carl do, Tony has to be concerned about his team's consistency. I have to be honest, since the first of June, I really have not been thrilled with what I have seen from them. Sure, they won at Daytona, but we all know that is not a true measuring stick of where your team is at. A red flag to me was seeing how they struggled at New Hampshire Motor Speedway, of all places, where Tony has dominated the past few years.
While part of me wants to believe that maybe they are trying different things and doing some experimenting, the other part of me is concerned they are getting off target a little bit.
But, hey, we all have to remember it was about this time a year ago when even Tony Stewart was writing himself out of the Chase. With three wins so far in 2012, Tony is light years ahead of where he was last year at this point. And we all know how that turned out — with Tony as the 2011 champion.