McGuire had major impact during time with Flyers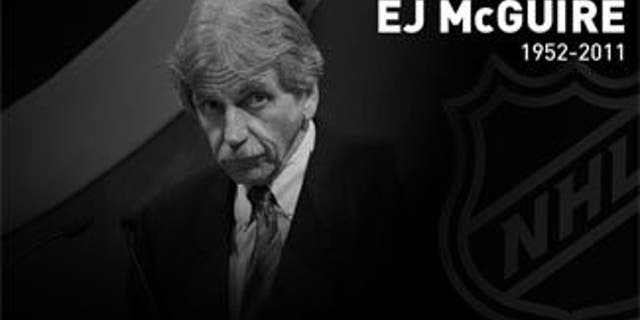 EJ McGuire is most closely associated with NHL Central Scouting, which he ran for six years.
McGuire's entry into the NHL, however, came with the Philadelphia Flyers, as an assistant coach under Mike Keenan from 1984-88. He returned to work on Bill Barber's staff midway through the 2000-01 season and stayed through the end of the 2001-02 season.
During his four seasons on Keenan's staff, the team went to the Stanley Cup Final in 1985 and 1987, losing to the Edmonton Oilers both times.
"On behalf of the Philadelphia Flyers, I would like to personally extend my condolences to EJ's wife, Terry, and their daughters, Jacqueline and Erin," said Comcast-Spectacor Chairman and Flyers founder Ed Snider. "EJ was a close, personal friend of mine who loved hockey as much as he loved life. I always enjoyed spending time with him. We would often talk about our team, the game, and our families. He always had great insights and that's something I'm going to miss. He was one of the most knowledgeable men our sport has ever known. It's a sad day for the Flyers and a sad day for hockey."
"I am deeply saddened by the news of our good friend EJ McGuire's passing," added Flyers General Manager Paul Holmgren, who worked alongside McGuire as one of Keenan's assistants. "EJ was a good hockey man that was highly regarded in any part of the game he was involved in, from coaching to scouting to management. EJ was a good friend to many of us in the hockey world and he will be missed by us all."
McGuire was working as a volunteer coach with Keenan in 1983 when Keenan was hired in Philadelphia.
"I happened to meet a guy named Mike Keenan in Rochester and volunteered for him," McGuire told Metro Community News in Buffalo earlier this year. "He gave me a call and said I just got hired by the Philadelphia Flyers, would you like to be my assistant."
McGuire was by Keenan's side through his whole tenure in Philadelphia, most of them spent as the good cop to Keenan's stern taskmaster.
"EJ was the counterbalance, the alter-ego to Mike," Dave Poulin, who captained those Flyers teams and currently serves as vice-president of hockey operations for the Toronto Maple Leafs, told NHL.com. "And it was a very effective pairing. He was a very significant part of Mike's success."
When Keenan would erupt on the ice or in a meeting, it was McGuire who would talk to the players later and translate what the coach meant.
"It was a softening of the severity of Mike," Poulin said, "in that Mike would do something and it would be … players would look at each other and go what was that, and EJ would find something and make it make sense. … Maybe a different depiction of the message."
That role paid major dividends in the Flyers' success, because as hard as Keenan would drive them, McGuire always was there to keep things headed in the right direction.
"He appeared when you needed him," Poulin said. "He had a sense … he provided something very important for Mike and that was the pulse of the locker room, and that's really critical in the game. It's important that the coaches have a sense of what's going on in the room. EJ could just appear, like a shadow. When something was going on he could appear just when he was needed. It was a pretty unique ability."
One of McGuire's jobs was to track certain types of statistics -- hits, faceoffs, turnovers, etc. Today that job would be done by a video coach seated in front of a bank of high-definition computer monitors with recording capabilities. But in the 1980s, all McGuire had was a computer he would pound away on while watching games, keeping stats and making notes he later could sync up with video from that particular game.
During games, McGuire would accumulate his data, and between periods give printouts to Keenan, who would make strategic adjustments off the information.
In a story in the Toronto Globe and Mail in 1986, McGuire said: "Say, for example, we meet the Leafs in the playoffs. To prepare for them, we would want to see how they got their scoring chances against us during the regular season. This way, everything's recorded. We can go right to the computer and then to the video tape to see how their scoring chances developed."
"They were pretty thorough guys, him and Mike Keenan," Dave Brown, a player on those Flyers teams and now the club's Director of Player Personnel, told NHL.com. "They were trying to win, find an edge, and they did those things to help find that edge."
McGuire also stood out for his fitness level. A devoted runner, Barber said he recalls McGuire's conditioning level being equal to the players'.
"He was in great shape. He could really run," Brown said. "Ran like a deer. Every year on his birthday he used to go to the track and run a mile in under five minutes."
"EJ was far more committed to the conditioning aspect that I was," Barber said. "I know how dedicated he was to running. We would have our beers together and he'd have the discipline to have a few and I'd have a few more. He had a strict diet. I would tease him all the time. … He was in great, great shape and it rubbed off on our players. When you're a coach around your players and you're in as good a condition, it rubs off on those players. He had great value in that sense."
McGuire followed Keenan to Chicago following the 1987-88 season, but returned to work on Barber's staff during the 2001-02 season.
"EJ was a very dedicated coach, in whatever capacity he was involved in hockey," Barber said. "It was only a pleasure and an honor to work with him as an assistant coach. He was dedicated to doing the right things and passing along his knowledge. He always tried to better himself from an educational standpoint and as a person. I can't speak highly enough about him. EJ was a great man, loved his family, dedicated to the sport of hockey. It was a pleasure working along with him."
"What I remember about EJ in our locker room was how dedicated he was, how articulate he was, how committed he was not only to our group but just the game in general," Keith Primeau, who captained that Flyers team, told NHL.com. "It always impressed me about him."
Primeau also said that no matter what else was going on, any time spent with McGuire was quality time.
"He was articulate, but he was articulate because he took the time to listen and digest and be respectful in his response," he said. "From a player's perspective, that's everything. And you always felt, no matter what, you had 100 percent of his attention."
Like Keenan, Barber took advantage of McGuire's ability to dissect the opposition.
"There was not one rock unturned when it come to the opposition," Barber said. "He had everything marked, on video or cassette or DVD for video work. He was on top of it all -- ahead of his time."
"He was kind of the point person for all of our video and meeting stuff," Primeau said. "He had a big responsibility. That's a big responsibility for anybody and he did it as diligently as anybody I'd ever seen."
McGuire hadn't worked with the Flyers since leaving Barber's staff, but his impact still is felt by at least one member of the current club. James van Riemsdyk was taken by the Flyers with the second pick of the 2007 Entry Draft, by which time McGuire had moved on to helm NHL Central Scouting. But what stood out to van Riemsdyk during his draft season as he got to know McGuire was the same thing the players McGuire coached saw.
"I just remember him being really passionate about hockey," van Riemsdyk told NHL.com. "He had a passion for the game of hockey and doing his job, and he took it very seriously. Anyone in a position like that, it was cool to see the excitement that he has."
Contact Adam Kimelman at akimelman@nhl.com. Follow him on Twitter: @NHLAdamK