Mayweather camp promises they arent taking matchup with Conor McGregor lightly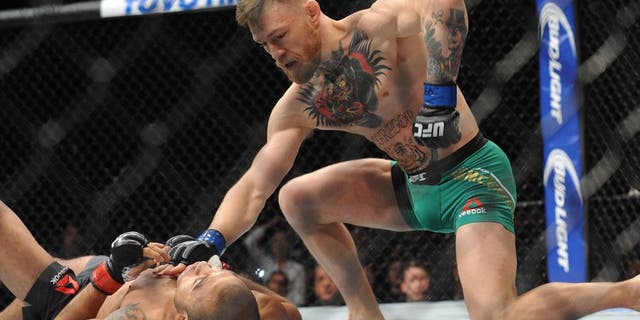 NEWYou can now listen to Fox News articles!
Some have dismissed the upcoming megafight between Floyd Mayweather and Conor McGregor as a sideshow, but Mayweather Promotions CEO Leonard Ellberbe says the boxing legend can't afford to adopt the same attitude as the critics.
Mayweather is hands down one of the greatest defensive boxers of all time and probably the best boxer of his generation as hes amassed a perfect 49-0 record and a whole bunch of money to go with it.
Hell take on Conor McGregor on Aug. 26 in what many are predicting will be a lopsided bout considering McGregor, despite his numerous accolades in the Octagon, has never boxed professionally.
However, Ellerbe says McGregors inexperience in the ring should be thrown out the window, somewhat, thanks to the immense talent -- and power -- the Irishman has in his hands.
Ive watched Conor McGregors fights, and the one thing Ive been very impressed with is what I call his hand game, Ellerbe said in a media scrum with UFC president Dana White. Hes a very, very slick guy. I mean, it looks like when he throws, the shots dont look hard but the impact they have is like, Damn, hes clipping guys like that?
I can honestly say Im a fan [of Conor McGregor]. So, like with anything, Floyd has got to get up like he does any other fight, and youve got pay close attention to this guy because all it takes is for this guy to just nick you with a shot.
McGregor has posted knockouts in all but two of his nine UFC wins, most in highlight-reel fashion. He even has the distinction of ending the reign of one of the UFCs longest running champions, Jose Aldo, with a single punch back in 2015.
Those facts, coupled with the fact that McGregor is a southpaw, has White excited about his fighters chances, and he definitely wont rule anything out come fight night.
Heres the thing, Floyd is almost 40 years old, he hasnt fought in almost [two] years, White said. He traditionally doesnt do well against southpaws -- hes undefeated but if you want to look at the kink in the armor, we look at southpaws. Conor is a southpaw. Conor is 27 years old and Conor is a knockout artist. All the guys that thought Conor couldnt hurt em, every time he touches guys they fall. The question is, can he touch Floyd Mayweather? In a 12-round fight, can he get in and can he connect with Floyd Mayweather? Anything is possible when two men get into a Octagon or a ring and start throwing punches. So well see.
Whites question about whether McGregor can touch Mayweather is a legitimate one.
Mayweathers world-renowned defensive boxing allowed him to dodge approximately 80 percent of the punches thrown by the likes of Manny Pacquiao and Canelo Alvarez during their respective bouts. So itll probably be tough for McGregor, who isnt a professional boxer, to catch and land on Mayweather.
However, everyone in combat sports knows it only takes one punch to change a fight. And while Mayweather has never been beaten, hes surely been rocked before, so Ellerbe says his side knows they need to take McGregor and his powerful left hand serious if he wants to leave T-Mobile arena undefeated.
"You know, I go back to the Maidana fight, and hes a guy that was swinging wild and doing different things, and he caught Floyd with a good shot, and I dont know if a lot of people saw that. One shot can kind of change the whole outcome of anything, so nobody is taking -- on this side we definitely damn sure aint taking Conor McGregor lightly. At all. Ive seen him up close and personal and know what hes capable of doing when he touches guys.